News
The Statesman and the Scientist, All in One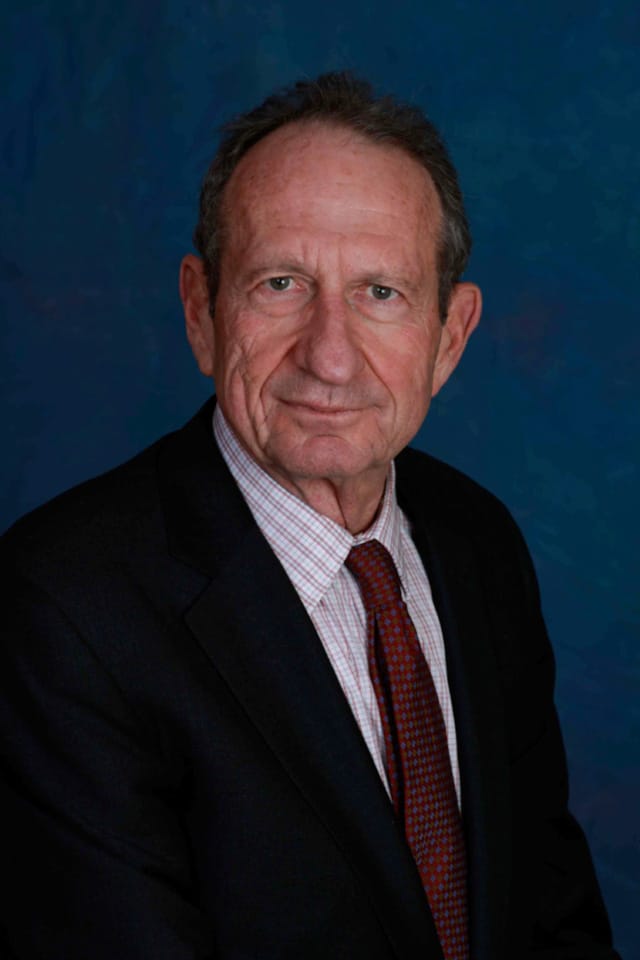 When writing about someone with a life as decorated as that of John Deutch '60, it's difficult to know where to begin. Even a brief synopsis of his career — from his various academic accolades as a chemistry professor at the Massachusetts Institute of Technology (MIT) to his multiple high-ranking government positions, ranging from deputy secretary of defense to director of central intelligence — already gives us a great deal to consider, more than can be mentioned in this profile.
Deutch, however, might disagree. Before we began our interview, he offhandedly remarked to me, "I'm not worth that," referring to the profile. For me, that was the plainest example of his pragmatic and understated style, as well as his commitment to keeping his accomplishments in perspective and clear-eyed against any distortions. Mixed with the wisdom, tenacity and matter-of-factness that you might expect from an elder statesman, it's a unique mindset that is emblematic of the varied life he's lived. And certainly, that's worth at least a profile.
An Auspicious Youth Born in Brussels in 1938, Deutch was in transit for much of his early life. His family was forced to flee Belgium in 1940 due to the German invasion. Eventually arriving in the United States, he became a naturalized citizen in 1945.
"It took us from May 1940 to about 1943 to get to the United States. During that intervening period of time, we spent some time in Portugal and about two years in Mexico," he recalled. "My first memories of anything are really in Mexico. I started elementary school in Virginia during the second World War not being able to speak English. I could speak French and a little bit of Spanish, but no English. That has had a formative effect and has shaped my perspective a bit."
Over the next several years, Deutch settled into life in the D.C. area, attending the Sidwell Friends School. When deciding where to go to college, many of Deutch's classmates wanted to go to Amherst, so he decided to apply and eventually attend.
"When I got to Amherst, there were many of my friends that I knew from high school, so it was a natural choice for me. I remember that I was quite pleased to be admitted; my grades were not terrific as I'd hoped," he said. "I quite happily chose it over several other schools that I was admitted to because I thought it was going to be a good place for me. I knew people [at Amherst] and most importantly, I was not intellectually mature, and I felt that an experience at Amherst would do a lot better than another school."
Deutch described himself as being "torn between my mother and father" upon arriving at Amherst; his mother had strong interests in the humanities and history while his father was "a more technical guy." Luckily, the core curriculum in place at that time alleviated much of his indecision on what to study, "allowing [him] to keep his interests open for at least the first two years." (Deutch laments the fact that Amherst has since gotten rid of the core curriculum.)
Eventually, Deutch made the choice to major in history and economics. His mother sparked his interest in history, while for economics, he pointed to interactions with his friends. "I had three roommates at Amherst — very close friends — all of whom were economics majors. And at some point, I couldn't allow any more of their conversations to get outside of my knowledge base," he said. "Since I had taken math all the way through, I probably knew more math than all of them, and it was very easy for me to catch up in economics. And so I became a major in economics."
Deutch had expected to do graduate work in economics. He was encouraged by many of his economics professors, particularly Arnold Collery, with whom he was "quite close." Alas, things didn't pan out that way.
A Scientific Turn Instead, with his father's encouragement — or, in Deutch's words, "bribe" — he entered an Amherst-MIT partnership program that allowed him to obtain both a regular undergraduate degree from Amherst and a chemical engineering degree from MIT by spending three years at the former and two years at the latter.
For Deutch, his education at both Amherst and MIT provided him with important, albeit radically different skills. Whereas MIT emphasized technical skills, Amherst imparted to him the ability of critical analysis, which "had a profound impact on [Deutch's] intellectual formation," along with an appreciation for the importance of breadth of knowledge. Deutch credits Amherst — and more specifically, Professor of English Benjamin DeMott — with "gifting me the ability to write well."
Deutch initially figured the technical expertise gained from his engineering degree would be useful to work in economics, but that path was diverted after a pivotal moment in one of his physics classes.
"A question came up in a thermodynamics class, which I understood, but I didn't know the answer to," Deutch recounted. "I went to the professor, and I asked him about it, and he said, 'I get the question, but that's a question having to do with molecules and how they interact; it has nothing to do with macroscopic liquids, gases, solids. You'll have to go to a professor in the chemistry department to ask him the question, and he'll give you the answer.' I did that, and the moment I heard the explanation, I said, 'Holy mackerel! I've got to learn that. It's silly to know all this engineering but not understand the scientific basis.' And so I decided to get a Ph.D. in physical chemistry."
He did just that at none other than MIT, with a particular focus on statistical thermodynamics. After he received his doctorate, Deutch became an assistant professor at Princeton, which he quickly decided wasn't the place for him. He eventually made his way back to MIT, this time as a faculty member, where he has stayed since 1970.
During his time at MIT, Deutch took on a multitude of roles, including chair of the chemistry department, dean of science and provost. In his roles as both dean of science and provost, Deutch preferred a hands-off approach, trusting in the people he oversaw to avoid problems and making sure any problems that did come up were "handled as expeditiously as possible." As chair of chemistry, he described himself as much more involved, responsible for "running the day-to-day business" of the department.
Though his research interests changed from time to time, he prioritized being "deeply involved in one problem or another at any time in [his] career." A common theme, however, is energy and energy policy. He is currently researching the methods of mitigating damage from climate change, most notably with "joint climate control mechanisms."
Back to Washington Deutch's academic pedigree is impressive, but most people know him for his roles outside of academia — primarily in public service. Deutch first made an impression in Washington circles as a systems analyst in Robert McNamara's Department of Defense, which he joined shortly after he completed his undergraduate degrees. He was often grouped as one of the "whiz kids," a term ascribed to young technocrats tasked with reforming American defense infrastructure in the 1960s.
Still, it wasn't until 1977, when Deutch was well into his MIT professorship, that he took on his first major government position — director of energy research, and later, undersecretary for the Department of Energy during the Carter administration.
"When President Carter came into office, he asked James Schlesinger [the former secretary of defense] … to be the first secretary of energy. And he asked me to come and be the first director of energy research," said Deutch. "I went to Jerry Wiesner, president of MIT at that time, and asked him if I should do this, and he said yes … because energy was going to be so important and research was going to be so important in energy, so that's what I did."
After Carter left office, Deutch returned to academia and didn't take another major government role until President Bill Clinton was inaugurated. As undersecretary for acquisition and technology for the Department of Defense, he managed procurement of materials and weapon systems as well as development of new technology. Later, he was promoted to deputy secretary of defense, where he oversaw the department's internal operations.
Deutch, on the right, speaks with President Bill Clinton, Vice President Al Gore and National Security Adviser Tony Lake about Bosnia in his role as director of central intelligence. Deutch was nominated to the position in 1995 while serving as deputy secretary of defense.
Despite Deutch's resistance to and previous refusal of the role, Clinton nominated him as director of central intelligence in 1995, elevating the position to cabinet rank as an incentive. Deutch apparently had no choice in the matter. "Nothing changed my mind. He said I had to do it," Deutch recalled. Still, he proved to be a popular and effective director in the short time he occupied the position, implementing broad reforms to increase public trust, accountability and efficiency in the CIA at a time when past "immoral or illegal intelligence activities," as Deutch called it in his confirmation hearing, were eroding public confidence in the agency. Clinton also offered high praise for Deutch, calling him "a dynamic, brilliant leader with all the necessary skills for this critical assignment and my highest trust and confidence."
However, his tenure faced controversy when he was revealed to have kept classified information on his home computer. As a result, Deutch lost his security clearance and was formally investigated, first internally by the CIA, then by the Department of Justice. According to a press release from George Tenet, Deutch's successor as director of central intelligence, "decisive action was taken and steps [were] implemented to improve [the CIA's] security process" in light of the incident. Deutch agreed to plead guilty to a misdemeanor charge for mishandling government secrets, but he ultimately received a pardon for the offense before the case could be filed against him.
Looking Forward, Looking Back Now, even as Deutch reaches the twilight of his career, he isn't slowing down. Not only is he continuing to work on research, but he's also staying involved in service through a number of organizations. For example, he currently serves as a trustee of the Mass General Hospital, where he spends "a quarter of [his] time advising and working on different aspects of the hospital," with the goal of "building stronger medical academic centers here in Boston," where he currently resides.
Deutch tries to stay involved with the recreational side of things, too. "I try to bike about every day or every other day, about 12 miles," he said. "I walk a lot; we have a place at the beach that's quite spectacular. It's quite a pleasure for me." He spends a lot of time with his grandkids. (Eight boys, one girl — Deutch expressed that he'd want more granddaughters if he had a choice.)
Although Deutch isn't as actively involved in the Amherst community as he's been in the past, he remembers his time at the college fondly. "I really love Amherst. It really made me into who I am and changed me from an intellectually inexperienced person to someone who had some sense of what the intellectual world is about. I have a great gratitude for that," said Deutch. "I endowed a chair [title] for my mother and father at Amherst, and I was very happy about that." Even so, Deutch also expressed anxiety over whether Amherst was maintaining "the balance between [its] attention to social issues … and [its] attention to scholarship and education."
To Amherst students, and those trying to find their way, Deutch offers three points of advice. The first is to make a difference — in research, in public service, in the arts, in whatever, so long as you have the opportunity to create meaningful impact. The second is to go on "random walks" and meander around, whether in a physical, emotional or intellectual context. The third is to accept that you'll make mistakes, big mistakes, and to try to make the best of them in any case.
Still, as he gives this advice, Deutch carries an air of general optimism with respect to future generations. "When I started teaching, it was very much in the midst of the Vietnam War disruptions. And I saw students throw away their lives in great numbers. They couldn't get involved. They couldn't pay attention," he recounted. "Today, I can't tell you how great they are. Every student I meet is fantastic. I think the students of today are motivated, talented, want to make a difference — so I'm very, very, very upbeat about students nowadays." And from a person with so many years of perspective behind his back, that's high praise indeed.