Features
Too Many Boxes, Not Enough Space: Post-Covid Online Ordering Spikes
Since the start of the pandemic, the campus mailroom has seen a dramatic increase in online ordering — this past year, Amherst students collectively ordered almost 75,000 packages. Using interviews and data from the post office, The Student traced this shift and its impacts on the campus community.
Last year, Amherst students collectively ordered almost 75,000 packages. According to Post Office Supervisor Don Kells, this averages nearly 40 packages a student — almost a 60 percent increase from levels in 2014. These staggering numbers correlate to detrimental environmental impacts and an increased strain on staff at Amherst College. So why are Amherst students ordering so many more packages than we used to? Advents in online ordering and the lasting effects of the pandemic have both contributed to this change. The Student attempted to piece together how this rise in shopping habits has impacted our campus community.
Kells says he has witnessed first-hand how package deliveries "have just shot up." Since he started working at Amherst in the 1990s, Kells has noted a steady but significant increase in students' online ordering. However, it has become increasingly clear that the problem has only worsened since the start of the pandemic, he said.
While many expressed understanding that the amount of online ordering increased substantially when students couldn't leave campus due to Covid, what's perhaps more surprising is that those numbers haven't gone back down as other parts of life return to normalcy. With close to 80,000 packages arriving on campus for students in 2021, and with close to 75,000 arriving in 2022, online ordering has decreased only minimally since the start of the pandemic.
Etta Gold '24E, who has worked in the post office since before students got sent home because of the pandemic in March 2020, shared that she's noticed "a steady increase in packages." Gold echoed Kells' observation, stating that she "can't believe people order so much" and noting a "huge increase in package ordering during Covid."
Amherst is one of many higher education institutions facing difficulties with increased online ordering — other colleges like Bowdoin College and Ithaca College are reporting similar trends. What the post office supervisors of these schools reaffirm is that "The influx [in packages] is fueled not by care packages from Mom, but by a surge in online shopping — for textbooks, Halloween costumes, Valentine['s Day] sweets, dormitory décor, even mini-fridges."
Kells confirmed that, in the past decade, he has been constantly surprised by the items students order to campus. While hard-to-find textbooks or birthday care packages feel more justifiable according to Gold, she said it seems like "the majority of it is stuff people don't need," and that the basic items students do need are oftentimes readily available at campus stores or within walking distance in town. She recounted one instance of students ordering snow tires, which require large amounts of packaging and are much easier to buy in-person when you already have a car on campus.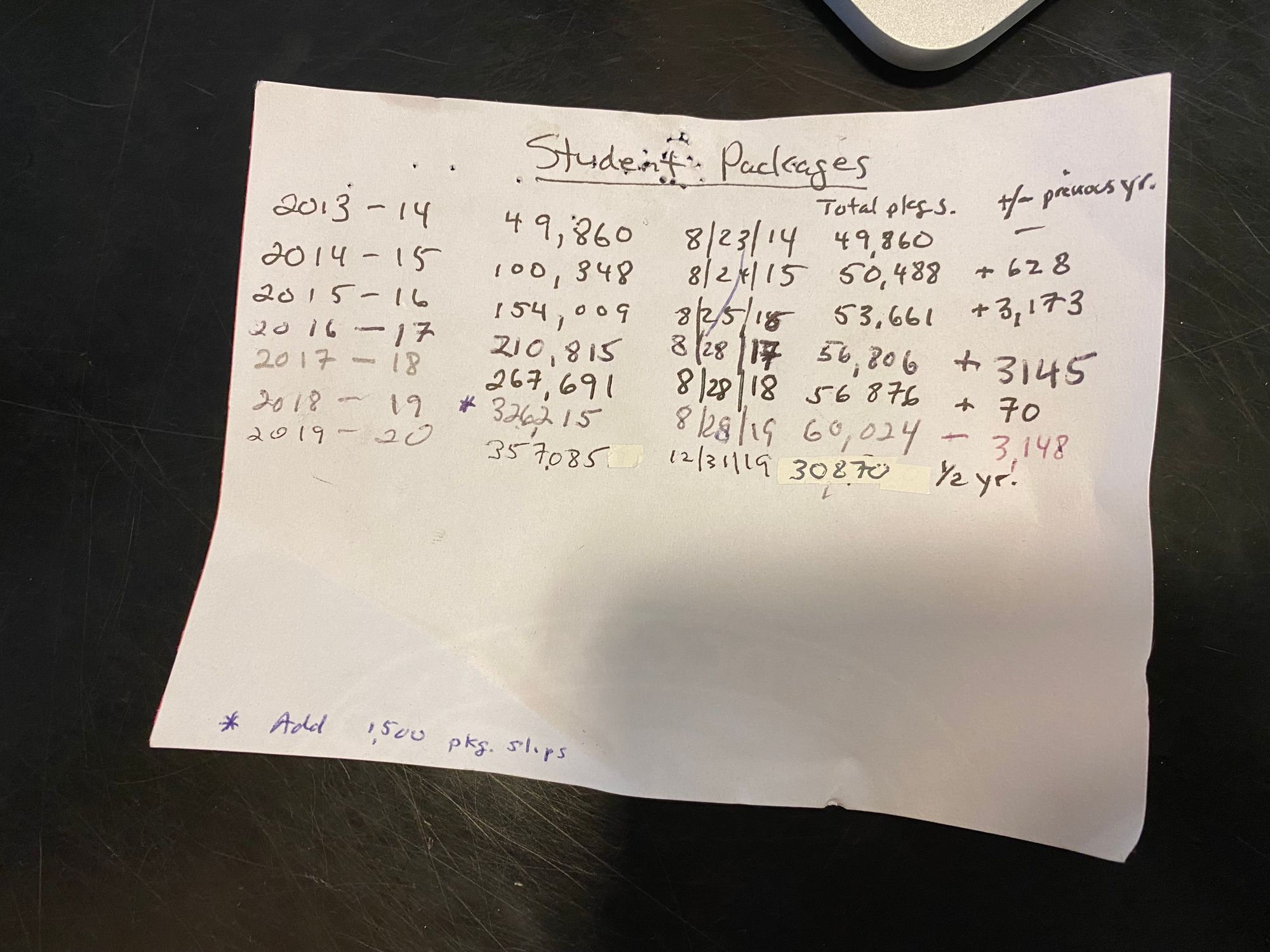 This trend isn't isolated: Across the country, online sales increased by 44 percent from 2019 to 2021, with "e-commerce sales accounting for 21.3% of total retail sales in 2020." Today, nearly a third of all U.S. internet users report shopping online at least once a week, while another third of internet users online shop at least once a month. With more access to online ordering, people are opting to get products shipped to them, rather than buying products in-person or foregoing the purchases in the first place.
But this new habit has a price. On a national scale, online ordering heightens our waste production and supports large companies like Amazon while edging out small, local businesses; closer to home, the surge in package deliveries has placed a real strain on the work of Amherst's mailroom staff.

Impact on Post Office and Staff
Kells reported that limited mailroom space has caused major package processing problems for staff for almost as long as he has been working at Amherst. For starters, the Keefe mailroom was never designed to process packages. Kells' job used to consist of primarily processing letters and magazine subscriptions. Now, he handles around 400 packages a day during the school year. Kells said that the number of packages has gotten "out of hand, [it's] nowhere near where it once was." This increase in packages has caused the post office to spill over into Kells' workspace and even extra rooms like the McCaffrey room to accommodate students' online ordering at particularly busy times of the year.
Gold highlighted the strain the increase in student packages has had on full-time post office staff. "It's just very stressful and a really difficult job for Don and Bobby and Chris," she said, describing other members of the post office staff. "For them, it's … difficult physical labor; you're on your feet all day lifting boxes and running around," she said. "I think when the post office is super full after a break or something like that, it's just really really stressful, like packages get lost more easily … Everything gets disorganized and there's no space."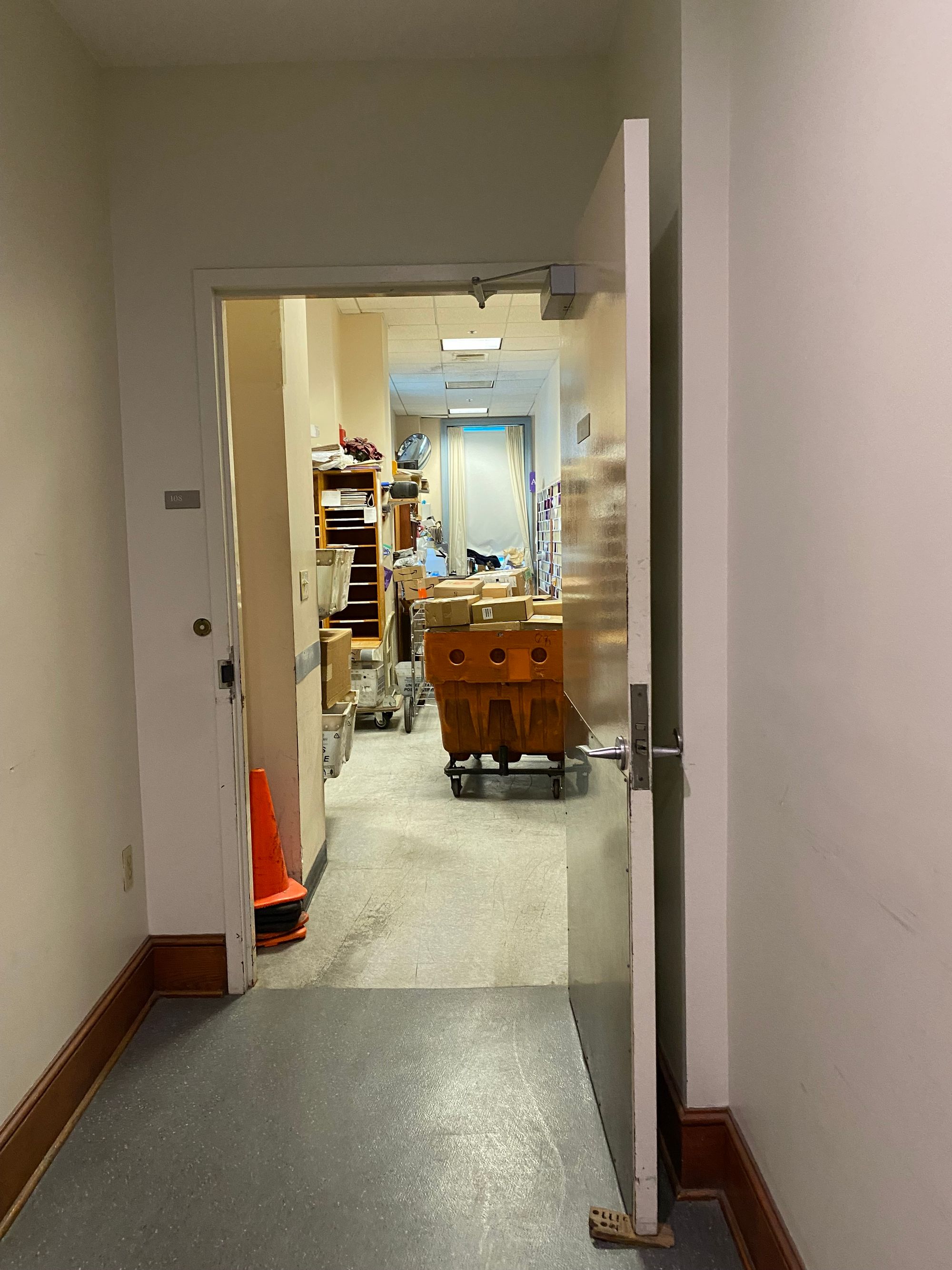 Environmental Impacts
Increased online ordering also makes an environmental impact. For one, increased plastic pollution has reached the forefront of many environmental activists' minds, who are concerned that packaging like plastic film surrounding products, bubble wrap, and exterior packaging will contribute to further plastic pollution. Plastic waste produces threats to soil, air, and water systems and can cause direct damage to wildlife and human health. The waste also releases tiny fragments of material, called microplastics, that can take hundreds or thousands of years to break down, along with toxic chemicals in the production and disposal processes.
While many may view cardboard and plastic as easily recyclable materials, plastic packaging waste has the lowest recycling rate among recyclable materials, with only 9 percent of all plastic waste being recycled. The vast majority of plastic waste either goes to landfills, is incinerated (releasing toxic chemicals), or directly pollutes the environment. Apart from packaging materials making up a large portion of the associated environmental impacts of online ordering, greenhouse gas emissions are closely tied to online shopping. The integration of rush deliveries and even same-day shipping has drastically impacted the environment. Companies need to expend vast amounts of resources and energy fulfilling rushed orders, reducing the perceived efficiency of online ordering in the first place.

The Prevalence of Amazon
Of the packages that students order, Amazon takes a large share. Amazon orders made up nearly a third of all packages arriving for students on campus in 2021, and currently make up nearly a quarter of all packages. Kells recounted seeing three Amazon vans waiting in line at once to deliver all of the packages students ordered one morning. This phenomenon would have been extremely out of the ordinary 10 years ago –– now, this quantity of packages has become the norm.
Gold remarked that since the post office was not designed for packages in the first place, "well, it obviously wasn't designed for Amazon … The space just doesn't have the capacity or the system to handle the volume of packages."
Amazon is notorious for its varied negative environmental and social impacts. The non-profit Oceana recently estimated that Amazon's plastic packaging waste in 2020 "would circle the Earth more than 600 times." Not to mention that Amazon workers have reported "grueling" conditions, with low pay, minimal time off, and intense and tiring shifts, and that Amazon's business model hurts small, local businesses who are struggling even more during the pandemic.

Moving Forward
Already in mid-February of 2023, Amherst students have collectively received nearly 10,000 packages. This number suggests no sign of online shopping subsiding among Amherst students anytime soon. As we gradually return to a more "normal" version of college life post-pandemic, we have a chance as a school community to reflect on the impacts of online shopping.
To mitigate negative impacts on the environment, Office of Sustainability EcoRep Izzy Perozek '25 suggested "[buying] secondhand or [trading] clothes with friends instead of buying brand new." Apart from forgoing buying new items in the first place, Perozek said that one big way Amherst students can limit the impact of buying new items is simply "shopping at the Hampshire mall" or other local stores. The associated environmental impact is much smaller for in-person "brick-and-mortar" shopping in comparison with online ordering.
The New York Times also suggests grouping your purchases –– especially from places like Amazon that tend to send multiple items in many different packages –– to limit the amount of packaging and skip out on rushed shipping. In addition, choosing slower delivery options dramatically reduces your package's carbon footprint. Perozek added that "If you have to order online, [try] doing it with your friends so it only ships once."
Lastly, Kells shared that students often leave packages in the mailroom for days –– sometimes even weeks –– on end before picking them up, which places an added strain on already limited mailroom space.
The next time you get a notification from the post office telling you a package has arrived, consider picking up your packages as quickly as possible to aid post office staff in their processing operations. Gold emphasized that she hopes "people appreciate the hard work that [Don, Bobby, and Chris] do … it's a more difficult job than you might expect."