Arts & Living
"Turn Every Page" Fills Every Seat
On Monday, Amherst Cinema screened "Turn Every Page," a documentary about the long-running professional relationship between editor Robert Gottlieb and writer Robert Caro. Managing News Editor Leo Kamin '25 recaps the event, which included a discussion with director Lizzie Gottlieb '93.
On Monday, Feb. 20, director Lizzie Gottlieb '93 spoke to a sold-out crowd at Amherst Cinema following a screening of her new documentary, "Turn Every Page." She discussed the seven-year process of making the film, which details the overlapping careers of writer Robert Caro and Lizzie Gottlieb's father, Robert Gottlieb, Caro's editor and a titan of the publishing industry.
The documentary discusses the two men's lives and individual careers, but primarily focuses on their working relationship as writer and editor.
Robert Gottlieb edited all of Caro's critically acclaimed and immensely popular books: "The Power Broker," the 1974 biography of the New York City urban planner Robert Moses, and a five-volume biography of President Lyndon B. Johnson, of which four volumes have been published. Lizzie Gottlieb says in the film that unlike the other writers with whom her father worked, Caro and her father never saw each other socially outside of their long, often contentious editing sessions. Curiosity about the nature of their elusive relationship, which her father rarely talked about, inspired her to create the documentary.
The film feels personal, almost handcrafted at times. It includes scenes from the Gottliebs' Thanksgiving table, affectionate family photos, and a split-second cameo from her son, Jacob Young '25, a current student at Amherst. And though the film is primarily focused on the editing process, the personalities of the two men really shine through.
The elder Gottlieb served as editor-in-chief at the publishing houses Simon & Schuster and Alfred A. Knopf, as well as at The New Yorker. He has edited titles such as Toni Morrison's "Beloved" and Joseph Heller's "Catch-22," for which, he proudly proclaims, he suggested the number 22. Beyond his professional achievements, the editor's endearing eccentricity comes out in some of his more surprising interests, which include a deep passion for ballet and a massive collection of small plastic handbags, which are shown in the film arranged in neat rows above his bed.
Caro emerges as more reserved, but equally passionate about the art of language. Lizzie Gottlieb highlights Caro's old-school writing setup: He uses only a Smith-Corona typewriter, a legal pad, and a pen. For decades, Caro says, he has stashed the carbon-copies of each day's writings into a cabinet above his refrigerator. Towards the end of the documentary, Caro shows Lizzie Gottlieb the cabinet, which is by now nearly overflowing. The scene is one of the film's more poignant moments — a testament to a life well-lived yet also a not-too-subtle reminder that Caro (who is 87) is advancing in years, with his magnum opus still unfinished.
The film drew steady laughter from the crowd at Amherst Cinema as the two Roberts recounted their impassioned disagreements over semicolons and as the film showed the two elderly literary titans wandering slowly through the Alfred A. Knopf offices in search of a pencil.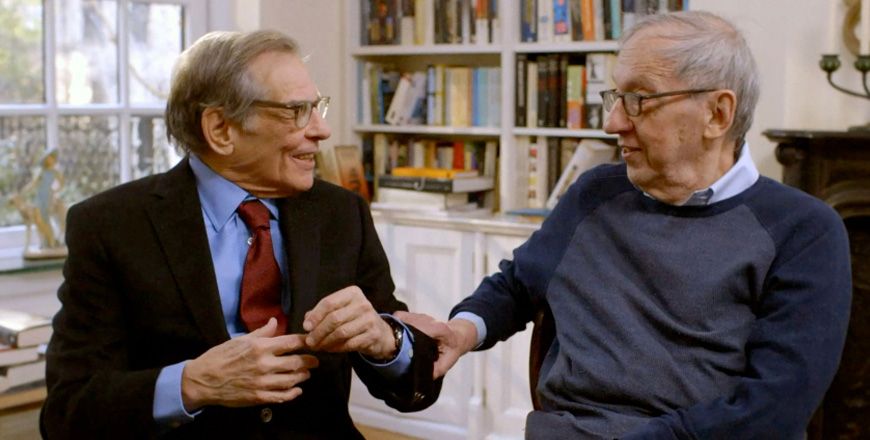 In an interview with The Student, Lizzie Gottlieb said that it was "almost painfully nostalgic" for her to be back in Amherst. She specifically requested to attend the Amherst screening, an event that comes at the tail end of what has been a months-long promotional tour for the documentary, an exhausting ordeal that she nevertheless described as "the most gratifying experience of [her] professional career."
She said that she has been happy with the positive reaction to her film, which she said is, in essence, "a film about two old white men who sit in chairs."
While a student at the college in the late 1980s and early 1990s, Lizzie Gottlieb majored in English. She told The Student that, though it wasn't clear to her at the time, her path towards the director's chair began in college. Before the advent of the Film & Media Studies major, she still found ways to study cinema. She took a special topics English class that involved watching Westerns and took a class simply titled "Directing."
She confessed that, though she had grown up around the stage (her mother, Maria Tucci, acted on Broadway) she hadn't even considered that women could be directors until she took that class, which exposed her to a wide variety of directorial talent. A number of theater productions and three feature-length films later, she has moved into her own as a director. "Turn Every Page" was bought by Sony Pictures Classics after the Tribeca Film Festival last year and has been released in 150 cities across the country.
In a question-and-answer session after the screening, Lizzie Gottlieb discussed the process of making the film, which took nearly a decade to complete. She said that when she initially brought the idea to her father, his response was, "Absolutely not." Caro was resistant as well, but the two men eventually agreed to let her inside their process — on the condition that the film would include no audio from their editing sessions. After much discussion of Caro and Robert Gottlieb's contentious meetings, the audience is finally brought inside the editing room in the film's final, heartwarming scene, with Chet Baker's "Do It the Hard Way" taking the place of the men's muted dialogue.
What emerged from Lizzie Gottlieb's responses during the Q&A is a picture of the massive amount of material cut in the process of making the 112-minute final product. An anecdote illustrating the painstaking depth of Caro's historical research was left on the cutting room floor, as was a greater exploration of her father's love of ballet. The director described having to constantly restrain herself from delving too much into any particular subject, out of fear that she would "lose this central relationship that this movie was about." She additionally emphasized that though the film might be about two old men, it was created almost entirely by women; Lizzie Gottlieb's two co-producers and both of the film's editors are also women.
Joe Sweeney '25, who attended the movie with his class "The ABCs of Publishing," said that he appreciated this window into the process of documentary-making. He said he enjoyed hearing about the details that didn't make the cut. "Those omissions kind of make the things that are there seem more weighty," he said.
He especially enjoyed a scene in the movie where Lizzie Gottlieb interviews Caro in Lyndon B. Johnson's childhood home. "It just really had a great emotional resonance," he said.
Cindy Chandler-Guy, a resident of Northampton, said that she attended the screening because she has read three of the Lyndon B. Johnson biographies and "The Power Broker."
"I love their work," she said. "I think it's amazing." She grew up on Long Island, which Robert Moses' infrastructure projects transformed: "'The Power Broker' is my life," she said. She called the film "incredible," and said that she was especially happy to see members of the younger generation in the audience.
"If there's hope, it's in [the younger] generation," she said.
In discussing his work during "Turn Every Page," Caro seemed to express a similar sentiment. He said that he writes biographies not just to highlight the lives of individuals, but to serve as reminders to younger generations that the power of government can be wielded to address massive challenges.
Caro's challenge, for the moment, is to finish the highly-anticipated fifth volume of his Lyndon B. Johnson biography. He is approaching his 90s. Robert Gottlieb is already there. In the documentary, both men candidly discussed the possibility that they die before the book is completed.
At one point in the film,  Conan O'Brien suggests in an interview that what Caro has already produced would be enough — but Caro is clearly determined to complete his task.
In her interview with The Student, Lizzie Gottlieb, for her part, said she was confident that he would finish.