News
Val Relocates, Reduces Supply of Disposable Cups
Val has made to-go cups less accessible in the hopes of reducing unnecessary waste. Some staff say it is part of a larger plan to phase out all plastic and paper materials.
Valentine Dining Hall relocated and reduced the supply of their to-go cups Wednesday in an effort to reduce both physical and financial waste, according to Manager of Dining Hall Operations Anna Piergentili.
This change was originally expected to be more drastic, as multiple Val managers initially told The Student of plans to entirely eliminate to-go cups. However, Executive Director of Dining Services Joe Flueckiger and Piergentilli later said these statements were the result of a miscommunication, and that Val had never planned to completely phase out to-go cups.
Last week, cold to-go cups were available next to the infused water dispensers in Val's annex wing, whereas reusable cups were farther back in the Russ wing. Now, both sets of cups are in Russ wing, with a nearby sign encouraging diners to make smarter decisions when choosing a disposable versus reusable cup.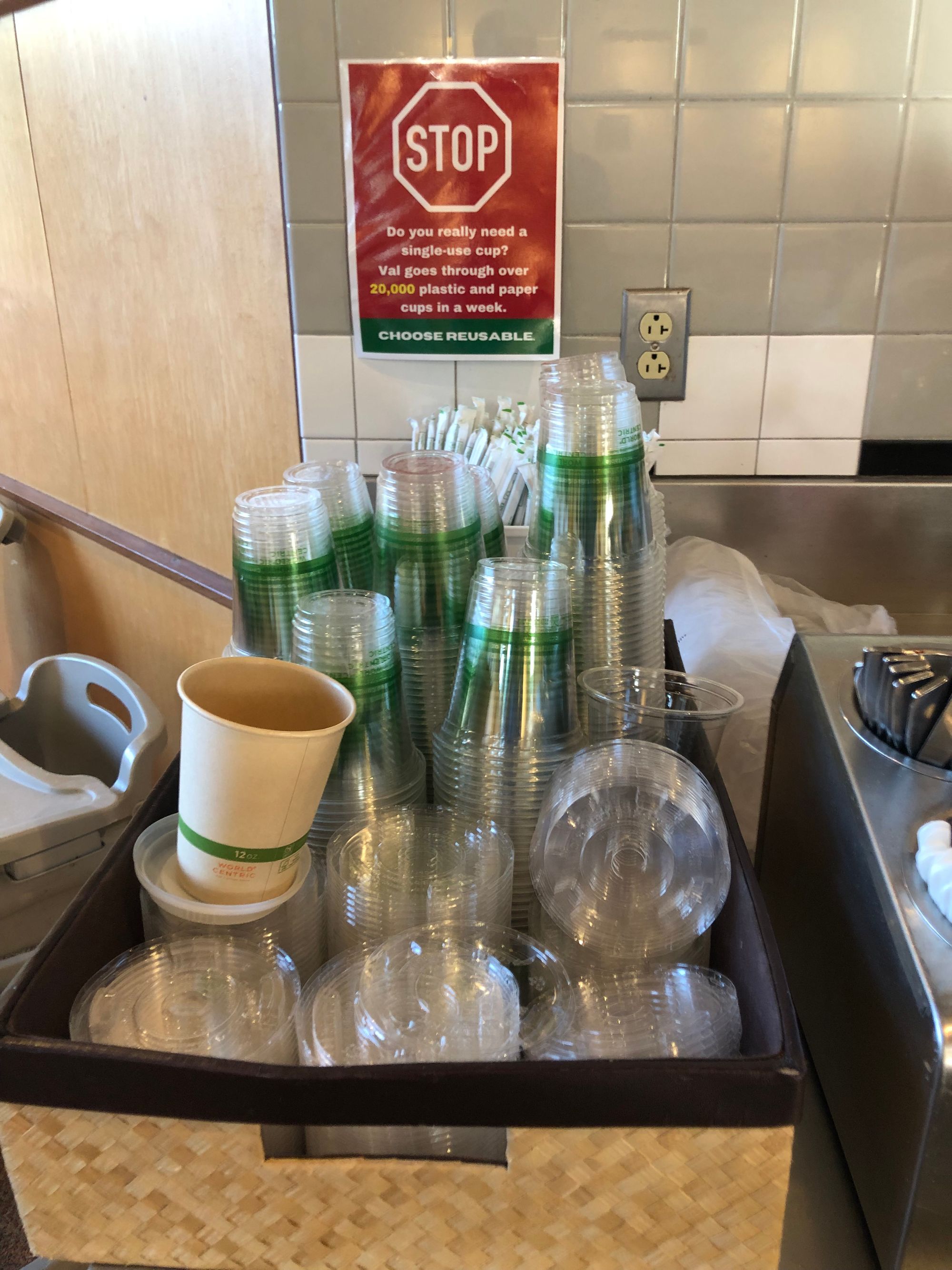 The idea for this change was originally brought to Flueckiger by Alex McIntosh '26 — a representative of Sustainable Solutions Lab, a registered student organization — due to waste concerns.
Dining Hall Supervisor Brian Peters said that Val goes through three cases of cold to-go cups per day — about 2,300 cups — with each case costing around $100. Dining Hall Supervisor Curtis Marion added that consumption of to-go cups is higher than pre-pandemic levels, even since to-go containers were discontinued this fall.
Hot disposable cups are still available next to the annex wing's coffee machines and upstairs next to the tea station. Rather than large stacks of cups, the downstairs hot paper cups are consolidated into two small sleeves, which Marion said mirrors the pre-pandemic setup.
Update, Oct. 5, 2023: This article has been updated to reflect new information shared by Dining Services leadership. When The Student initially spoke to Val staff on Tuesday, Oct. 3, they were under the impression that cold cups had been discontinued completely. Marion said that it was part of a long-term plan for the dining hall to phase out all plastic and paper products, with exceptions — for instance, hot to-go cups for coffee — still being discussed.
An earlier version of this article published on Wednesday, Oct. 4 stated that to-go cups were being phased out. The Student spoke with Flueckiger later that day, who said that to-go cups were not being discontinued at this time. He attributed this to a miscommunication between him and Piergentili. Piergentili concurred.