Sports
Views from Sparrow's Nest: Cale Makar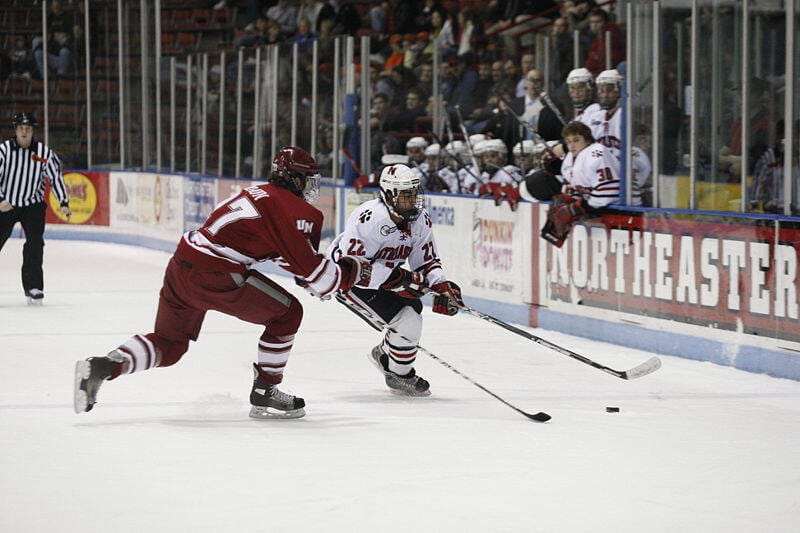 Sunny evenings, rising temperatures and blooming flowers can only mean one thing around Amherst: it's almost finals season. As students gear up for the home stretch before summer vacation, one former University of Massachusetts Amherst student just a few months older than me is preparing for a different kind of grind. Cale Makar is trying to help lead the NHL's Colorado Avalanche to their first Stanley Cup in 18 years.
Upon first glance, it would be easy to mistake Makar for any other sophomore at UMass. Standing at six feet, one inch and 192 pounds, Makar's baby face might raise some questions about what year of high school he's in. Makar and his youthful grin, however, seem destined to be one of the future faces of the NHL given his illustrious amateur career.
Born October 30, 1998 in Calgary, Makar played in multiple junior hockey leagues in Alberta growing up. After winning MVP of his youth hockey league, Makar announced his commitment to the UMass ice hockey team, a program that had only made the NCAA tournament once in their entire history. Makar would break out in his next two seasons, especially his final year, scoring 24 goals and dishing out 51 assists for the Brooks Bandits of the Alberta Junior Hockey League. He was named MVP and top defenseman for his efforts and was eventually selected fourth overall in the 2017 draft by the Colorado Avalanche.
This left young Makar with a difficult decision to make for someone of any age, let alone an 18 year old. He could sign his entry-level contract and immediately turn professional with the Avalanche. He was also getting scholarship offers from all of the best teams in collegiate hockey. In the end, he chose to honor his original commitment to UMass, despite finishing with one of the worst records in Division I hockey at 5-29-2. Just two years later, Makar would oversee one of the greatest turnarounds in sports history.
Makar's first season with the Minutemen was solid in 2018, if not unspectacular. He played in 34 games and recorded five goals and 16 assists, ending up named to the Hockey East conference All-Rookie and Third All-Star teams. As a team, UMass saw a vast improvement by winning 17 games, their most since 2010, but once again missed out on the tournament. That all changed in Makar's second year.
After spurning the Avalanche again, Makar decided to return for his sophomore year. He exhibited the talent that convinced Colorado to make him the second defenseman drafted in 2017 by registering 16 goals and tallying 33 assists, good enough for third in all of Division 1 in regular-season points. He was honored with Hockey East Player of the Year and First All-Star team. The Minutemen also saw plenty of team success, finishing with the most wins in program history at 31 and advancing all of the way to their first NCAA Final.
April 11, 2019 marked the beginning of a whirlwind week for Makar. That night, UMass topped the University of Denver in overtime of the national semifinal by a score of 4-3 to clinch their spot in the championship game. The next day, Makar was given the Hobey Baker Award for being the best player in NCAA men's hockey. He is the first from UMass to earn the distinction. On Saturday, the Minutemen faced their final challenge of the season against the University of Minnesota-Duluth with a national championship on the line. While UMD would end UMass' season in a shutout to win their second consecutive title, Makar's career was just getting started. Just two days after the loss, Makar finally inked his entry-level contract with the Avalanche and made his NHL debut in Game 3 of their first-round series against the top-seeded Calgary Flames. In his first shot against his hometown team, Makar scored a goal, becoming the first defenseman in NHL history to score a playoff goal in his debut. Makar added his first career assist in Game 5, and the Avalanche upset the heavily-favored Flames in five games.
Makar is already one of the hottest names in hockey despite him not having played a regular-season game in the NHL. As he continues his pursuit of a Stanley Cup, it's certainly a very different way of life than a month earlier when he was pursuing a degree in sports management right here in Amherst. This was always the path that Makar had in mind and no one should take his success for granted. He single-handedly inherited what was one of the worst programs in college sports and took it all the way to the precipice of a championship. No matter what happens for the rest of his career, Makar will always have fond memories of Amherst, just as the town has for him.