Sports
Views from Sparrow's Nest: Racism and the National Hockey League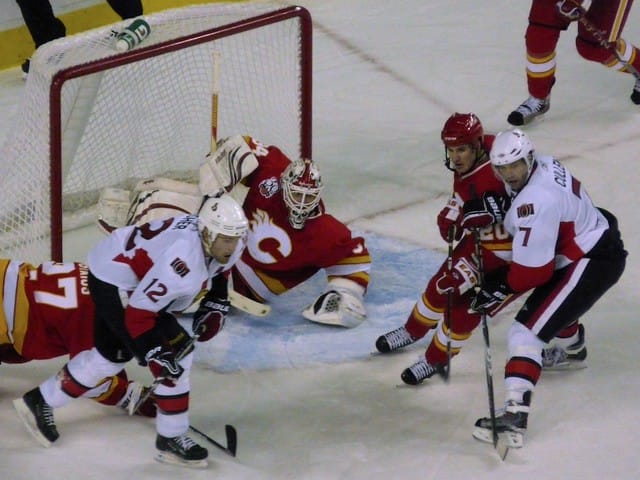 Four days after a former NHL player came forward with allegations of racial epithets directed at him, Calgary Flames head coach Bill Peters announced his resignation, effective immediately. The free agent winger, Akim Aliu, tweeted on Nov. 25 that Peters "dropped the N bomb several times towards me in the dressing room in my rookie year because he didn't like my choice of music." Aliu, whose father is Nigerian and mother is Ukranian, played for Peters in the 2009–2010 season as a member of the AHL's Rockford IceHogs, a minor league affiliate of the Chicago Blackhawks. Assistant coach Geoff Ward, who coached the Flames to a victory on Wednesday while Peters was under investigation, will assume the duties of interim head coach.
Reports originally surfaced on Tuesday that Peters had been fired, which Flames general manager Brad Treliving refuted. He confirmed that an investigation was ongoing and that the team "will address it and get back to you people once we have a chance to speak internally." The same day, a story was published by The Sports Network (TSN) that had Simon Pepin and Peter MacArthur, two teammates of Aliu on the IceHogs, corroborating his accusations. Aliu also expanded on the events, saying that he was tasked with choosing the music for the morning skate. When Peters arrived, he commented, "I'm sick of hearing this n—– f—– other n—— in the a– stuff."
When questioned why it took him so long to come forward with the abuse, Aliu admitted that it was fear of being blackballed. "This isn't me being bitter. I sat on this a really, really long time. It broke my heart, I think it made my career go downhill before it started. This isn't to the degree of [former 49ers Quarterback Colin] Kaepernick [who kneeled in protest of the national anthem in response in solidarity with Black Lives Matter] by any means, but if you play the race card, it's most likely the end of your career," Aliu told TSN.
Things took another turn on Wednesday as Peters issued a public letter of apology that he sent to Treliving in which he said that the occurrence happened in a "moment of frustration."
"Although it was an isolated and immediately regrettable incident, I take responsibility for what I said. I meant no disrespect in what I said, and it was not directed at anyone in particular. But, that doesn't matter; it was hurtful and demeaning. I am truly sorry," he said.
The next day, Aliu criticized the letter, calling it "misleading, insincere and concerning," and asserting that he would have nothing more to say until he talked to the NHL in part of their investigation. On Friday, what had felt inevitable for a few days was finally confirmed: Peters had resigned as head coach.
"Effective immediately, Bill Peters is no longer a member of the Calgary Flames organization," Treliving announced in a press conference. He went on to admit this was the most difficult moment of his career, but that the organization was moving forward. Although it may seem like this is the end of a dark chapter in the NHL, I think it is just the beginning.
This is the second controversy for the NHL this month as in early November, longtime Canadian hockey commentator Don Cherry made xenophobic remarks about immigrants not wearing poppies to honor veterans for Canada's Remembrance Day. "You people that come here … You love our way of life, you love our milk and honey, at least you can pay a couple bucks for a poppy or something like that… These guys paid for your way of life that you enjoy in Canada; these guys paid the biggest price," Cherry had said.
It's far from the first incident. Black hockey players have also been recent targets of racially-charged animus. Fans shouted "basketball" at former Washington Capitals defenseman Devante Smith-Pelly, just two seasons ago. Current New Jersey Devils winger Wayne Simmonds was ready for his shootout attempt when a banana was tossed onto the ice during a 2011 preseason game. Fellow Devil PK Subban and San Jose Sharks defender Evander Kane have both spoken out about racial comments directed at them on social media.
While these actions have no place in hockey, they were done by fans. The fact that a head coach spewed racial hate at one of his own players shows how much deeper the problems are in hockey, and how much it needs to change. Aliu plans to meet with the NHL and emphasize that this wasn't an isolated incident but rather part of a culture that has failed to address racial issues for years.
He is absolutely right. Every time a racial controversy occurs, it goes away in a few days without any major consequences or changes occuring. Hopefully this is the wake-up call the NHL needs. Historically, hockey has been a predominantly white sport. As such, there is plenty of racism bubbling under the surface as diversity becomes part of the game, and Akim Aliu bravely stood up to what probably is a small part of it.
This should be the beginning of concrete changes in how the NHL deals with race. They should encourage more diversity in the sport by following the NBA's example of expanding the game to parts of the world and communities where hockey isn't as popular.
They should also ask for input from the current players of color in the league to get a better understanding of how to create a more inclusive environment. Finally, they need to create a culture that allows everyone who has been a target of racism to feel comfortable coming forward and talking about it publicly or else they're doomed to many more incidents just like this one.