Sports
Views From Sparrow's Nest: Tiger's Back!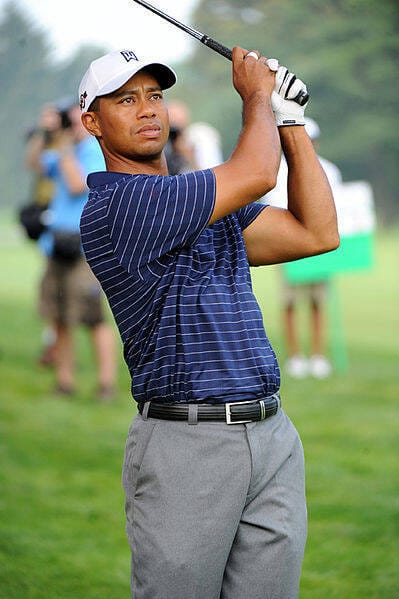 He did it. It was a long and winding road to recovery, with many personal and physical challenges, but Eldrick "Tiger" Woods has finally won another major championship, his first in nearly 11 years. It happened at Augusta National Golf Club in Augusta, Georgia, the host of the Masters, and one of Tiger's favorite courses. This victory marked his fifth at the illustrious course, long considered the spiritual home of golf. Tiger had many doubters, myself included, but he showed why there should be no debates about who is the best golfer of all time. With a virtuosic performance on Sunday, one that was reminiscent of "vintage Tiger," I believe it's officially time to say that he's back. And that's good news not only for golf, but for sports in general.
Let's get this out of the way: I'm not going to try to defend his prior actions. What Tiger did to his ex-wife Elin Nordegren was shameful and disgusting. His multiple infidelities and very public car crash showed that he was a jerk, but not a felonious criminal. He was on top of the world as one of the most recognizable sports stars, both on and off the golf course, with dozens of endorsement deals. He had an ego problem, and the controversy brought him crashing down to earth.
Since the scandal first leaked almost 10 years ago, Tiger has done everything in his power to repair his image, apologizing for his actions, going to a therapy program and dedicating more of his time to his two children. The moment when Tiger embraced his 10-year-old son after winning the Masters will be etched in my mind for the rest of my life. The image mirrored Tiger hugging his late father after winning his first major championship at the same tournament 22 years earlier.
I'm going to be perfectly honest: I think golf is incredibly boring. Maybe it's because I've never played it, as I've been told by many people that baseball is boring and that's arguably my favorite sport. You just can't convince me about golf, though. First of all, there's not much athleticism involved. I'm not referring to its difficulty, as golf might be the toughest (and most frustrating) sport out there. However, it's a skill-based sport. No one is going to wow me on the golf course like a thunderous dunk or one-handed catch would. If someone hits a ball 300 yards onto the fairway, the crowd reaction is a polite "golf clap." I think that term says it all.
Also, in my opinion, it's not really worth watching until the back nine on the final day. There's no point in watching the first three-and-a-half days because the only drama exists on the last few holes. A golfer can have a great first two rounds, but a few terrible holes of golf can take you out of contention. Consistency is the way to win, and consistency doesn't usually lead to compelling television. Finally, there's only one person worth rooting for, and his name is Tiger. Sure, there are other well-known golfers, like Rory McIlroy, Phil Mickelson and Jordan Spieth, but none of them can match the celebrity status of Tiger. When Tiger is in the hunt, the entire sports world holds its breath. The Masters saw a five percent increase in ratings from the year before, not only because America wanted to watch a man on a mission, but because they wanted to see him succeed.
Last but not least, Tiger's victory is important for sports. When you get the chance to watch legends like LeBron James, Serena Williams or Mike Trout play, you learn not to take it for granted because it's gone sooner than you know it. Tiger is an idol to sports fans everywhere. As a kid, whenever I thought of golf (a historically white-dominated sport), the only face that came to mind was one of mixed African-American and Asian American heritage, that of Tiger Woods — I think that should not be forgotten. He means more to golf than any other athlete means to their respective sport. Both the golf and sports landscapes are better when Tiger is playing. I had tears in my eyes seeing his reaction when the final putt hit the bottom of the cup. He reacted as if a great burden was lifted off of his shoulders. So what comes next? There's no way that Tiger will approach his old dominant self. It took him 11 years to win 14 majors, and then it took him another 11 to win number 15. Maybe he'll win another few and overtake golfing icon Jack Nicklaus once and for all as the winningest golfer in history. Maybe this is his swan song, and he'll drop off into retirement. Whatever happens though, you can be sure that the whole nation, myself included, will be watching.