Sports
Volleyball Loses Nail-Biter, Rebounds to Sweep Brandeis in Weekend Contests
The volleyball team took to the court again this past weekend, playing tough opponents Middlebury and Brandeis on a two-game road trip. While the team lost a five-set heartbreaker on Friday, they beat the Judges in three sets in an impressive second showing.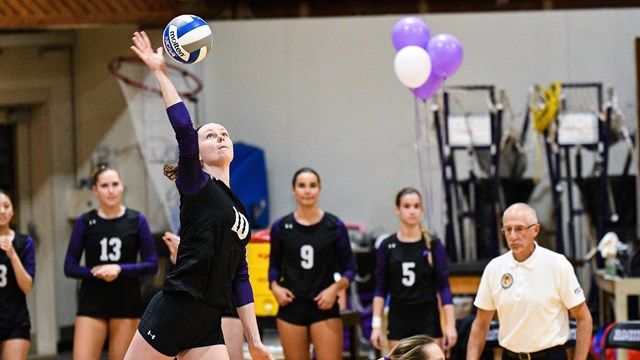 The volleyball team has been off to a dominant start in 2021. Entering last weekend, they were 5-0 coming off two commanding three-set sweeps of NESCAC opponents Colby and Bates College. However, the Mammoths were in for a tougher challenge this weekend as they headed up to Vermont to play the undefeated Middlebury Panthers on Friday, Sept. 24 and the Brandeis Judges on Saturday, Sept. 25. The Panthers bested the Mammoths in five sets (15-13), but Amherst came back strong with a dominant three-set win over the Judges.
Back in 2019, Middlebury knocked the Mammoths out of the NESCAC tournament back so Amherst was looking to get even for that loss. But that was turning out to be a difficult feat with Middlebury coming into the match with an 8-0 win streak – Amherst had a tough matchup on their hands. The match turned out to be a thriller with impressive play on both teams.
Middlebury came out of the gates hot with a 25-20 first set win, but Amherst responded with a set win of their own, 25-17. Middlebury turned the momentum right back to their side with a big third set win 25-17 and positioned themselves to win this contest in four sets. Amherst responded with clutch play in set four, which had many twists and turns and ultimately resulted in a two-point win for the Mammoths, leading to a fifth set.
The fifth set was played to 15 and was nothing short of an intense battle. Amherst and Middlebury went back and forth until the score was tied at 13. Unfortunately, the deciding bounces and plays went the Panthers' way as they held on to win 15-13 in a highly intense five-set match.
Some key player stats from the game included captain Jamie Dailey's '22E 21 kills to lead Amherst, Skyleur Savage's '22 three aces,  Carly Cooper's '24 44 assists and Lizzie Papalia's '25 24 digs.
When asked about teachable moments from this first loss for the Mammoths, Sierra Cox '22 said that the Mammoths "learned to be resilient and push for every point, no matter what the score looked like." Resilience is a major theme in team sports and the Mammoths showcased that effort even though this contest did not go their way. Middlebury is the best opponent the Mammoths have faced so far this season and Cox claimed that they "were able to find [Amherst's] weak spots and really hammer down on them … their offense was unpredictable and extremely consistent."
The Mammoths responded to the loss by making adjustments and dominating in a three-set sweep against Brandeis on Saturday, Sept. 25. The Mammoths won the first set 25-14, the second 25-19 and the third 25-14. Dailey shined with 17 kills, Cooper contributed with 30 assists, Alex Rone '22 and Sophie Launsbach '22 both led the Mammoths with two blocks, Sami Underwood '23 led Amherst with one ace and Papalia had 12 digs to lead Amherst for the second straight game.
When speaking about the adjustments made to win this contest following a difficult loss, Cox spoke to the resiliency of this team. According to Cox, Brandeis was a match where "[Amherst]  used positive energy and determination." She explained that it was more about how the squad responded as opposed to their opponent making them play out of character. "When we focused on what we were doing on our side, we were able to come out on top," Cox said
The Mammoths did indeed come out on top on Saturday, and have another huge contest this upcoming Friday against NESCAC opponent Trinity College. Cox said the team is, "even more fired up to play another NESCAC game and especially a consistent team like Trinity." Amherst plays Trinity at LeFrak Gymnasium at 7 p.m. this Friday, Oct. 1.