Sports
Volleyball Notches Two Straight-Set Wins over Bowdoin and Colby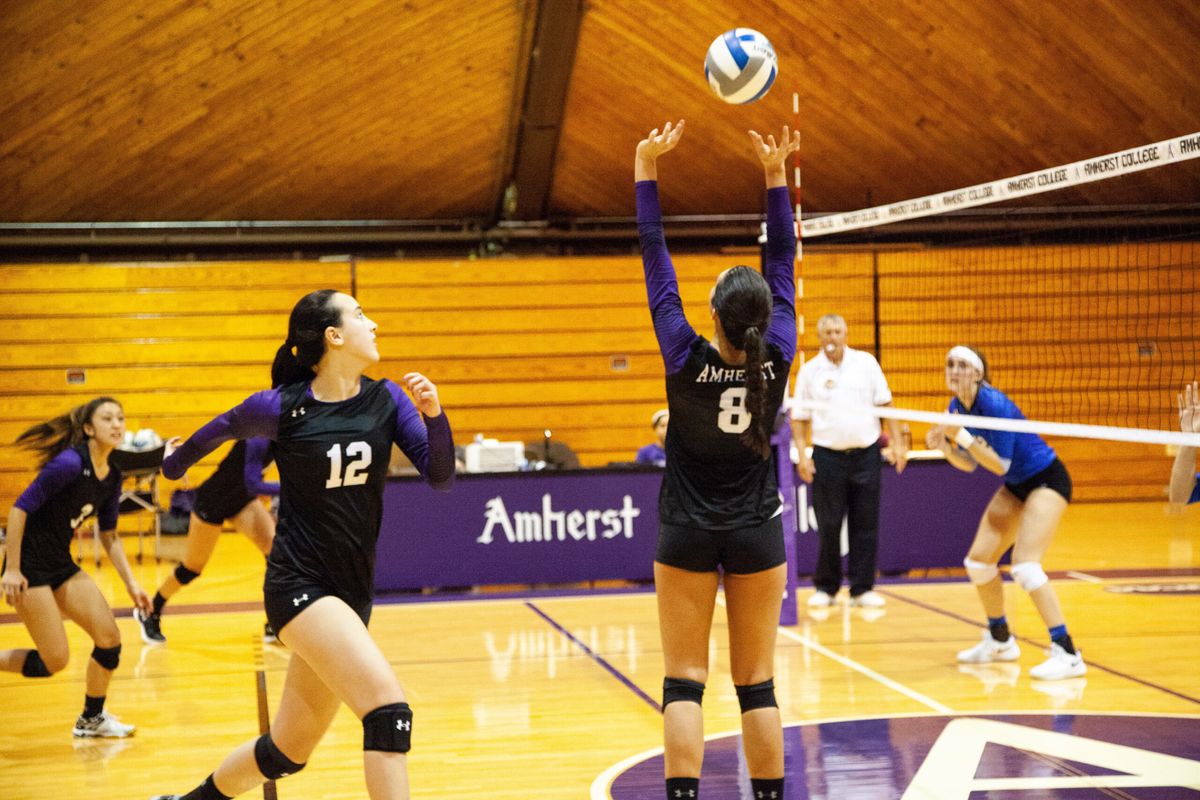 In its final weekend of regular season play, the Amherst volleyball team traveled to Maine for matches against NESCAC opponents Bates and Colby. Both matches were straight-set victories for the Mammoths, and the team moved to 20-4 on the year overall and 8-2 in conference play. Thanks to its first 20-win season since 2015, Amherst will be the third seed in the upcoming NESCAC tournament.
On Friday, Oct. 26, Amherst took on the Bates Bobcats, which entered the match with a four-game winning streak. In the first set, both teams battled for control of the lead, but the Firedogs used a 7-2 run in the middle of the set to grab the lead and held on for the 25-18 victory.
In the second set, Bates bounced back from an early deficit to tie the score at 20-20. However, Amherst scored five of the next six points to win 25-21 and fended off another furious comeback by the Bobcats in the third set, 25-22, and the match, 3-0.
The duo of Emily Kolsky '20, who finished with 18 kills and 17 digs, and Jamie Dailey '21, who contributed 14 kills, led Amherst offensively. Meanwhile, Charlotte Duran '20 dished out 41 assists, as Skyleur Savage '22 and Daria Kim-Percy '21 contributed 12 digs each.
On Saturday, Oct. 27, the Firedogs arrived in Waterville, Maine to face Colby.
In the first set, Amherst struggled to gain any offensive momentum, trailing as late as 20-16. However, the Firedogs refused to go down without a fight, finishing the set on a 9-2 run to win 25-22.
Amherst dominated the second set, cruising to a 25-15 victory, and it only took one more set to finish the match, with the Firedogs overpowering the Mules in the third. In the win, Dailey posted 10 kills and Kolsky added 11 digs. Duran notched 30 assists, while Savage '22 contributed three service aces and eight digs. Additionally, Sophie Launsbach '22 finished with eight kills.
On Friday, Nov. 2, third-seeded Amherst will open postseason play in a match against No. 6 archrival Williams in the quarterfinals of the NESCAC tournament.
Top-seeded Bowdoin will host the entire tournament, with semifinal action scheduled for Saturday and the final slated for Sunday, Nov. 4. The Mammoths will arrive in Maine riding a eight-set win streak and boasting a record of 8-1 in their last nine games.