Sports
Volleyball Stacks Up Three Wins In Opening Week of Season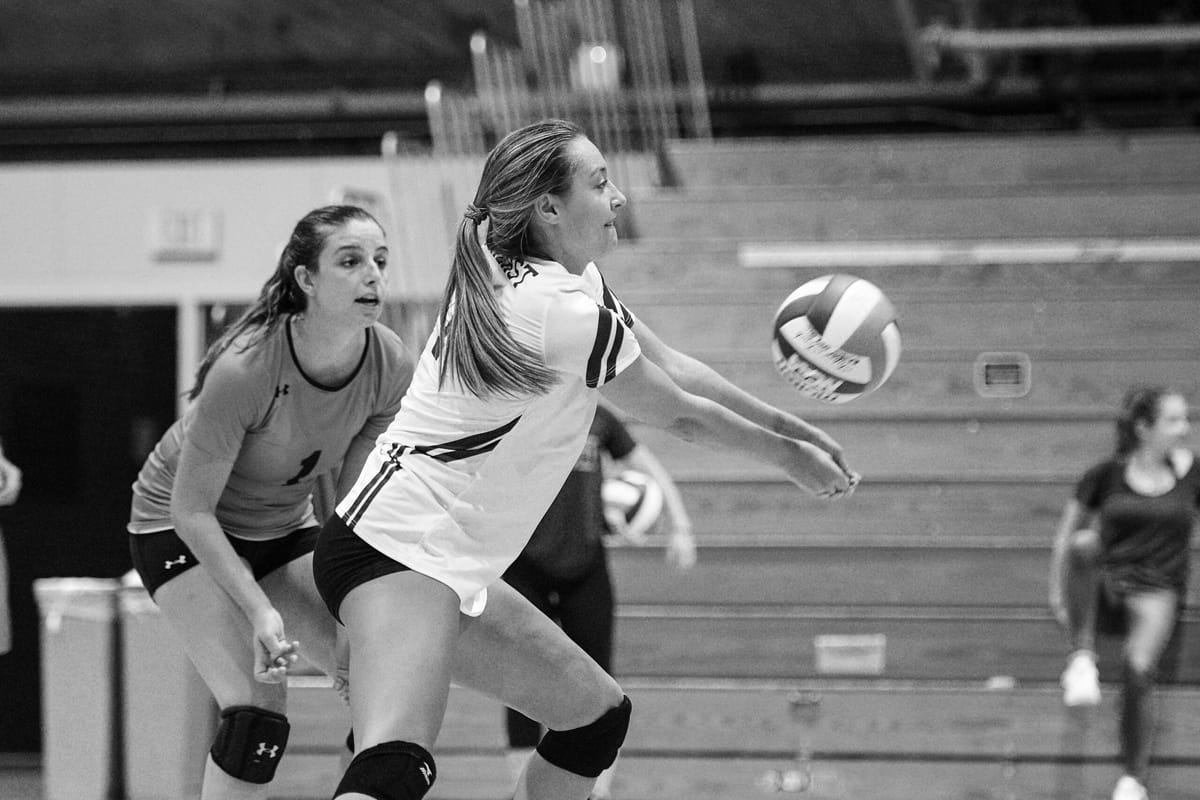 The volleyball team started the season strong, defeating Pioneer Valley foe Smith on Friday night and following up this performance with back-to-back wins at the Western New England Invitational on Saturday, Sept. 8th.
The Firedogs dropped just one set in the three matches, giving them a perfect 3-0 record after the first weekend.
On Friday, the Firedogs traveled to Northampton for their first contest of the season.
Amherst jumped out to a 7-0 lead in the first set and didn't look back, cruising to a dominant 25-4 first-set win.
The Pioneers made the second and third sets more competitive, but Amherst held off several runs to win the final sets, 25-18 and 25-19.
Sophomore Jamie Dailey led the team with three aces, 10 digs and 15 kills, while juniors Emily Kolsky and Claire Dennis contributed with eight and five kills, respectively.
Setter Charlotte Duran '20 finished with 31 assists and Candace Chung '20 had 17 digs.
The Firedogs had a quick turnaround, traveling to the Western New England Invitational on saturday, they were scheduled to play familiar opponents Western New England University and Emerson College.
Amherst defeated both teams last season and looked to repeat their success this campaign. Western New England entered the weekend looking for their first win, while Emerson arrived previously unbeaten.
In their first match, the Firedogs pulled off another sweep, this time against host Western New England.
Amherst found its footing in a tough first set, edging out the Golden Bears, 25-17.
The momentum stayed with Amherst, as the team easily took the final two sets (25-12, 25-14) and won the match.
Both Dailey and Kolsky had double-digit kills, while first-year Sophie Launsbach tallied seven kills and junior Cam Hendricks notched six.
Co-captain Hayes Honea '19 led the team with 18 digs, and Duran had 37 assists.
In the second match, it took a full team effort from Amherst to defeat Emerson. The two teams traded the lead in the first set before Amherst pulled away for a 25-17 win.
Amherst dropped its first set of the weekend and the season in the next frame, as the Lions needed an extra point to win 26-24.
However, the Firedogs remained focused, and with the help of first-year Skyleur Savage's 24 digs, captured the third and fourth sets, 25-19 and 25-15.
The result was the Lions' first loss on the season and propelled Amherst to 3-0.
Duran and Dailey each boasted impressive statistics, finishing with a team-high 55 assists and 28 kills, respectively.
Honea had 12 digs for Amherst, while Kolsky contributed 10 kills and Launsbach finished with nine of her own.
After this weekend's performance, head coach Sue Everden sits just one win away from her 700th career victory.
Amherst will have an opportunity to achieve this milestone for its coach on Friday when the team travels to Middlebury, Vermont to take on the Panthers and open NESCAC play.
Last season, Amherst dropped a 2-1 lead to Middlebury in an exciting five-set match.
After the match against Panthers, Amherst returns on Saturday for its home opener in LeFrak Gymnasium.
The doubleheader features matchups against Newbury College and Sage University.