Opinion
Where Does Your Amherst Sweatshirt Come From?
Contributing writer Nora Lowe '26 investigates the sourcing of Amherst merchandise and its degree of sustainability, suggesting that school spirit can be expressed without reliance on material items.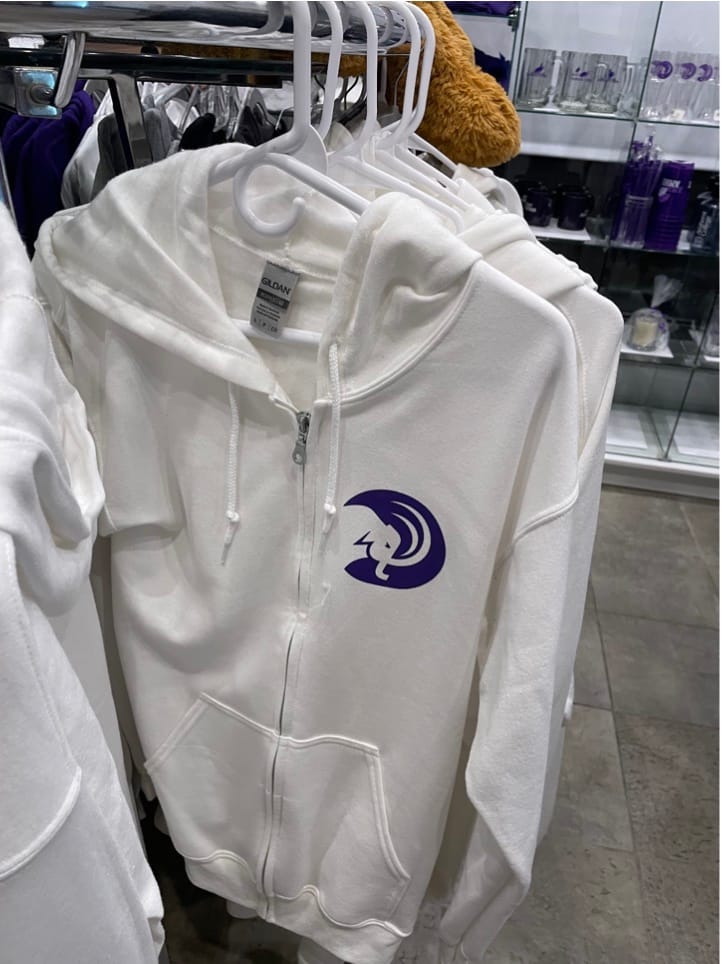 While Amherst College students aren't known for boisterous displays of school spirit, they do love to sport the Amherst logo. But where, specifically, do our branded clothing items come from, and are expressions of school spirit really contingent upon possessing material things? To explore these questions, in this article, I take a deep dive into the sourcing of Amherst merchandise.
Note: This project was inspired by "ENST/SOCI-226," as well as a listing in the Office of Sustainability's new Sustainability Projects Database.
Part 1: A Trip to Mammoth Market
Amherst's A.J. Hastings store shut its doors recently after 108 years of business, and leftover merchandise was transferred to the Keefe Center's Mammoth Market. I began my investigation there, by peeking at the labels of their stock. As expected, most were manufactured abroad in countries in the "Global South" like Honduras, Indonesia, and El Salvador. In addition to being sourced from overseas (i.e., expending exorbitant amounts of fuel), some of these products came from factories with documented human rights violations. The Gildan sweatshirt pictured below looks innocent enough, but human rights abuses have been recorded as recently as 2017 in Honduras' Gildan factories. However, A.J. Hastings is no longer supplying Amherst's branded clothing. So what's next for Amherst's branded merch?

Part 2: Partnership with Follett
According to Amherst's website, the college is finalizing a deal with a company called Follett, which has culminated in a recently launched online marketplace.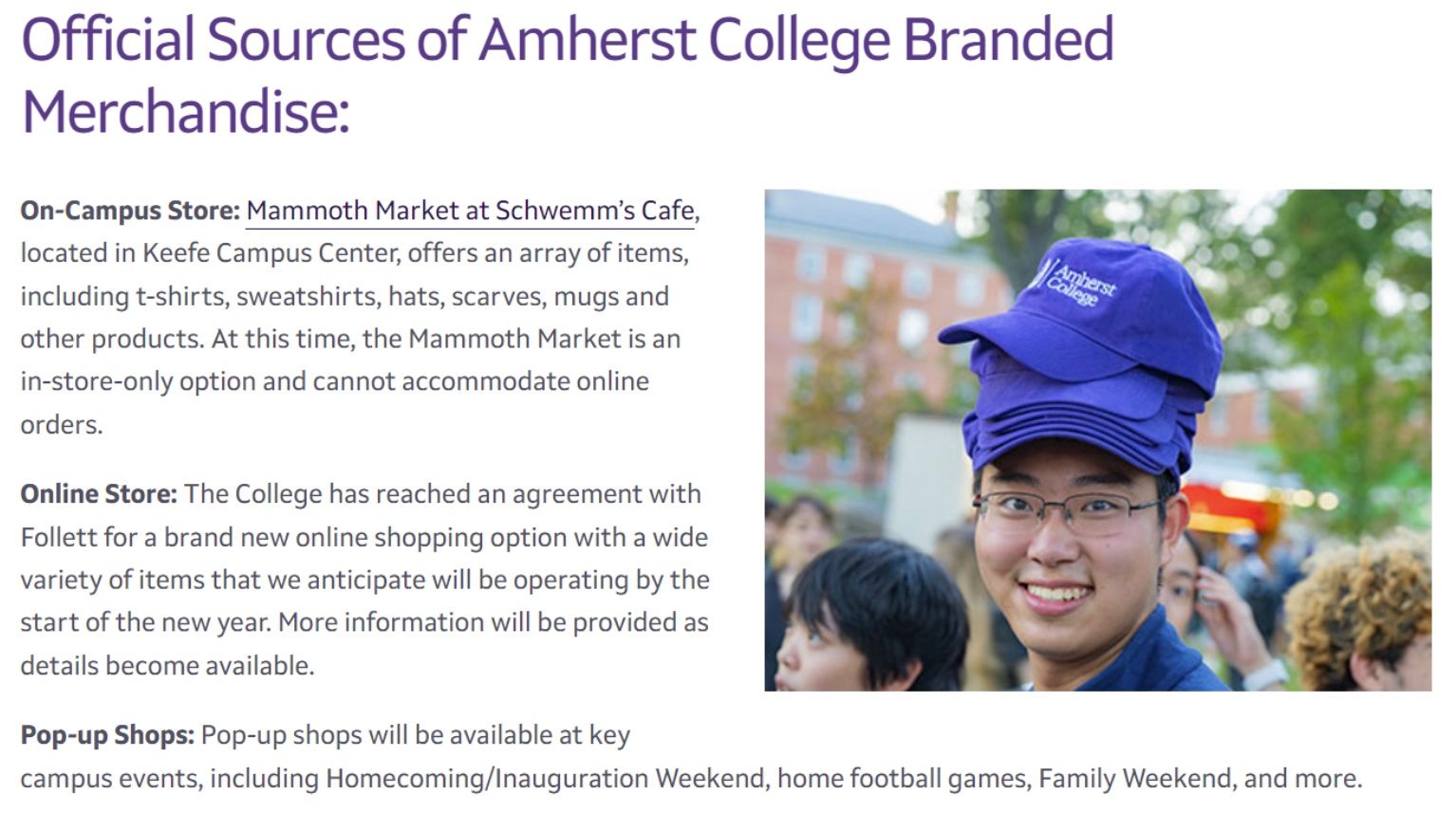 Follett is an Illinois-based corporation that subsidizes vendors in order to supply products to institutions including colleges and universities. Their clothing-specific vendor is listed as Alta Gracia, a factory in the Dominican Republic.

My research into Alta Gracia originally yielded very promising results. It has been widely praised as a breakthrough in ethical garment manufacturing, boasting a lax work environment and pay three times the country's minimum wage. The Huffington Post and PBS News Hour hailed it as proof that clothing producers can fairly compensate their workers and still be competitive in a global market. But when the pandemic hit, demand for college merchandise dropped, and with it, so did Alta Gracia's employee wages. The company went out of business altogether in 2021. However, at the time of this article's composition, the Follett website still listed Alta Gracia as their clothing vendor. This begs the question: How can a factory that shut its doors nearly two years ago supply Follett, and in turn, Amherst, with clothing?
Part 3: Internal Inquiries
The college's director of sustainability, Weston Dripps, kindly looped me in with Joe Flueckiger, director of dining services. Flueckiger, in turn, posed my questions to Ralph Johnson, director of procurement and shared services. Johnson told me, "We were careful to research vendors and to partner with a supplier who is transparent and who does have programs rooted in corporate social responsibility (CSR) and environmental, social, and corporate governance (ESG)." He shared that Allmade, Bella & Canvas, and Gildan are Follett's primary vendors now, and he passed along the request for Follett to update their website accordingly.
Part 4: The Myth of Green Consumerism
While partnering with a socially and environmentally conscious vendor is a plus, green consumerism (or consumption with the planet's well-being in mind) is not a magical antidote for environmental and social crises. It doesn't truly get at the root of the problem, because until robust labor laws and enforcement are the norms, sweatshops will continue to dominate the marketplace unchecked. Should the ebb and flow of the market dictate who can live with dignity, and should Alta Gracia be written in history as a radical experiment — when the idea of treating workers with respect isn't revolutionary at all? In the end, because green consumerism is still consumerism, it amounts to fighting fire with fire, markets with markets. The solution is therefore not just to buy green things, but to buy less things.
Part 5: Call to Action
Amherst College should adopt a set of fair-trade and sustainability criteria for vendors from which they solicit products, taking into account factors such as how far the factory is from the market, as well as how the laborers are treated along the commodity chain. A good jumping-off point might be the sustainable procurement policy brainstormed by this year's senior seminar, ENST-495. According to the Dec. 5 Office of Sustainability Newsletter, "The Environmental Studies Senior Seminar ENST-495 this fall took on a series of campus sustainability initiatives as part of the class. Projects included … a sustainable procurement policy." Dripps told me that while the "policy has not been formally written or adopted yet," "they are working on developing recommendations for what such a policy could include." Susannah Auderset, a student who took ENST-495 and worked on this project, said over email that they were "focused on a general procurement policy, while looking specifically at cleaning supplies." Finalizing and expanding upon this body of work, as well as adopting it as an institution, would be a step in the right direction.