Sports
Women's Golf Wins NESCAC Championship, Men Fifth
Playing at their home course, the Amherst women's golf team won their first-ever NESCAC Championship this past weekend. Dominant play over two rounds earned an emphatic 11-shot victory and a trip to the Division III National Championship in Houston, Texas. The men's team finished fifth of 10.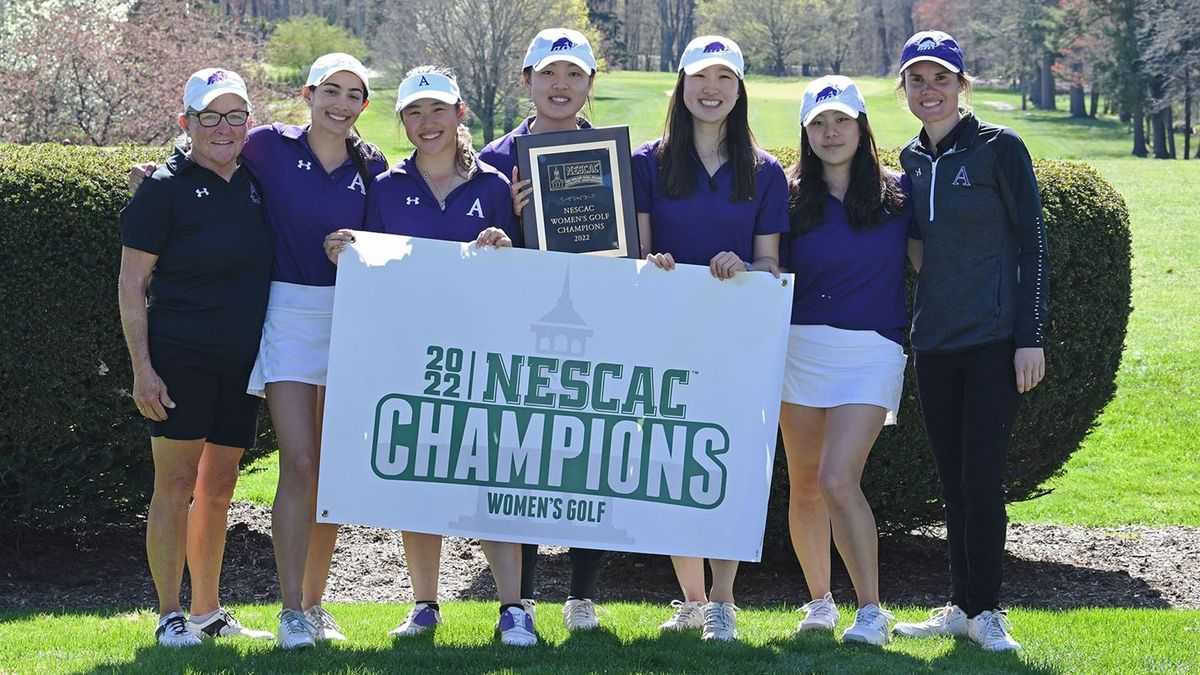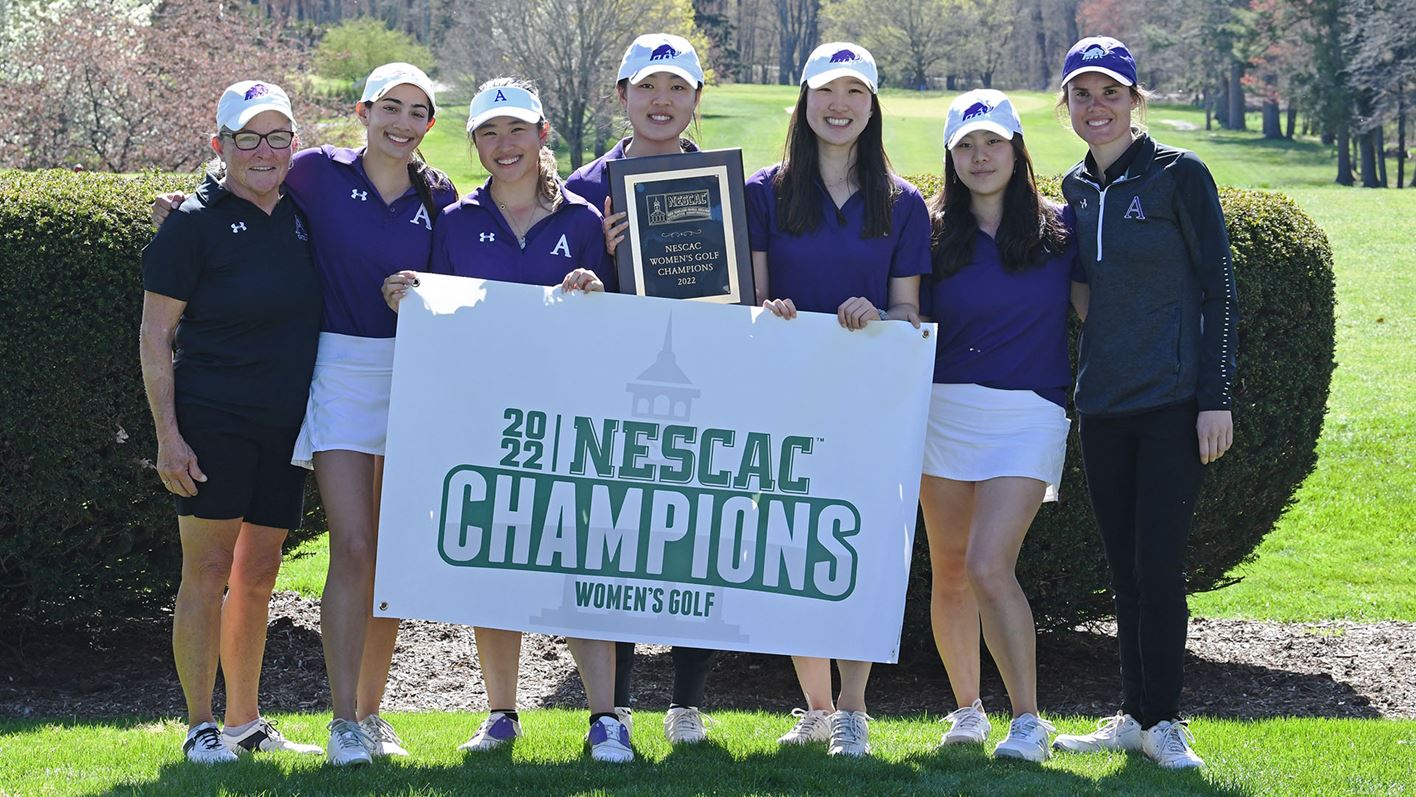 Playing on their home course in Amherst and led by first-year Jessica Huang '25 — who turned in a pair of one-over-par rounds to claim NESCAC individual champion honors — the Amherst women's golf team captured their first-ever NESCAC title this past weekend. The men's team, playing in New Hartford, New York, finished fifth of the 10 teams competing. Both two-day tournaments took place across Saturday, April 30, and Sunday, May 1.
Women
The women began their title challenge with dominant first-day performances from Huang and Priya Bakshi '24. Huang carved up the familiar course, shooting a 73, just one over par; she finished the first day as the individual leader. Bakshi was right behind her in second place with a 74. The team score, which combines the team's four best performances, was rounded out by a five-over 77 from Gihoe Seo '25, who sat in fifth place, and a 79 from Janelle Jin '23, who ended the day in eighth. The Mammoths slept on a comfortable, but still slim, five-shot lead over defending champion Williams.
Things seemed to be slipping at first on the second day of play. The Ephs erased the Mammoths' five-shot lead early, but a young Amherst team continued its steady play and ultimately saw out the victory. The star underclassman pairing of Huang and Bakshi kept firing. Huang turned in another 73 to wrap up the individual competition, pouring in 12 pars, one birdie, and an eagle on the par-five 16th hole. Bakshi shot a 75 and secured second place in individual play; Seo turned in a 78 and found herself tied for third place overall. Jenny Hua '24 made an important contribution on the final day, shooting a nine-over 81 to round out the Mammoths' scorecard.
As the day went on, the lead ballooned to 11 shots, which proved the final margin.
In an interview posted to the Amherst Athletic Department's YouTube channel, Huang said that she didn't feel much pressure entering the second day with the overall and team lead. "I played pretty well the first day," she said, so "I just wanted to relax as much as possible, and have fun." With a nearly flawless round — including a rare eagle — she did just that.
The Mammoths credited the familiar conditions and close team bonds with the weekend's success. "Just being able to come out to our home course, where we all practice every single day, know the course so well, and play as if there's no stakes and just trust ourselves — I think that was really beneficial," said Bakshi. She also said that support from Amherst fans helped propel the squad forward.
With the win, the Mammoths received an automatic bid to the NCAA Division III National Championship, held at Bay Oaks Country Club in Houston, Texas, from Tuesday, May 10, to Friday, May 13. It will be Amherst's sixth championship appearance.
Men
In contrast to the women's team's familiar surroundings, the men faced a large 10-team field at Yahnundasis Golf Club in New Hartford, New York, a course the squad had not seen all season.
The team found themselves in a strong position after the first day of play. First-year Steven Chen '25, who has led the team all season, continued his strong play when it mattered most. He shot a 75 — four -over on the par-71 course — and found himself in fourth place overall. Anthony Zhang '25 and Brian Aslanian '22 were just behind him with a pair of six-over 77s. Erik Zetterstrom '22 rounded out the Mammoths' scorecard with an 80. The combined score of 309 put the Mammoths in a tie for third place with Middlebury and Trinity, one shot behind Tufts and nine shots behind the home team, Hamilton, who ended the day in first place overall.
Things unraveled a bit for the Mammoths the second day, but Chen continued his superb play, pouring in five birdies and nine pars to score a round of 70, one under par. He led the tournament in birdies, with nine, and led the field in par-three scoring, going a jaw-dropping three under on the course's four shortest (and typically hardest) holes over two days.
Behind him, Aslanian turned in another 77 to claim 12th place. Zhang shot an 83 and finished tied for 23rd. Zetterstrom went around in 84 to claim the final spot on the Mammoths' card. Amherst's final scorecard of the season, a two-day total of 623, was good for fifth place overall, 26 shots behind Hamilton in first place.