Sports
Women's Soccer Aims to Defend 2019 NESCAC Championship
After missing the 2020 season due to Covid, women's soccer holds lofty expectations in its return to play. Despite a significant shake-up to the roster, the team looks to both defend its 2019 NESCAC championship and compete for a national title.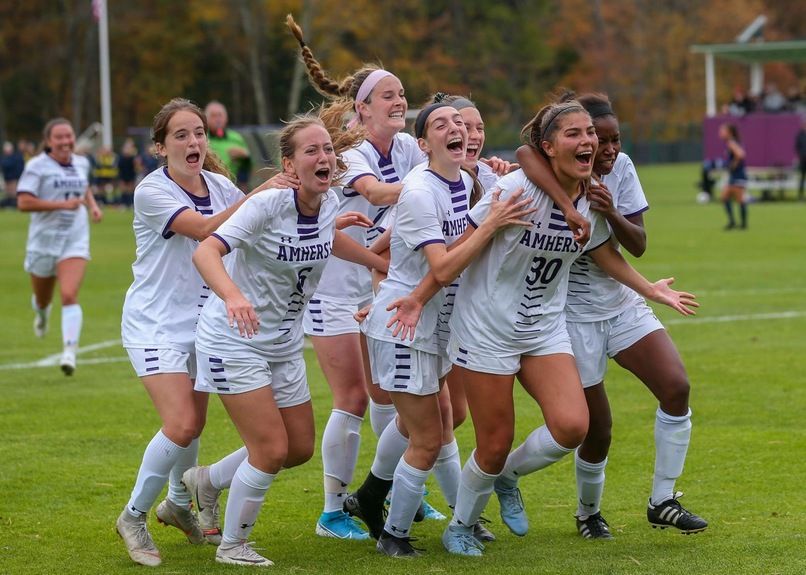 Almost two years removed from its last official match, the women's soccer team, which missed its 2020 season due to Covid restrictions, returns to the playing field on Sept. 9 with an away bout against Mount Holyoke College. The game will be the team's first since losing to Dickinson College in the second round of the 2019 NCAA Division III Tournament. In the same season, the Mammoths claimed a 1-0 victory over Middlebury to be crowned NESCAC champions.
As reigning NESCAC champion, Amherst holds high expectations heading into the 2021 season. Julia Ralph '22E, who is one of the four team captains, remarked, "We have two main goals for this season: defend our [2019] NESCAC title and win a national championship."
Despite the team's championship confidence, Head Coach Jen Hughes was sure to point out that the nearly two-year hiatus means that Amherst's past success will not guarantee success in the future. "So much time has passed and so many things have changed since then, so it's important for us to keep in mind that we're not going to just pick up where we left off. Every year is a new year, and it's really important that we focus on creating habits and building a foundation that will enable success," she said.
The missed season due to Covid also means that the makeup of the team's roster is significantly different from when it last played. "We've had two classes graduate since our last competitive season, although some players in the 2021 class took time off, so they are still with us, and we've brought in two new classes, so roughly half the team is different from 2019," Hughes noted.
It remains to be seen whether the influx of players lacking collegiate-level experience will put any damper on the efficient play that benefitted the team in 2019. Ralph, however, framed the team's diverse range of experience levels as a positive. "I think that the novelty of our team's composite can be seen as an advantage, too. The new players bring in high energy, unwavering passion for the game, and unique perspectives," she said.
Ralph also acknowledged that the team's inability to practice in person since Fall 2019 posed a challenge. However, she expressed confidence that the team would quickly be able to regain its feel for the game: "We [had] a longer preseason this year, which has allowed us to reconnect with each other and get back into the groove of playing soccer daily."
In addition to readjusting to the field, Ralph emphasized the importance of constructing the team chemistry that had been hampered by the 22-month break. "The upperclassmen have been working diligently to re-establish our team's culture and expectations since we have not been together as a team since Fall 2019," she said.
Despite the inconveniences imposed by a year of soccer lost to Covid, the team still possesses a positive outlook. "After missing last season, we're all grateful to be back out on the pitch playing the beautiful game. We have a lot of talent, strong leadership and we're building chemistry — all important ingredients for success," Hughes said.
The team's schedule begins in earnest this week, with three matches. In addition to its game against Mount Holyoke on Thursday, the women's soccer team plays away versus Bowdoin on Sept. 11, and its home opener is Sept. 12 against Smith.