Sports
Women's Squash Finishes Second at Little Three Championships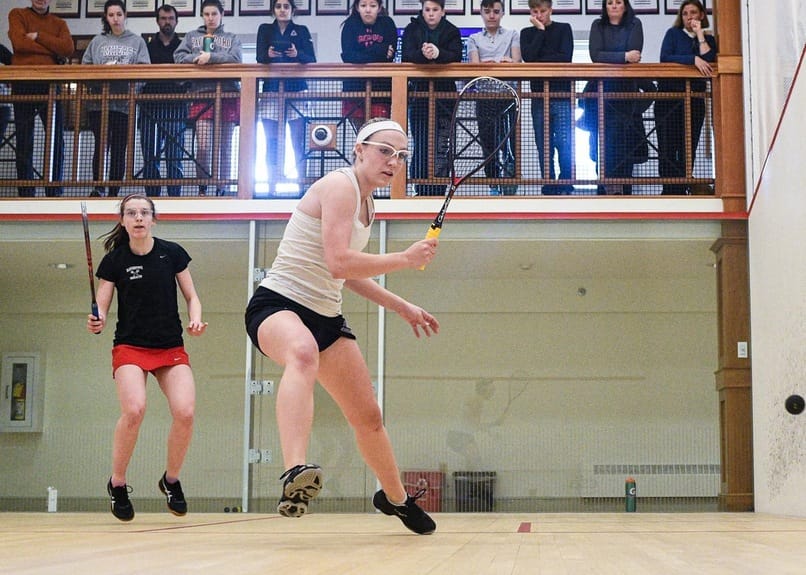 As women's squash approaches the home stretch of a remarkably successful season, the Mammoths are poised for a strong postseason run.
Last year's NESCAC semifinalists have dramatically improved over the course of a season; with nine wins, the team has already surpassed 2019's win total of eight.
Opponents have not fared well when they've traveled to Amherst's Davenport Squash Courts; the No. 15 Mammoths are 8-1 at home (9-4 overall), with the only loss to rival No. 12 Williams.
Amherst's .692 winning percentage has vaulted the team to the top 15 teams in the nation; the Mammoths are tied for the third-highest in the national ranking of NESCAC teams. Women's squash doesn't just dominate weaker teams; all nine Mammoth wins have come against top-30 teams in the country.
The Amherst women's squash roster boasts several highly-rated athletes. Daksha Pathak '23 and Lauren Weil '23 have made immediate impacts as first-years, sporting 4.69 and 4.67 ratings respectively. Lilly Soroko '22 has achieved a team-high 8-4 season record and has earned a 4.47 rating. Ten of the 13 Mammoths have ratings above 4.00, which is outstanding considering that only nine individual matches contribute to the team's total match results. Last weekend, the Mammoths faced off in the Little Three championships, which also served as the team's senior day.
Sunday began well for Amherst, with the squad winning the first match of the championship 8-1 against Wesleyan.
However, Williams would prove to be a stiff challenge for the home squad. Playing at the top of the later, Pathak was the only Mammoth to win their match on the day, as she battled through a five game thriller, winning the last two games to take the 3-2 victory. Unfortunately, the rest of the squad fell in their matches against the Ephs, and Amherst finished the Little Three Championships in second place.
The Mammoths, likely the third seed in the NESCAC tournament, head to Wesleyan Feb. 7-9 to compete for a NESCAC Championship. Amherst will look to dethrone Trinity, who took home its 13th straight NESCAC title in 2019. On Feb. 21-23, Yale hosts the 2020 Women's National Team Championships, followed by the Individual National Championships on Mar. 6-8 at UPenn.