Sports
Women's Swim and Dive Takes Third at Conference Championships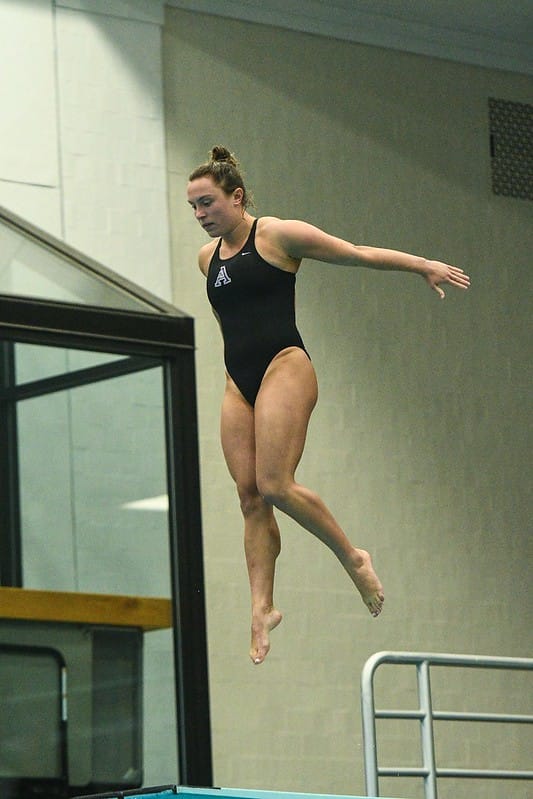 After four days grueling days in the Middlebury pool, women's swim and dive walked away with bronze at the 2020 NESCAC Championships.
The Mammoths closed out the weekend with 1369 points, finishing behind Tufts (1593.5) and Williams (1930.5). Racking up a NESCAC record, two program records, three event wins, five silver medals and five bronze medals, Amherst left Vermont with a feeling of satisfaction.
Day one of NESCACs included Nina Fitzgerald '21 winning the 50-yard breaststroke race, besting the second-place finisher (fortunately, an Eph) by 0.12 seconds. A group effort from Grace Tarantola '23, Jess Gordon '23, Sarah McDonald '20 and Natalie Rumpelt '20 earned a third place finish; the 7:42:48 time in the 800 freestyle relay quartet helped guide the Mammoths to a score of 593 points midway through the competition.
Junior diver Lindsey Ruderman '21 swept the 1-meter competition for the third consecutive year; she beat another Eph by a whopping 23.85 points to take home the gold
After four top-three finishes and another program record shattered by the 200-yard medley team on day three, the Mammoths headed into the home stretch with confidence. Marie Fagan '22 dominated day four, setting a school record time of 2:02.08 in the 200-yard butterfly and snagging a silver medal.
Julia Ruggerio '21 also impressed, finishing second in the 1000 yard freestyle. Fellow swimmer Caroline Needell '22 also made the finals of the event, and finished in seventh place.
Ruderman continued her strong weekend, winning a NESCAC Individual Champion crown for the third year in a row as she swept the diving events of the competition. Since she has matriculated, no other diver in the conference has won a championship at the meet.
Ruderman has dominated diving in the NESCAC since her very first meet for the Mammoths. For the third year in a row, Ruderman was named NESCAC diver of the year. On the three-meter diving board, Ruderman set an Amherst, NESCAC, NESCAC championship, and pool record.
When the dust settled, Amherst was third in the conference, finishing inside the top-three for the fifth straight season. Williams and Tufts finished ahead of Amherst, respectively.
The Mammoths are not finished with racking up hardware this season; on Friday, Feb. 28, the diving team will look to continue its strong season at the NCAA DIII New England Diving Regionals.