Sports
Women's Tennis Nabs First Overall and Three Semifinalists at NEWITTs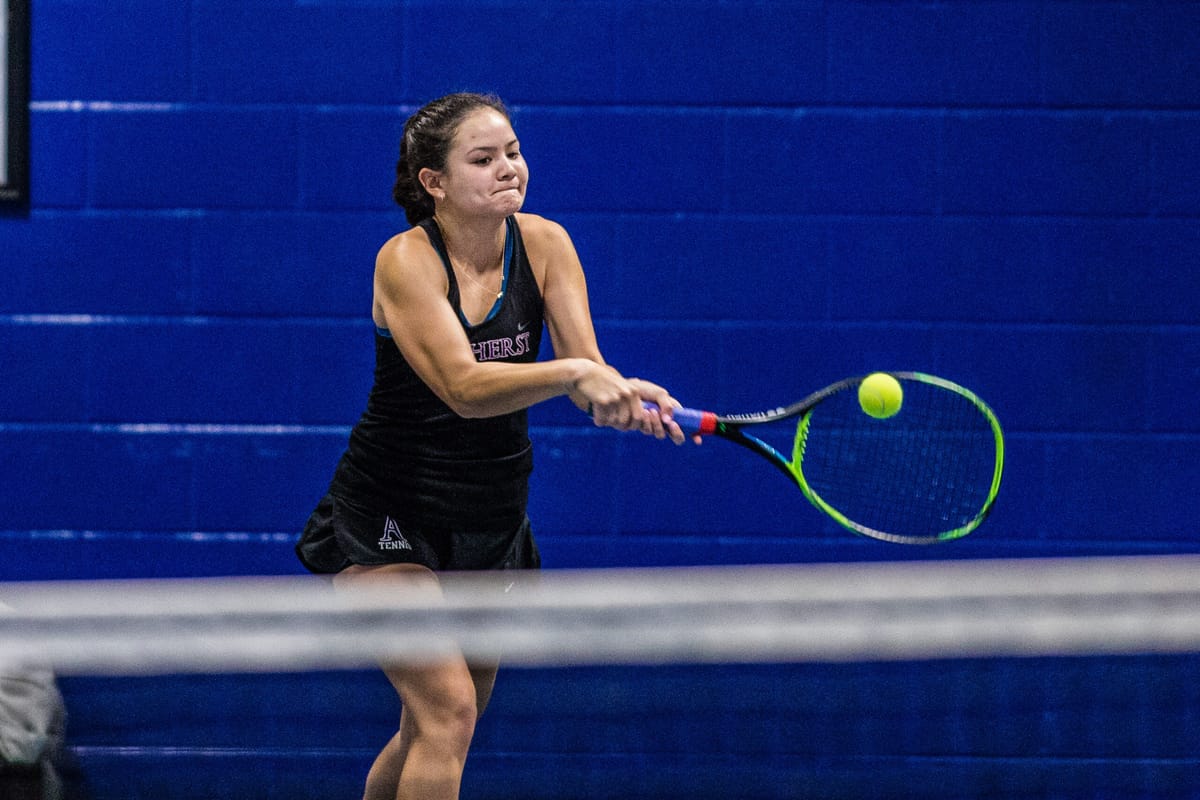 The Amherst women's tennis team continued its impressive fall season at the New England Intercollegiate Tennis Tournament, which was hosted by local schools Smith and Mount Holyoke. Dominating all opponents, three Amherst pairings reached the semifinals of the doubles bracket, which led to an all-Amherst championship match, with top-seeded duo Jackie Buzkin '22 and Claire Evans '22 emerging victorious. The tournament format saw each team face the other in one doubles match and two singles matches, with the winner of two matches emerging victorious.
Defeating teams from Colby-Sawyer College, Springfield College, Wheaton College, and the Massachusetts Institute of Technology (MIT), four Mammoth duos reached the quarterfinals. Maggie Owensby '22 and Camilla Trapness '22 handled Yashu Yang and Anna Kopituk of Colby-Sawyer with ease, cruising to a 3-0 victory by winning both singles matches and doubles. Buzkin and Evans continued their success in this fall season, dropping only 3 games total. Next, the duo swept Melissa Parrish and Rachel Ahlmeyer of Springfield. Meanwhile, Kelsey Chen '19 and Anya Ramras '22 edged Wheaton's Ines de Bracamonte and Connor O'Keefe 2-1, winning the deciding doubles match 8-4. Similarly, Catie Burkhart '21 and May Zhu '22 were able to defeat a duo from MIT 2-1 to advance to a quarterfinal against Chen and Ramras.
Buzkin and Evans cruised to another victory in the quarterfinals by a 2-1 margin over MIT's Lara Rakocevic and Ashley Teng, with an impressive 8-4 doubles win proving to be the margin of victory. After dropping their doubles match, Owensby and Trapness were able to rally for a victory by defeating Megan Guenther and Marina Zhang from MIT in both singles matches. In the matchup between Amherst pairings, Chen and Ramras came out on top 2-1 over the partnership of Burkhart and Zhu.
Another all-Mammoths matchup awaited in the semifinals, where Buzkin and Evans took down Owensby and Trapness 8-0 in a winner takes all semifinal. Chen and Ramras didn't even need to take to the courts in their own semifinal, as their MIT opponents defaulted the match.
In the all-Amherst championship match, Buzkin and Evans, who had entered the tournament as the top seed, ultimately prevailed over No. 3 seed Chen and Ramras by a score of 8-4.
Off the court, Trapness was honored with the Coach Christine Davis Sportsmanship award, given to a player who exemplifies grace, passion and commitment. In their nomination submission, Amherst coaches Jackie Bagwell and Benay Weintraub lauded Trapness for her selflessness as a teammate in mentoring younger athletes and volunteering her time to help with recruiting.
With such success this fall and the return of several key junior contributors in the spring, the future looks bright to Buzkin. "We are all really happy with the results this fall and are definitely looking to build on them in our spring season," she said. "Beating Williams at home was probably my favorite moment of the fall season, and we are going to use that energy to work hard in the offseason and come out really strong during our spring break trip in the beginning of March where we will be competing against some tough out of conference teams."
Amherst's fall season is now over and the Mammoths won't return to the courts until next March, when they will open their season on their annual spring break trip, this year to Florida.