News
Zumbyes Accepts First Female Member in 68-Year History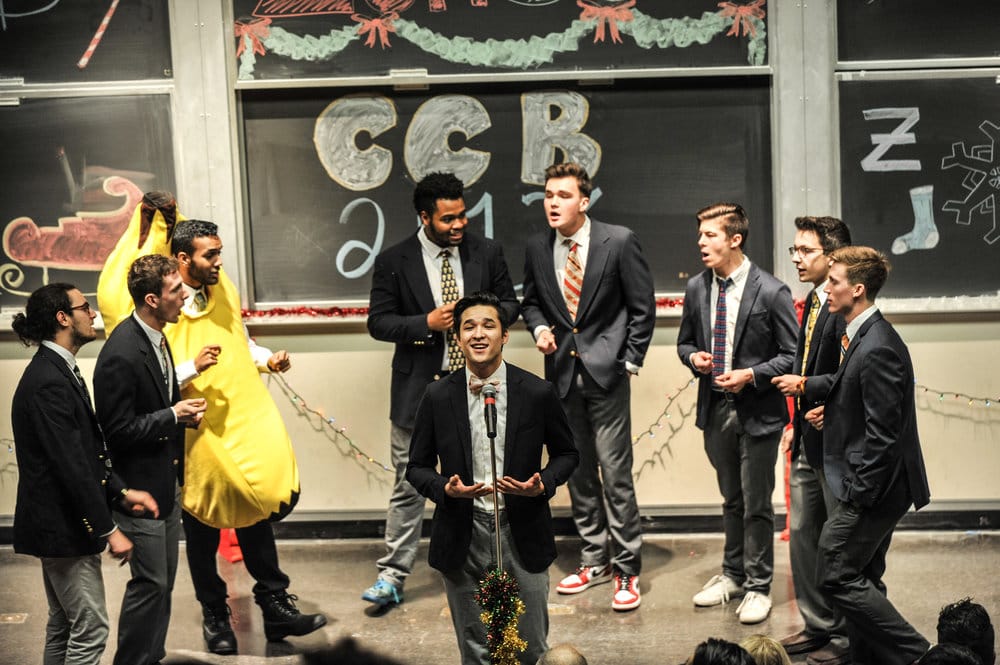 After 68 years as an all-male a capella group, the Zumbyes admitted its first female member, Emma Ratshin '21, during the fall audition round that took place between Sept. 9 and Sept. 14. Ratshin was one of two women who auditioned for the Zumbyes this fall.
The group began in 1950 when eight first years with an interest in jazz formed the Zumbyes, a student organization that would operate independently from the music department. Almost 70 years later, the Zumbyes is one of the college's longest-lasting institutions and is known for its extensive and tight-knit alumni network. The group uses a TTBB sound, meaning that there are two tenor and two bass parts. This sound requires singers to hit notes below many women's vocal ranges. Ratshin, however, sings a Tenor 1 part, putting her in the range of the highest tone the group uses.
Ratshin said she had wanted to audition for the Zumbyes since last fall. "A lot of the other [a cappella] groups have a sound that doesn't work with my voice very well, because they like a more dark, round sound, and I have a really bright voice," she said. "[The Zumbyes] also has a fun performative energy, which is something I liked immediately."
"I just signed up for an audition, and nobody really questioned me," she said.
During an audition, the group is looking for more than musical ability, Zumbyes' music director John Ballard '20 explained. "We consider not just your musicality and your ability to sing, but your personality and how you fit socially within the group," he said. "And she was hilarious."
While Ratshin fit their criteria of talent and character, the Zumbyes were hesitant to transform the group's all-male identity. "I got a callback after hours of discussion," Ratshin said. "I think they had an existential crisis."
"We didn't want to take the decision lightly, because we knew it would alter the fundamental structure of the group," Ballard said. "So we sat in the room for about five hours to hash it out. It had been something we had talked about in the past years, but no one had ever auditioned who was female, so it never had been a real discussion."
The Zumbyes initially turned Ratshin down. The following day, however, Ballard called Ratshin to tell her that the group had talked it over again, and that they had changed their mind.
Ultimately, Ballard said, the decision stemmed from Ratshin's undeniable talent. "She was amazing. So we called her back, she was amazing again, and then after callbacks we had to make the decision of what we wanted the future of the group to look like."
One of the group's concerns was the response from alumni who favored the all-male tradition. "[The Zumbyes] holds a special place in a lot of the alumni's hearts, especially those who were in the group," Ballard said. "While a lot of things have changed [at Amherst] in the last [68] years, the Zumbyes has remained relatively the same."
"The way we looked at it, this was a decision for the current iteration of the group to make about our current group," Ballard explained. "And the future generations can make whatever decisions they want to make."
The group's leadership does not anticipate the need for many social or musical changes. "I think we now classify ourselves as a gender-neutral TTBB group, but we're going to maintain that low sound," said Ballard. "Her voice will help a lot of our upper parts sound more full and bright. When guys sing up there, they have to sing in falsetto; they sing it really light and floaty. But she can sing it more fully."
The Zumbyes notified alumni of the group's 2018-2019 roster via Facebook. Jake Samuels '13, a Zumbye alumnus, said in an email interview that alumni received the group's announcement of the new class with an "outpouring of support."
"When I was in the group, its diversity, as juxtaposed to its apparent homogeneity when it was founded, was a point of pride," Samuels said. "Be it race, geography, sexual orientation, etc., it was nice to see that a group so steeped in tradition and so embraced by the college was accessible to people like me who were minorities on campus. That being said, diversity was never an explicit goal; the Zumbyes who ended up in the group were just those singers and personalities who happened to best fit what the group wanted. In that way, Emma is no different than the rest of her cohort."
"I'm always proud to be a Zumbye," he added, "but seeing Zumbyes past and present embrace Emma like that was a particularly warm moment for me."
Jon Willson '86, another Zumbye alumnus, sees Ratshin's addition to the group as a plus. "The musical opportunities are greater," he said, "and the cultural shift — if there is one — can only be positive."
However, the Zumbyes' business manager, Tommy Mobley '20, pointed out that the platform through which the group made the announcement might have skewed the initial alumni response. "Most of the alums that are on social media with us … are fairly young," he said. "I think that some of the older alums that stereotypically would be opposed to breaking traditions like this may not have heard about it yet."
Current Zumbyes have met with Ratshin multiple times to reiterate their unconditional support, Ratshin said. "I really like the people in the group," she added. "I'm so excited to do this thing with them."
Correction: An earlier version of this article incorrectly named Jake Samuels as a member of the class of 2015. He is a member of the class of 2013. This article was updated at 4:06 p.m. on Oct. 4, 2018.