Arts & Living
The 1975 Release Album "I Like it When You Sleep, For You Are So Beautiful"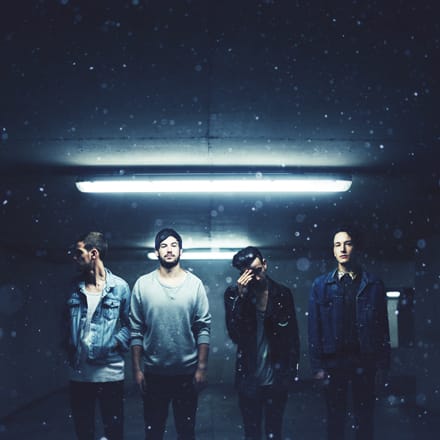 Following the release of their four EPs in 2012 and 2013, British four-piece, The 1975 finally released their eponymous full length album in 2013. The album shot up the charts and even was number one in a couple of countries. After a sly endorsement in the form of a tweet from One Direction member Harry Styles, and a Taylor Swift sighting at one of their concerts, The 1975 became overnight successes. Fans quickly fell in love with lead singer Matt Healy and his habit of mumbling the song lyrics.
After spending months on tour, performing at Coachella as well as at the famed Sheperd's Bush Empire in London, the band finally took a hiatus from the road to record their second album. The band fell off of the face of the Earth while they recorded, abstaining from social media for a short while. Once they did return, every move they made seemed more and more mysterious. Following a change from their usual all black and white motif to a light pink logo, lead singer Matty Healy finally revealed the title of their second album.
"I Like it When You Sleep, for You are So Beautiful Yet So Unaware of It" was released on Feb. 26 of this year. So how does it compare to the band's earlier work? I would say that it is still great and that the songs on the newest album don't stray too far from the band's iconic sound.
The album starts off slow, but strong with slightly different version of the same track that the band used to open their first album, titled "The 1975." Though the two aren't that different, the message is clear: This is The 1975 and you better listen up. Next comes the band's first single off of the album, "Love Me." This song is strongly reminiscent of the synth-pop sound that so many 80s hits are known for. Lyrically, this song is absolutely perfect. In an interview with Billboard, Healy stated that the song is about "the rock star buying into his own self-constructed mythology." Afterwards there is a string of songs that are in my opinion placeholders for the space in between the album's next gem, "If I Believe You." It's not quite as gritty as "Robbers," the quintessential ballad on the band's first album, but it is endearingly sweet. The gospel choir backing vocals add even more depth to the already thoughtful song.
Although "If I Believe You" and "Love Me" are arguably the best songs on the album, that does not mean the rest of "I Like It When You Sleep, for You Are So Beautiful Yet So Unaware of It" isn't equally powerful. The album is at times pop-ish with funny lyrics (see "She's American", which boasts lyrics that state "If she says I've got to fix my teeth, then she's so American") and at times it's heavily influenced by RnB. It's always engaging which is The 1975's greatest trick, they always keep their fans guessing with what's coming next. If you thought some of the tracks on the last album were sonically unique, then you're in for a treat with this new work.
Although the band's sound is still very unique to them, they haven't really shown much evolution sonically between albums. To put it frankly, I think they're so unique that they aren't leaving any space for them to grow. They're already weird, and even though weird works for them, I think there will come a time when the weirdness will lose fan's interest. Even so, their lyrics might be enough to keep their fans hooked; they're just so darn catchy.
Best tracks on the album:
"Love Me": If I had to choose a song to represent The 1975, I would 100 percent choose "Love Me." It's danceable, with lyrics that make you want to sing along, and the over-produced style is absolutely perfect in this context.
"If I Believe You": I've already mentioned how sweet and sad this song is, but I still feel the need to stress how amazing it is.. This song truly showcases lead singer Matty Healy's vocal capabilities. In less than six and a half minutes, he is able to take you into the deepest places in your mind, if only you will allow him in.
"The Sound": This song, reportedly about singer Halsey, features a killer guitar solo/breakdown that works perfectly with the chanted rather than sung lyrics. This definitely is a radio-friendly track, but even so, it's worth a listen.
Overall, "I Like It When You Sleep, For You Are So Beautiful Yet So Unaware of It" is a stellar sophomore album from The 1975. It has all of the trappings of a great album, slow jams, upbeat songs and just a sprinkling of weirdness. If The 1975 wants to thrive in the industry, they're definitely moving in the right direction.