Arts & Living
"22, A Million": Bon Iver's Latest Album Teeters on Experimental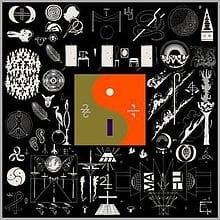 Coming off of a lengthy hiatus, Bon Iver released their first album in five years on Friday, Sept. 30. The album, titled "22, A Million," has been highly anticipated following the release of singles "22 (OVER S∞∞N)," "10 d E A T h b R E a s T ⚄⚄" and "33 "GOD"." Over the course of their career, Bon Iver has received critical acclaim for their first two albums, "For Emma, Forever Ago" and "Bon Iver, Bon Iver," winning the Grammy for Best New Artist in 2011.
Bon Iver, lead by singer, songwriter and producer Justin Vernon, has apparently continued to change and evolve over the past five years. "22, A Million" represents a step forward and into the experimental for the indie/alternative/folk band. Complete with cover art filled with enigmatic symbols and a track list of similarly confusing song titles, "22, A Million" stands as an album of mystery for listeners. The album draws on influences from Bon Iver's past work, as well as past collaborators such as rapper Kanye West and electro-pop producer James Blake.
The album begins with the song "22 (OVER S∞∞N)." The intro is slow and minimalistic. The main underlying beat is a steady hum, and Justin Vernon's vocals drive the rest of the song. Also complementing Vernon are brief interludes of horns and soulful cries. The theme is very ethereal, recalling some of Bon Iver's previous work, but the vocoded background hum brings a fresh element to the song. The album begins on a slow, relaxing and somewhat melancholy note.
Immediately, the tone changes with "10 d E A T h b R E a s T ⚄⚄." "10" is much more intense, with a strong, driven drumbeat. Vernon's vocals sound relatively similar, but the overarching forceful melody filled with distortions is radically different. The song recalls Kanye West's album "Yeezus," a heavily avant-garde and similarly stripped-back album that Vernon himself worked out, providing vocals and producing.
The next song, "715 – CRΣΣKS" brings back the slower more somber tone to
"22, A Million." In "715," Vernon's vocals are heavily vocoded (another Kanye influence that Vernon has adopted throughout his career). The song is particularly beautiful, done mostly in a capella and alternating between a soft tone and one of anguish.
The fourth track of the album is the last single,"33 "GOD"." The song begins with the delicate singing of Justin Vernon. The song incorporates more elements including strings and high-pitched vocals. Towards the end it also brings in a strong beat. "33" is a very complete song overall and one of the best on the album.
Following "33" is "29 #Strafford APTS." "29" is another song reminiscent of some of Bon Iver's old work, using acoustic guitar as a background. One interesting element of the piece, however, is the broken bits of audio, which bring a more experimental element to the song.
"666 ʇ," the next song, begins slow and builds to a maximalistic high. Vernon's vocals (as always but especially in this song) are beautiful. The background builds to a complex multilayered beat that delights the ears.
"21 M♢♢N WATER" follows. This song is slow paced and somewhat ambient. It also builds to an intense, experimental section that floods the listener with raw sounds. In fact, its outro may be the most experimental section of the album. Building on "21 M♢♢N WATER," is "8 (circle)," which transitions from experimental into more traditional sounds of steady strings, slow drum beats and clear, (mostly) unaltered vocals from Justin Vernon.
"8 (circle)" continues the pattern of building to a more intense back section. It also includes a brief bridge of particularly sonorous singing and a background chorus. It touches briefly into the experimental with audio glitches and distortion. The closing to this song is also beautiful, complete with added horns and continued work from the chorus, ending abruptly on a pitch-altered cry.
"____45_____" is a much more relaxed song, despite the theme of being caught in a fire. The sound is very warm and resonant. With strings and some acoustic banjo (maybe mandolin?), the song also incorporates a few naturalistic sounds. While this song does not really stand out, the simplicity of vocals and bubbling instrumentals actually do create a strong song.
The 10th and last song of the album is "00000 Million," a pretty acoustic and traditional-sounding song. It seems to mix in an element of mainstream country into the "folktronica" of the album. "22, A Million" ends on a melancholic sound, and the conventionality of "00000 Million," in contrast with most of the rest of the songs, grounds the album and ends it nicely.
Overall, "22, A Million" is a really beautiful album. If you liked Bon Iver's previous work you will probably like at least a few songs from this project. The album really pushes the boundaries of Bon Iver as an artist, which I feel like fellow electropop/folk artist, James Blake's own 2016 album "The Colour in Anything" failed to accomplish. This album has highlights including: "10 d E A T h b R E a s T ⚄⚄," "33 "GOD"," "666 ʇ" and "8 (circle)," but you would be hard pressed to find a weak point in this album. The album can get a little bogged down and it is easy to get lost in the mystery of it all — which might be the desired effect. However, the more experimental sections of the album feel organic and unforced. Indeed, Bon Iver's reputation as a genuine and innovative artist should continue with this album. "22, A Million," a relatively short album, with only 10 tracks and a runtime of under 35 minutes, is definitely worth a listen. Fans of it may also want to listen to James Blake's "The Colour in Anything," which was released earlier this year, and Francis and the Lights' debut album "Farewell, Starlite!," which was released for free on Sept. 24. Bon Iver features on both albums.
Overall rating: 9/10