Arts & Living
A Study of Studio Ghibli's Hidden Gems
Joe Sweeney '25 celebrates the end of Ghibli Fest 2022 by discussing some of his favorite Studio Ghibli films and ranking them all for new and veteran fans alike.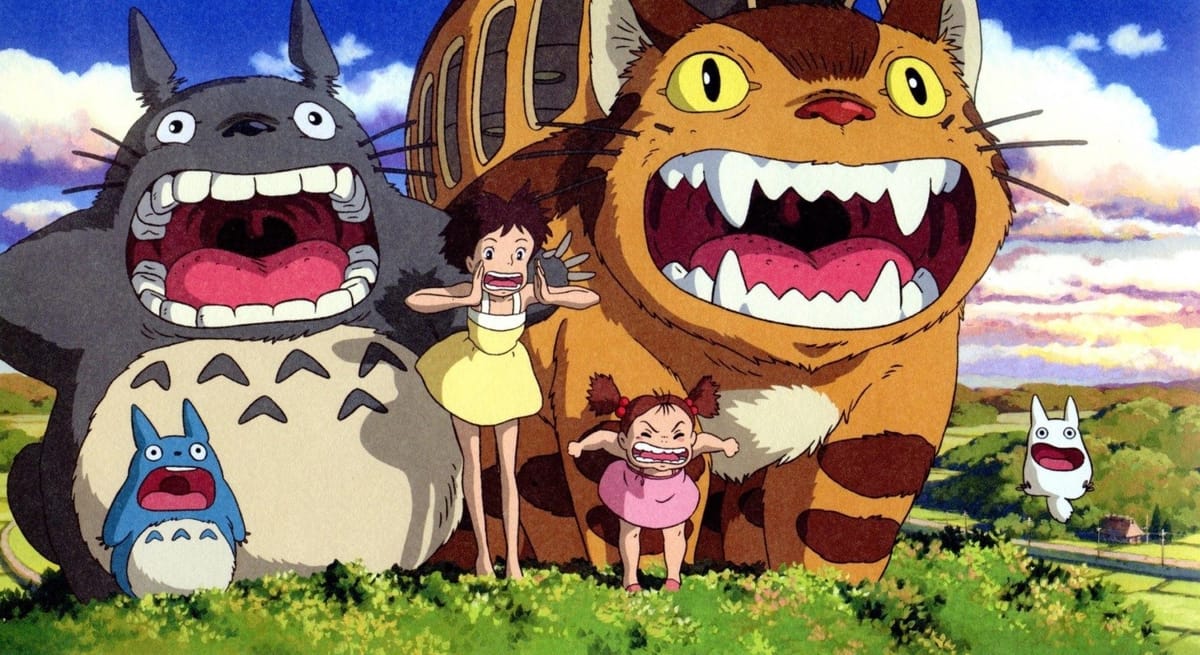 Founded in 1985 by Hayao Miyazaki and Isao Takahata, Studio Ghibli is a Japanese animation studio that sets the international standard for animated filmmaking. To mark the end of Ghibli Fest 2022 (which will conclude with showings of "Spirited Away" at the Cinemark at Hampshire Mall on Oct. 30-31 and Nov. 1-2), and to commemorate my recent viewing of all 23 Ghibli films, I've put together a discussion of some of the most underrated Ghibli films, as well as my complete ranking of all the films. I hope this article will both serve as a gateway into Ghibli's catalog for the unfamiliar, and inspire discussion among longtime fans.
So let's get to it!
"Porco Rosso"
Hayao Miyazaki has written and directed 10 films for Studio Ghibli, and is the auteur behind some of the studio's most widely-beloved films ("Spirited Away," "Princess Mononoke," "Kiki's Delivery Service," "Howl's Moving Castle," "My Neighbor Totoro"). Putting aside my personal preference for Ghibli films by Isao Takahata, it is hard to name an animation director who rivals Miyazaki's level of achievement. Indeed, I'd be hard-pressed to think of another director in any medium who has written and directed as many as 10 universally acclaimed films.
Of those 10, an underrated gem that I think more people should talk about is "Porco Rosso." Only after spending the 1980s laboring over the nuances of "My Neighbor Totoro" and "Kiki's Delivery Service" could Miyazaki, in 1992, come out with a film as flawlessly executed as "Porco Rosso." For most of its runtime, the film effortlessly unfolds as a riveting adventure movie, only to flip that premise on its head in a single, wondrous, heartbreaking scene: It turns out that "Porco Rosso" is really about what it means to build a life around the things you cannot forgive yourself for.
Some people hate the end of this movie, which concludes the seemingly straightforward story on a strange and ambiguous note. For my part, I think it might be the best ending to any movie ever. Watch and decide for yourself.
"From Up On Poppy Hill"
Although it is firmly outside the recognized Studio Ghibli canon, "From Up On Poppy Hill" nevertheless, in my opinion, stands at the upper margin of the studio's masterpieces. Goro Miyazaki, son of Hayao, sat in the director's chair for his second time, five years after his first film "Tales From Earthsea," a film that I (and most others) view as one of the studio's rare duds.
Maybe it was because Hayao wrote the script for this one, but "Poppy" is astonishingly confident in itself, far more so than "Earthsea." Hayao Miyazaki's best films perform a highwire balancing act between the familiar and the strange. Goro takes what at first appears to be a simple story of blossoming teen romance and proves not only that he is capable of this virtuosic balancing, but that he has a strong grasp on what makes a powerful epiphany.
The self-revelations of Umi — a young woman who raises nautical flags from atop Poppy Hill in remembrance of her father who died at sea — flow organically from her experiences of the world around her. Her hometown feels like a reflection of her own subconscious; only at certain times do key images and objects arise and shine out from the darkness. Umi's whole world, then, is composed not only of her longing for what she cannot have (the beautiful, inexplicable things which appear from and vanish into the darkness of her mind), but of something greater as well, which imbues her longing with a strange life of its own. In other words, the world teaches Umi that not even longing can be possessed; held on to forever.
A great movie. Check this one out, especially if you've already seen a few Ghibli films and want a change of pace from the usual fantasy fare.
"Pom Poko"
If you only take away one thing from this article, it's that you should be interested in the films of Isao Takahata, who co-founded Studio Ghibli alongside Miyazaki. Takahata wrote and directed five films for the studio before his death in 2018. His third, "Pom Poko," is not among his most critically lauded, and yet it may very well be the film which best demonstrates his unique genius.
Trying to describe it now, the phrase that comes to mind is "impossibly great." Why does this movie about anthropomorphic, shapeshifting raccoons, who protect their forest by pummeling humans with their ballsacks (yep), bring me to tears? It has something to do with the great exuberance of the raccoons we meet; the silliness of their spirit, which seems to transcend death. Always just behind this jubilee, however, is humankind's looming ruinous presence, which, by the film's end, has crept forward to lay its hand upon everything.
The subtlety of that creeping change is absolutely tantalizing. Takahata communicates his environmentalist message through cinematic language that is at once compelling and undeniably original. I cannot believe I've never seen anything like it before, to the same extent I cannot imagine anyone else pulling it off.
Here's an example: At times, the film changes animation styles so that the raccoons are drawn realistically. In these moments, the racoons face the viewer with a charged silence that is equal to the vivacious livelihood of the anthropomorphic raccoons. The thought that the electric quiet of these animals can be so carelessly annihilated — that the life behind it can be discarded without ever being seen or known — feels almost unbearable. What at first seems like a lighthearted kids movie is thus actually a film about how the human soul comes to destroy itself in its own stumbling ignorance and apathy.
But that makes the movie sound more ponderous than it is. Really, the only consistent trait of the film is how often it surprised me; how curiously it got under my skin. Please watch this movie. You will laugh; you will cry; you will look on in wonder.
"The Tale Of Princess Kaguya"
Adapted by Takahata from a 10th-century Japanese folktale, "The Tale Of Princess Kaguya" opens on a bamboo-cutter who discovers an infant princess sent from the Moon Kingdom, hidden in a bamboo stalk. He carries the princess to his rural home, where he raises her with his wife. The princess grows rapidly, aging years in mere weeks. One day, the bamboo-cutter finds gold in a bamboo stalk, which allows him to move his family to the city and raise his adopted daughter as a true princess. This pedigree, however, comes at the price of the princess's freedom — a tension that simmers and boils over in unpredictable ways.
I have opted to present a synopsis because my own words are completely inadequate. What words I do have are a bundle of clichés and contradictions; the film is instantly recognizable yet completely otherworldly, sublimely strange yet painfully familiar. It is a rhapsody of wonder and disappointment. Its images shout secrets that cannot be known. Please watch this movie. There is nothing else to say.
Alright! Now, the list:
Masterpieces
The Tale Of Princess Kaguya
Grave Of The Fireflies
My Neighbor Totoro
Only Yesterday
Princess Mononoke
Pom Poko
Great Films
Nausicaa Of The Valley Of The Wind
Porco Rosso
From Up On Poppy Hill
Ponyo
The Wind Rises
Kiki's Delivery Service
Whisper Of The Heart
Spirited Away
When Marnie Was There
Good Films
Castle In The Sky
Howl's Moving Castle
The Cat Returns
My Neighbors The Yamadas
Ocean Waves
Wouldn't Recommend
The Secret World Of Arrietty
Tales From Earthsea
Earwig And The Witch
Surprised? Shocked? Outraged? All the Ghibli films (except for "Grave Of The Fireflies") are streaming on HBO Max (which means they are free through xfinityoncampus for Amherst College students). Make your own ranking of what you've seen and send it to me. I'd love/hate to see it.