News
AAS President Makes Students Feel at Home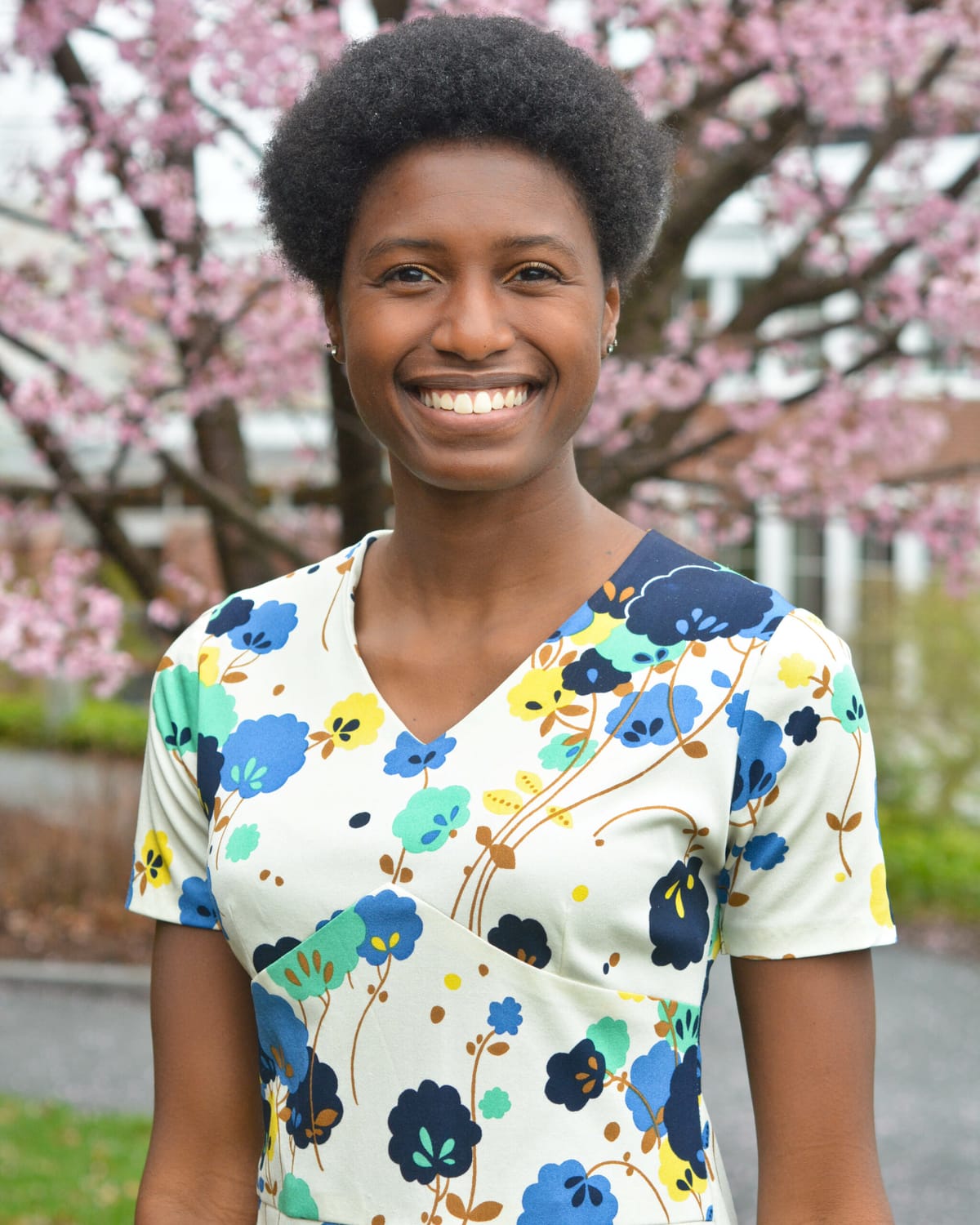 Whether she is caring for a group of eager first years or leading the entire student body, Karen Blake always acts with bravery, poise and an infectious smile. A friendly and familiar face on campus, Blake has left her mark on Amherst academically, socially and politically by building community wherever she goes.
Michigan to Massachusetts
A native of Farmington Hills, Mich., Blake arrived on campus in September 2012 as a participant in the Diversity Open House (DIVOH) program, but recalls that she felt less than excited to visit. However, after meeting friendly Amherst students, she grew more hopeful about the possibilities at Amherst.
What stood out most to her during her DIVOH visit was sitting in on the Sociology course, "Reproducing Social Order: Prisons, Schools and the Military," taught by Professor Hannah Holleman.
"I was like, 'This is amazing! I've never thought about the world like this!'" Blake said.
Socióloga
A sociology and Spanish double major, Blake arrived at Amherst with very different academic intentions. She planned to be a doctor and set out on the pre-med track. However, during her first year, Blake took advantage of the open curriculum to explore other departments along with the pre-med requisite courses, including Spanish, history, black studies and sociology. Her positive experience in Holleman's class during DIVOH weekend spurred Blake to enroll in the same course during the spring semester of her first year.
"Ever since I took that class at DIVOH, I literally wanted to take that class when I came to Amherst … I was like, 'I am getting into this class,'" Blake said.
Holleman recalls Blake as a part of a passionate group that was adamant about taking that course.
"They argued that because they cared about the world and were committed to understanding the subject, they would do better as freshmen than some of the seniors," Holleman said. "They had already worked to form community amongst themselves, thought through what mattered to them, and acted collectively, rather than individually, to pursue their goals."
After completing that class, Blake had solidified her passion for sociology.
"Sociology is great because you are literally just talking about the world around you," Blake said. "It gave me language for things that I already knew but didn't know exactly how to say."
Her interest in sociology is reflected in her positive contributions to the classroom environment. Blake's professors consistently recognize her attention to detail.
"Karen is committed to nuance," Professor Leah Schmalzbauer said. "She appreciates difference and fluently and enthusiastically seeks opportunities to work across social difference. She is a bridge in an era in which we need bridges!"
"Karen's contribution, along with others, showed how different learning can be when real community is valued and nurtured not just by the faculty, but by conscientious students, committed to collaborative learning and common cause, taking each other's concerns as their own," Holleman said.
In addition to her coursework in sociology, Blake continued to take classes in other departments, especially Spanish. She pursued Spanish even further by studying abroad in Madrid during the fall semester of her junior year.
"I kept taking Spanish because I realized I love people, and sociology allows me to study people. But I also want to be able to communicate with different groups of people, so Spanish was another avenue to do that," Blake said.
A Call to Action
During her first-year orientation, Blake stumbled upon several events hosted by the Association of Amherst Students (AAS). While attending a barbecue, as well as a "tea time" dedicated to women in AAS, Blake had the opportunity to discuss Senate with several current senators, who strongly encouraged her to run, even offering her campaign tips. Despite being nervous, her class selected her as one of eight senators out of 21 candidates.
"I was terrified. I was like, 'Oh my gosh! I'm just putting my name out there with all these people,'" Blake said.
Her campaign strategy of wearing a decorated "Vote for Karen" t-shirt on election day paid off. Blake would go on to serve as a senator for the next three years. As a senator, she worked as part of the Budgetary Committee and First-Year Orientation Committee, among others.
Running for AAS President was not a part of Blake's plan initially. After a friend suggested that she run, Blake began to consider the option more and decided to run, with the goal of fostering a better understanding of what AAS does and how its work can benefit students.
"I feel like in my time at Amherst, unfortunately, the AAS has become maybe, less favored or looked down upon by students, and they don't really see it as a vehicle to create change," Blake said. "My whole thing as president is trying to remind people that the best thing you can do is collective action and one of the best ways to do that is through a body like the AAS."
Blake noted a shift in the culture of the senate over her four years. She has worked to build a more approachable organization, with a willingness to be more responsive and accommodating.
"[Before] they [took] themselves too seriously. Now senators kind of realize that we're just students, and we want to help other students," Blake said. "I think that [before] they worked really hard but it could come across really negatively if people came to talk to Senate. Now we're much more receptive."
Blake describes her role as president as a sort of "spokesperson," using her extracurricular involvement to promote AAS.
"Any space that I am in, where people are talking about a problem or something that is going on, I always try to listen to them and figure out what's going on and give them advice on how they can best do something and always trying to interject, 'Oh, well, the AAS can do this or do that,'" Blake said.
Her goal of bridging the AAS and Senate to student needs has carried over into initiatives that she has encouraged the senators to take on. For example, Blake implemented a dorm senator program and encouraged senators to attend tea times to make the senate and the AAS more accessible to students.
"I'm trying my best to come to students and meet them where they're at," Blake said. "I try to use my daily life to bring Senate to people.
Blake's commitment to public service has been recognized by her fellow members of the AAS.
"Karen is one of the kindest and most socially aware people I know," said Chico Kosber '17, AAS vice president. "It was a pleasure working with her on AAS. She has the amazing ability to read a room and effectively and eloquently summarize what everyone feels and put it into action."
Over her four years as a member of the AAS, Blake also noted a shift in the demographics of AAS. The AAS has seen an increase in women, specifically women of color. As a sophomore, Blake was part of one of the first senates to have equal representation of men and women in recent history.
"This year, something that I'm really proud to see is how many women of color are a part of Senate … I think a lot of women have seen that they can take on these sorts of roles," Blake said.
Queen of the North
A resident counselor (RC) for two years, Blake brought her leadership skills and love for people to North Hall. As a sophomore and senior, Blake has called the same third-floor room home.
Blake was motivated to become an RC because of her positive residential experience as a first year. Due to the small size of Appleton Hall, she built close friendships with neighbors.
"I feel like I have a special tie to every person that lived there," Blake said. "Since I had that experience living in Appleton, I just really wanted to help someone else have a really, really good first year because I feel like something so critical to the first year is how your floor and dorm is."
Encouraged by her first-year RC, Blake applied for the position. Although she did not initially receive the job offer, she was selected as an alternate. While studying for a midterm, Blake received a call. She was offered the RC position and enthusiastically accepted, despite never having stepped foot in North Hall.
Blake's leadership and kindness as an RC is evident in the long-lasting friendships she built with her residents.
"Karen was always full of life and a super fun and positive RC," Mia Natsis '18, a former resident of North Hall, said. "She loved her job and treated us like friends."
However, Blake is adamant that she learned just as much from her residents and from her experience as an RC.
"One of the biggest things I learned from being an RC is just how to interact with different people, people who have very different outlooks on the world … and realizing you can still develop a really meaningful connection to someone even if you don't necessarily agree with everything they think or stand for," Blake said. "By being an RC, you really learn how to listen to people and talk to people and so I think I've learned just to try to understand someone from where they're at."
And Beyond
In the coming fall, Blake will return to Spain, this time to teach English. She is also considering law school.
In true fashion, Blake has set for herself an ambitious goal: to become a leader at a higher level and be elected for public office in the next five years. According to Blake, the many leadership roles she has taken on at Amherst have helped her to recognize her ability to be "a good connector for different types of people."
"There's a lot of voices that are missing from dialogues generally in this country," Blake said. "I've had a lot of different experiences but I'm also still a low-income, black woman who is a young person … It's such a critical section of our country that's just not being represented."