commencement
Alexis Scalese: Asserting Indigeneity at Amherst and Beyond
A dedicated researcher, thoughtful friend, and driven activist, Alexis Scalese has been an instrumental force in the creation of an assertive Native American presence on campus.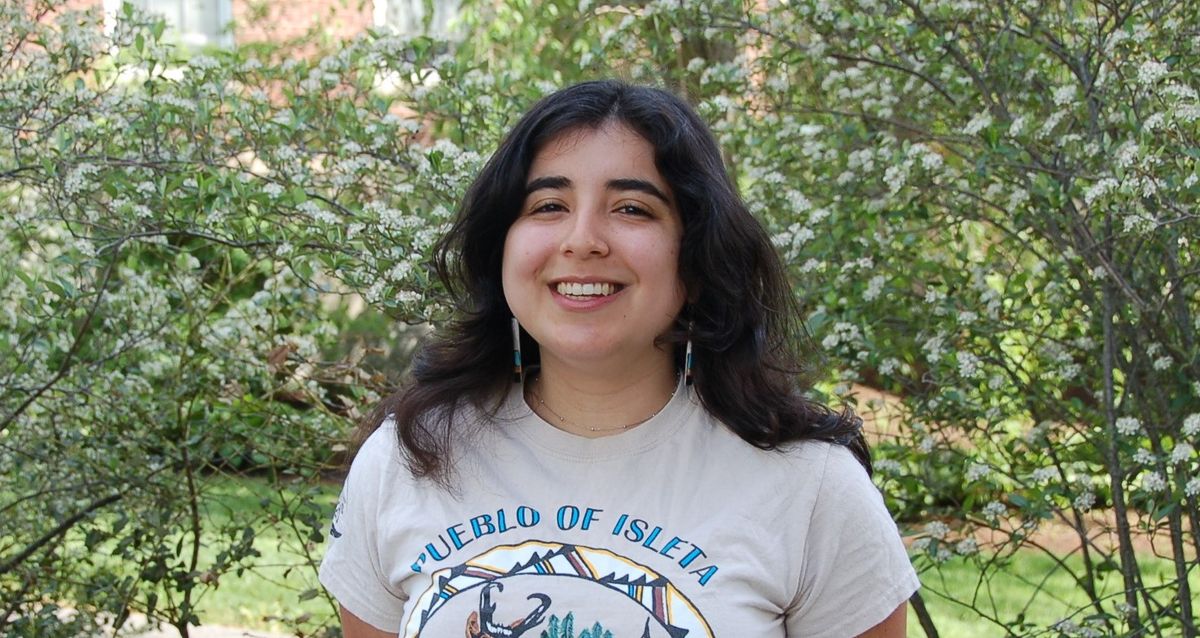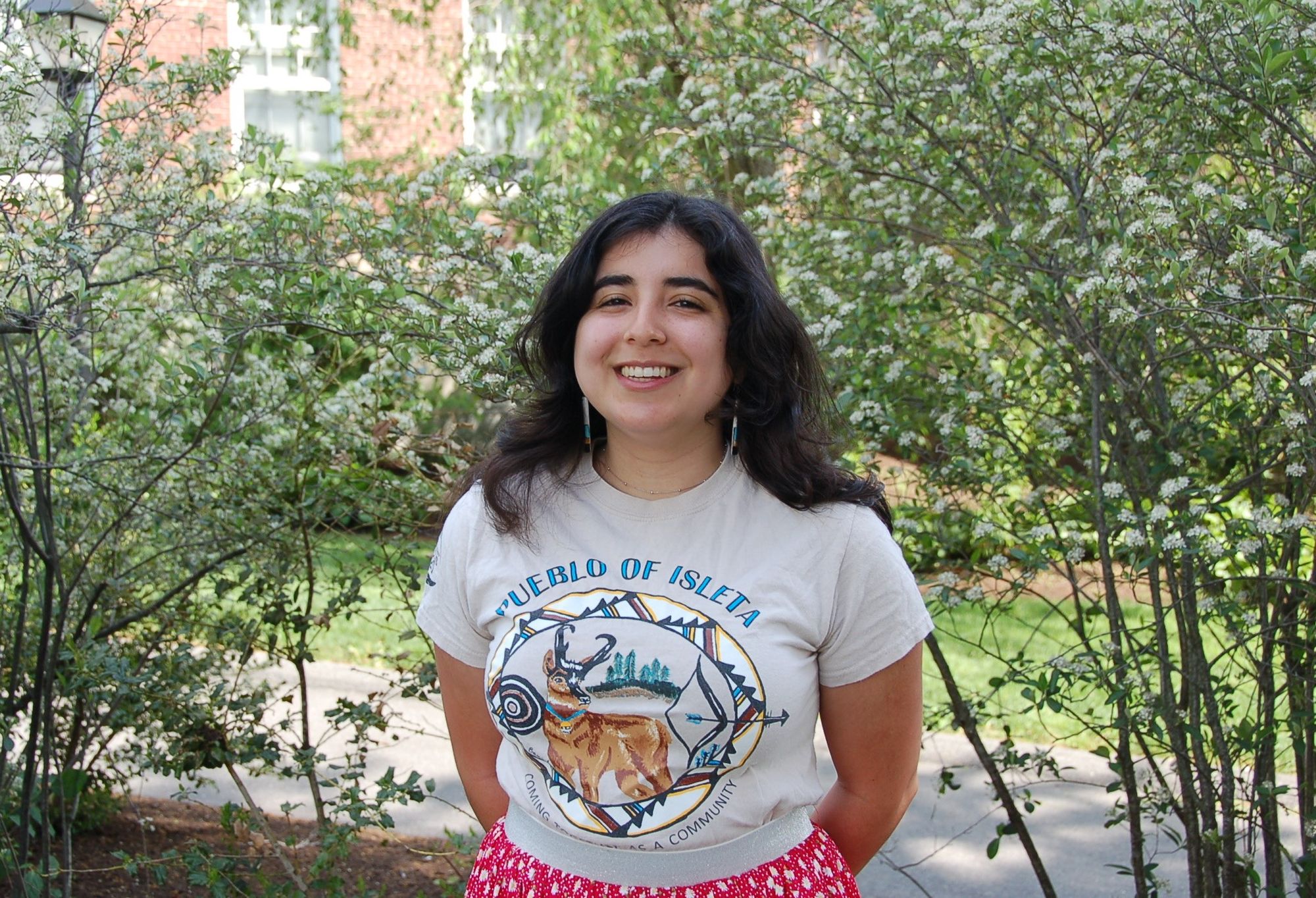 Upon meeting Alexis Scalese '22, I was instantly struck by her warmth. She has an inviting smile and a bubbly laugh, both of which quickly set you at ease. Scalese is an accomplished scholar, leader, and researcher, but she is also incredibly humble. Before we began our interview, she expressed her bewilderment at the fact that anyone would want to profile her, even though the reasons are obvious to those around her. Since our first meeting, I've come to understand that Scalese is the kind of person who always strives to lift up those around her; self-aggrandizement does not figure in her vocabulary.
Away From Home
Scalese is a member of the Pueblo of Isleta, a federally recognized Native community located roughly 20 miles south of Albuquerque, New Mexico. However, the majority of her formative years were instead spent away from her homelands in Gainesville, Florida, where she was born and raised, a source of complication for Scalese's understanding of her Native identity. "Growing up away from my community was really difficult," Scalese said. "I had a lot of questions, like who was I as a person?"
The difficulty Scalese faced in connecting to her native roots was exacerbated by the lack of exposure to Native history offered in her public school classroom. "My education made me feel like there was a missing piece — high school does not do the best job of teaching the history of Native people in the United States," she said.
Despite these difficulties, Scalese's connection to her nation grew throughout her high school years as her family took trips to Albuquerque to visit her pueblo. "My parents really wanted me to know the people I come from, my biological family members, and maintain those kinship connections as best I can, considering that we were on the other side of the country," Scalese recalled. While on these trips, she forged a strong connection with both the land and her people despite growing up largely distanced from them. "There's just this connection that I have to that space. I always felt at home," she said.
In 2020, Scalese's father accepted a job working near her homelands, and her family decided to move back to the Pueblo of Isleta. Though her initial experiences were complicated by the throes of the pandemic, Scalese's connection to her Native identity quickly grew as she was enabled to put her culture into practice with those around her and connect with her community. "I knew a lot about my culture, but just to be able to practice it with people and be in relation with the land really solidified my identity as an Isleta woman," she said. "It's just a feeling that I can't describe."
The Road to Amherst
As a public school student in Florida, Scalese had little knowledge of Amherst prior to participating in College Horizons, a fly-in pre-college program that allows Native students to spend time on college campuses and receive advice from admissions recruiters. After her experiences on campus at Amherst through both the College Horizons program and Amherst's own Early Opportunity for Native Students (EONS) program, Scalese knew that Amherst was where she wanted to be, and applied to the college through Early Decision. "Things were just lining up, and I felt really welcomed into the community," she said.
Scalese was also heavily influenced by an idea repeated throughout both programs. "They told us multiple times that Indian country needs people with degrees," she said, "Not to say that degrees are the only way to be successful in life and to make Indian country proud, but the people who have these degrees don't look like us, and they're making decisions on our behalf." This idea would be a motivating force for Scalese throughout her four years at Amherst.
First Moments on Campus
Upon her arrival at Amherst, Scalese immersed herself in the Native community on campus, crediting the seniors at the time as well as Lisa Brooks — Henry S. Poler '59 presidential teaching professor of English and American studies — and Kiara Vigil — associate professor of American studies — with fostering a tight-knit Native community. Scalese was struck by the number of Native students in her first American studies class with Vigil, which presented her with her first opportunity to interact with other Native people in an academic setting.
The Native community on campus also provided Scalese with a support system as she faced a difficult transition to life on campus. "Even though I'd been to campus before, this was a huge culture shock for me," she said. "It was a hard transition, but I felt like I could lean on the Native community and my professors."
"I felt empowered to speak in class and be my authentic self. People were really caring for me," she added.
Scalese quickly made her own creative contributions in this new learning environment. In her first year, Scalese oversaw the creation of a Three Sisters garden at Book and Plow Farm for the course "When Corn Mother Meets King Corn: Cultural Studies of the Americas." Working with other Native students and current artist-in-residence Elizabeth James Perry, she ultimately used the garden to create a space for community building while honoring Native and Indigenous women.
"It really was a visionary project," said Brooks. "She put such care into [the garden], and she took care of it long after class and continued that embodied learning."
Passion and Drive in Advocacy
Over her time at Amherst, Scalese has only become more active in advocating for her community, taking on leadership roles within the Native and Indigenous Studies Association — contributing in large part to its expansion — and serving on the Student Anti-Racism Advisory Committee.
Through this work, Scalese has played a key role fighting for Native representation and rights on campus, for instance writing several of the land acknowledgments used by various organizations on campus. "It's a good step to recognize whose spaces we are occupying, most of it without consent," she said.
Underlying such consistent advocacy against the erasure of Indigenous people in all spaces is a mantra Scalese learned in her time with College Horizons. "Indigenous, educated, unafraid. That really empowered me to push through and remember why I'm here, which is to ensure the futurity of my community and of Indian country as a whole," Scalese said.
Nathaniel Ashley '22, a close friend of Scalese, commented on this unwavering dedication, noting that it extends to all aspects of her life. "I think what stands out to me most about Alexis is her passion and drive — her passion for her loved ones, for her academics, for her hobbies, for her nation, for everything that she sets her mind to," Ashley said. "She has so much love for the people in her life, whether it's celebrating our accomplishments, planning birthday parties for us, paying attention to our problems, or so much more."
A Model Leader and Researcher
In the classroom, Scalese has also become known for her unique leadership capabilities. "She's a phenomenal leader, but she's able to lead in such a way that she's always collaborating," Brooks noted. "She was able to connect disparate ideas and weave them together in such a way that she would lead the whole class to a deeper insight. She's really a model leader in that way and I've learned so much from her."
Such thoughtfulness has informed Scalese's work in research as well. As a Mellon Mays Undergraduate Fellow and a student worker in Frost Library's Archives and Special Collections, research has been an especially important aspect of Scalese's time at Amherst. Missy Roser, head of research and instruction for Frost Library, described Scalese as "a model for student researchers at Amherst. She's spent the past four years being curious, taking advantage of every opportunity, asking questions, [and] developing a very inclusive network."
Scalese's interest in the archives shines through in the way she explores the archives' recent acquisition of Native periodicals as a hobby. "It's just really cool to see what's in that collection and learn about other stories from Native communities," she said.
Ultimately, the research skills Scalese developed over her four years at Amherst culminated in a thesis on Corn Mother stories, mythologies from Indigenous groups that relate the story of Corn Mother, who is depicted as responsible for the origin of corn. Through the thesis-writing process, she was able to incorporate her own experiences being removed from her community in her childhood, in addition to what she's learned as a writer and researcher in her time at Amherst.
Life After Amherst
Following graduation, Scalese will be pursuing a career as an archivist. Though she was previously drawn to the idea of being a professor, her time working in the Frost archives, as well as at her Pueblo's Cultural Center as an intern in 2021, solidified her dedication to the preservation of her culture through the archival process. Immediately following graduation, Scalese will begin an internship at the American Philosophical Society in Philadelphia as a member of their Native American Scholars Initiative, where she will work with collections pertaining to Indigenous peoples across the United States.
Following her internship, Scalese will be attending the University of New Mexico to pursue a Master's degree in Museum Studies, where she has received the Hidden Museum Partners Fellowship. Through the fellowship, she will continue her work at the Pueblo of Isleta's cultural center as a caretaker for the center's collections, seeking to create a unifying space for Isleta people of all ages. "I really want this to be a space for young people and elders in my community to really connect," she said. "My community has lost so much because of colonization, so I really hope that [the center] can be a space of healing."
In the long-term, Scalese plans to remain in New Mexico to continue building relationships and connecting with her community. Yet, regardless of where life takes Scalese, her goal remains clear: ensuring the preservation of Indigenous communities.
To future and current Native students, Scalese imparted this wisdom: "Don't be ashamed of who you are … Lean into it. We're all here for a reason. Our elders and ancestors fought so hard for us to be here, so make sure you have a good heart and mind in everything you do."