News
Alumni Panel Looks Back at Amherst Uprising
A group of alumni who were present for the 2015 Amherst Uprising, which shed light on the difficulties faced by students of color on campus, returned for a panel in the Powerhouse on Feb. 16 to discuss the lessons they drew from the Uprising and give advice to current students.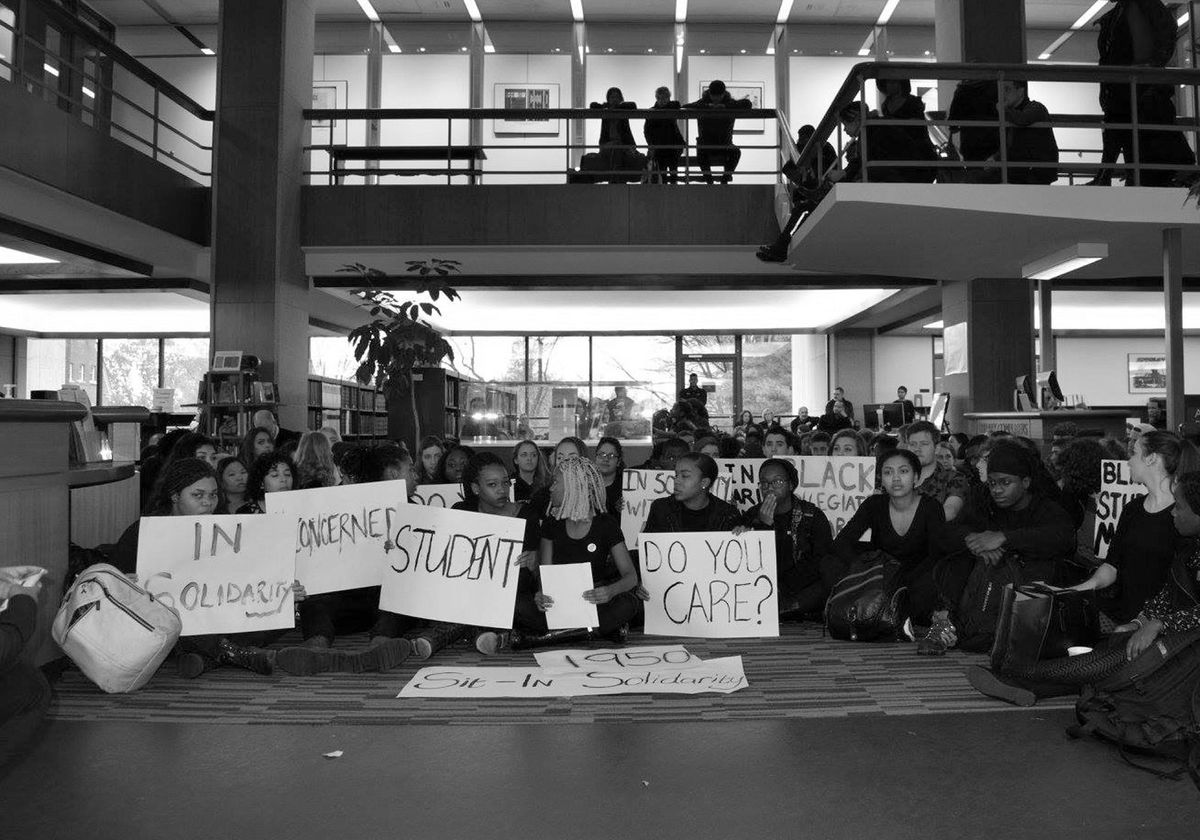 A panel of college alumni on Feb. 16 shared their firsthand experience of the Amherst Uprising, a 2015 on-campus racial justice movement, as part of discussion titled "Reflections on a Legacy: Amherst Uprising Alumni Panel."
The panelists detailed how they felt at the time of the Uprising, their specific roles in the movement, and their general wisdom on social justice work seven years on. The panel was hosted by the Black History Month Planning Committee in collaboration with the Multicultural Resource Center (MRC), the Office of Diversity, Equity, and Inclusion, and the Cultural Heritage Committee.
The Amherst Uprising, initially planned as an hour-long sit-in at Frost Library in solidarity with students of color leading racial justice demonstrations at other universities, was organized by three Black students — Katyana Dandrige '18, Sanyu Takirambudde '18, and Lerato Teffo '18.
The event gained traction as students of color gathered in Frost to share personal testimonies of marginalization on campus and their discontent with the lack of support and action from the administration. While the movement began as a demonstration against racial injustice, it quickly devolved into a protest against a much wider network of social justice issues; namely, organizers called on the college to denounce "our institutional legacy of white supremacy, colonialism, anti-black racism, anti-Latinx racism, anti-Native American racism, anti-Native/indigenous racism, anti-Asian racism, anti-Middle Eastern racism, heterosexism, cis-sexism, xenophobia, anti-Semitism, ableism, mental health stigma and classism."
Hundreds of students, faculty and staff occupied the library for the weekend, in which time they created a list of 11 demands that were presented to then-President Biddy Martin.
Among other demands, students called for Martin to replace the college's unofficial "Lord Jeff" mascot, a character based on the colonial figure Jeffrey Amherst who notoriously aided in giving smallpox-infested blankets to Native communities, and issue an apology for the college's "institutional legacy" of oppression. Additionally, students asked Martin to condemn students who put up "All Lives Matter" posters in Valentine Dining Hall in response to posters in support of student protesters at the University of Missouri.
The sit-in officially ended after Martin released a statement that offered "clarification and hope" for student protesters, and in the following year, the school dropped Lord Jeff as its mascot. Additionally, the Latinx & Latin American Studies major debuted in the fall of 2017 in adherence to one of the 11 demands.
The alumni speakers at Thursday's panel were Felipe Rico '16E, Irma J. Zamara '17, Mercedes MacAlpine '16, and Nayah Mullings '17, all of whom were present at the Uprising. Abadai Zoboi '24 moderated the event.
Held in the Eighmy Powerhouse, the event featured among its attendees organizers, students, faculty, President Michael Elliott, Provost and Dean of the Faculty Catherine Epstein, and Chair of the Board of Trustees Andrew Nussbaum '85.
Rico introduced the event by thanking its organizers, Elliott and Epstein for their attendance, and stated the objective of the panel: to "engage the community in dialogue, give voice to what happened and also to tie the Uprising to current struggles for equity." In recalling the Uprising itself, Rico also cited the "important role that women of color played in creating this movement," as the original sit-in was planned by three Black women students.
"Eventually, other Black and brown women joined, and it felt as if the rest of the campus followed suit," he said.
Not without humor and lightheartedness, panelists recalled the tension in the air in Frost as students shared deeply personal experiences of marginalization at Amherst.
"The first evening in Frost was ultimately incredibly moving but also really, really painful," said MacAlpine. "In the depths of that vulnerability, it was incredible to walk around the library and see people connecting in that moment. I still carry with me just the belief that human beings have the potential to go there."
Mullings, whose self-described role in the Uprising was that of a caretaker, said that a cherished moment was when they and other student leaders in the Queer Resources Center (QRC) took a microwave, food, and other supplies and set up a "Queer Compound" on the second floor of Frost during the sit-in.
Mullings recalled being thrust into a speaking position, in the heat of the moment, that was somewhat unnatural to them — after students listed their demands for Martin, it was Mulling's job to take the microphone and ask that Martin sign the document. Martin, who explained that she would need approval from the Board of Trustees, said no.
"That was one of my more embarrassing moments of life," they said. "There was no plan for what would happen if she said no."
Mullings also described feeling guilt at not being enough of a "disruptor" at that crucial moment.
"That's something I learned from Uprising — everybody has their role. Not everybody is going to be good at being loud," they said. "For me, I was bringing resources to the space and making sure people were being taken care of."
Panelists Rico and Zamara recalled the challenges of considering the intersectionality of the movement. Zamara, who graduated with a Spanish degree, reflected on her experience as a Latina woman at the Uprising.
"It was important to recognize that this movement was created specifically centering the struggles of Black women," Zamara said. "As a Latina, how do I fit in here?"
Similarly, Rico brought up the initial uncertainty he felt as a male athlete present during the Uprising. "For years [before the Uprising], [students] had been talking about issues of sexual respect," he said. "It was on our minds at the time, and I think a lot of my teammates … may not have felt like that was their place to be. But I think it was exactly where they needed to be."
It was then, Rico said, that he began to realize the importance of the presence of allies in the room; specifically, people who were willing to listen, take responsibility, and realize that not everything can be solved easily.
When posed the question about how they found joy during the Uprising and their time at Amherst in general, the panelists were generally in agreement that community-building was an important factor.
Zamara remembered a specific moment when she and her best friend comforted one another after an emotional moment during the Uprising: "We were just hugging each other, saying, 'I got you, I got you,'" she said. "That hug, that physical connection always brings me joy."
When the panel opened up to the audience for a Q&A, multiple students asked for advice for current students doing social justice work and activism. Specifically, one audience member asked the panelists how to "call in" those who choose not to engage with social justice work at all.
Rico encouraged organizers not to sell themselves or their work short, and reassured the audience member that their work did not go unnoticed; Zamara and Mullings advised that having confidence and offering support to the people who do show up makes a bigger difference than people expect.
"We are enough; we have what we need. Whoever is in the room is enough," Mullings said. "Momentum builds over time."
Zoboi, who was asked by the MRC to moderate the panel, felt comforted by the panelists' descriptions of their collective struggle as students of color in college.
"It's very easy to just get caught up in your life and feel like you're the only one that has gone through something," she said. "[The panelists] were in the same position as we [students of color] are."
Zoboi said that she and other organizers from the MRC had to "tiptoe" around certain topics or phrasing for fear of being "disrespectful" towards members of the administration who attended the event. Looking into the audience, she said, it felt "daunting" to see so many higher-up administrative people there.
"There's a juxtaposition, because if they had just ignored the event, I would've given them a real side eye," she said. "But I feel like sometimes we had to be very careful with what we said, because this was a historical event that criticized the administration."
Zoboi also mentioned that because the MRC is funded by the college, it created even less of an incentive for her to ask questions that might lead the panelists to criticize the administration. For her, she said, it became a question of how to allow for such criticism without being flippant or inaccurate. "I think we did a good job," she said.