News
Amherst Admits 9 Percent of Applicants to Class of 2027
The college admitted 9 percent of 12,700 applicants to the class of 2027. A slight drop in application numbers consistent with peer institutions accounts for a 2 percent increase from last year's acceptance rate, while diversity metrics remained largely unchanged.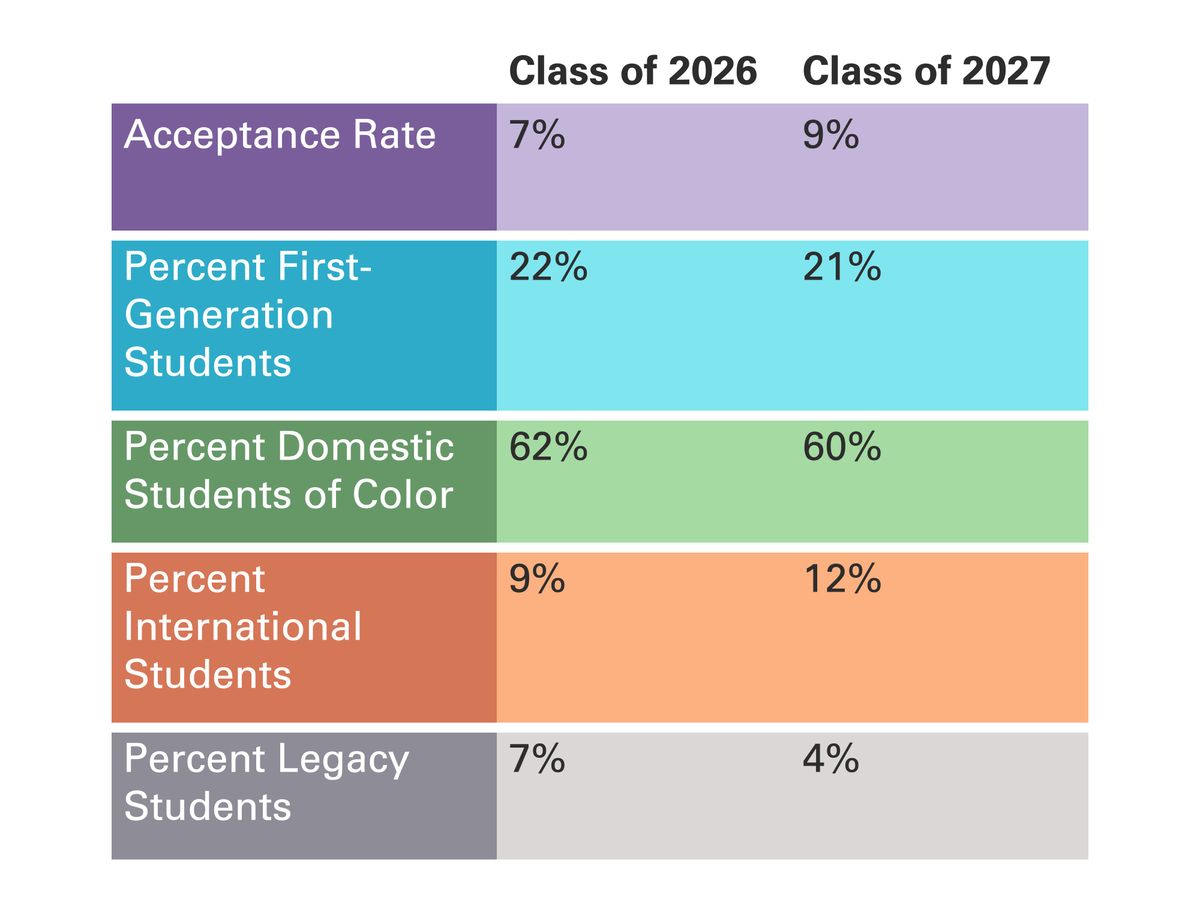 On Friday, March 18, the college admitted students via its regular-decision process, accepting 9 percent of 12,700 applicants to the class of 2027, according to an email statement from Dean of Admission and Financial Aid Matthew McGann. The decisions were released at 6:21 p.m. EDT, an homage to Amherst's founding in 1821.
The number of applications this year is a decline from the past two years' record highs, a 14.2-percent drop from the 14,800 applicants to the class of 2026. This resulted in a 2 percent increase in acceptance rate.
"Similar to quite a few of our liberal arts college peers, we saw a slight decline in applications from our pandemic-time highs, but remain well above the application totals from pre-pandemic times," McGann wrote. "For the Class of 2024, for example, we had 10,601 applications, which was then a record high for the College."
The college's perennial rival and sister school, Williams, also reported a drop in applications this year, of over a quarter.
This year's admissions cycle was the first in the college's history in which legacy applicants — those with a parent who attended the college — were not shown a preference in the admissions process. The policy change, which was announced in October 2021, distinguishes the college from almost all of its peer institutions. The number of legacy admits dropped from 7 percent last year to 4 this year.
"Legacy students were considered in the same manner as all other students, in a holistic admission process," McGann wrote. "There is no quota, target, or cap for legacy students, just as there is no quota for any other group of students."
The admitted class of 2027 is nearly as diverse as last year's class, with the percentage of domestic students of color dropping from 62 to 60. Twenty-one percent identify as first-generation college students, a 1 percent drop from last year. The number of international students rose from 9 percent to 12, with 54 different countries represented, as well as 49 of the United States; Washington, D.C.; and the Northern Mariana Islands.
"I couldn't be more excited about this year's group of admitted students," McGann wrote. "From an outstanding group of applicants, the admission committee spent months painstakingly getting to know each of these students as well as possible in our holistic admission process."
He added that admitted students are invited to attend the college's "Be a Mammoth Program" from April 11 to 12 to learn firsthand what attending Amherst is like.
As has been standard in recent years, the college plans to enroll 473 students in the class of 2026. Those admitted will have until Monday, May 1, to accept or decline their offer of admission. Like the past three years, the admissions deposit has been waived for all students.