Arts & Living
And the Show Goes On! Broadway is Back
After a hiatus of more than a year and a half, how has Broadway changed? This week, staff writer Sarah Weiner '24 talked with Broadway stage manager Lisa Buxbaum about Covid precautions, calls for equity in the industry, and the future of Broadway.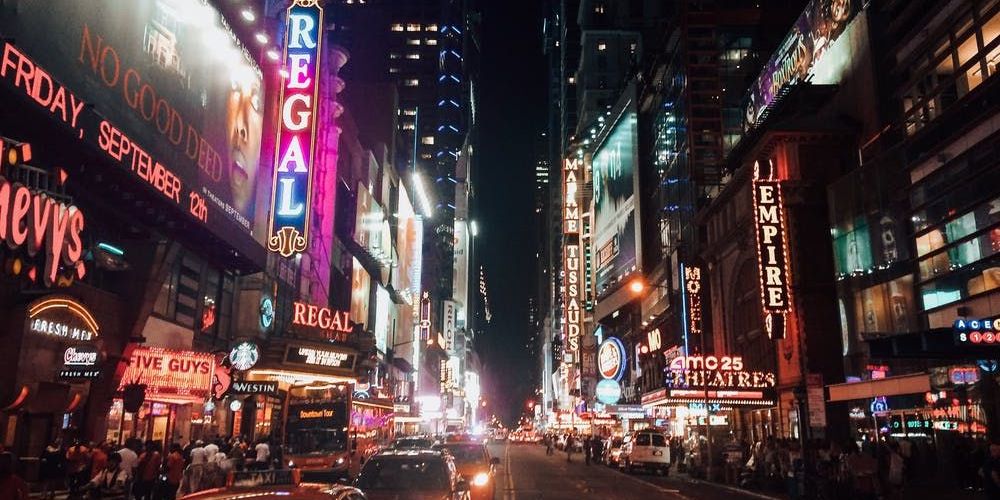 The show must go on — and go on it will. After a hiatus of more than a year and a half  due to the Covid-19 pandemic, dozens of Broadway shows have opened or reopened within the past two months, with more to come. With rehearsals underway, lengthy standing ovation videos flooding social media, and the broadcasting of the 74th (a.k.a. the 2020) Tony Awards, it certainly feels like Broadway has made its grand reentrance. But in an era of persistent Covid anxiety, is Broadway really back? I spoke with Lisa Buxbaum, a theater-goer, my mother, and a Broadway stage manager of almost 30 years who returned to work this month.
Before the pandemic started, Buxbaum was the stage manager for "Who's Afraid of Virginia Woolf?" When Broadway went dark, the play was still in previews, set to open just weeks later. Timing and scheduling concerns made its return to Broadway unfeasible; several other plays and musicals also did not return for various reasons.
Now, she is the stage manager of "To Kill A Mockingbird," which reopened on Oct. 5. When I asked her about the cast and crew's general sentiment about returning to work, Buxbaum said they are "thrilled." But, she also acknowledged some difficulties nevertheless remain. "It's demanding to do eight shows a week," she reminded me.
Although some actors and crew members have worked sporadically throughout the pandemic, some haven't worked at all. No matter who you are or what you've been doing, everyone needs to build back their physical and emotional strength to get through the fatiguing work week. As a result of negotiations with Actors' Equity Association, shows have the option to do seven performances a week instead of eight for the first eight weeks after reopening. "To Kill a Mockingbird" is doing seven.
Another thing that has changed during the transition back to Broadway is the implementation of Covid protocols. There is now a vaccination requirement for all performers and crew members, with testing procedures in place for unvaccinated audience members. There is also a mask requirement for everyone in the theater — including actors, except when they are on stage. There are minimum testing requirements for everyone, set by Actors' Equity Association and The Broadway League, but the protocol can vary by show.
Despite the trepidation of some that now accompanies being in an enclosed space for extended periods of time with strangers, Buxbaum said current audience members are "very enthusiastic to come and are more than happy to comply with Covid protocols." As a theater fan herself, she would have no hesitation going to see a show, should the opportunity arise. However, "a large part of the industry are tourists," Buxbaum explained. Ticket sales are largely dependent on tourists returning to New York City, and as Buxbaum mentioned, "not only for the theaters, but all the other things the tourists come to New York for," emphasizing the significant role of tourists in the city's economy.
I was curious to ask Buxbaum about any differences she could perceive between pre-pandemic shows, and the ones that are open now. I expected a Covid-related response, but Buxbaum actually said that the biggest differences she sees "have more to do with the Black Lives Matter movement and a call for equity and inclusion in the industry." She noted that "'To Kill a Mockingbird' has some very sensitive content, and that is being addressed in our reopening" and that "content around sexual diversity in 'Jagged Little Pill' [is] being addressed in different ways. I think all shows are addressing diversity, equity, and inclusion in new and better ways." The changes address both artistic and human resources issues, making waves onstage, backstage, and at administrative levels. For a comprehensive document of on-stage changes, perceptible to those outside the industry, see a recent New York Times article.
These changes come after activist group We See You White American Theater released a testimonial letter, "Dear White American Theater," in June 2020. The collective has since put forth a list of demands and "principles for building anti-racist theatre systems." In September, "The Tony Awards Present: Broadway's Back!" event also alluded to the call for racial equity, with "Broadway's Black Tonight," Leslie Odom Jr.'s parody line of the opening number's chorus, "Broadway's back tonight."
When I asked Buxbaum about the importance of Broadway's reopening, she immediately responded, "nobody wants to see the art form disappear." Broadway is home to all types of artists: designers, performers, writers and choreographers. Buxbaum also added that there is an economic perspective at play, since Broadway "is such a muscle for New York City." But for her, it really is about the art: "a world without theatre would be terrible," she asserted.
As utterly exciting as this landmark is, the reality of the pandemic leaves some questions hanging. At the beginning of this month — and after only one performance — "Aladdin" closed for 12 days following a Covid outbreak among its cast members. Although the show is now back on its feet, Broadway has never before permitted the routine closing and reopening of shows. With the new threat of temporary closure, supposed action towards inclusion and equity on the horizon and a revitalized appreciation for live theatre, what will the future of Broadway hold?