Arts & Living
"APES**T" Demands Recognition of Black Artists in High Art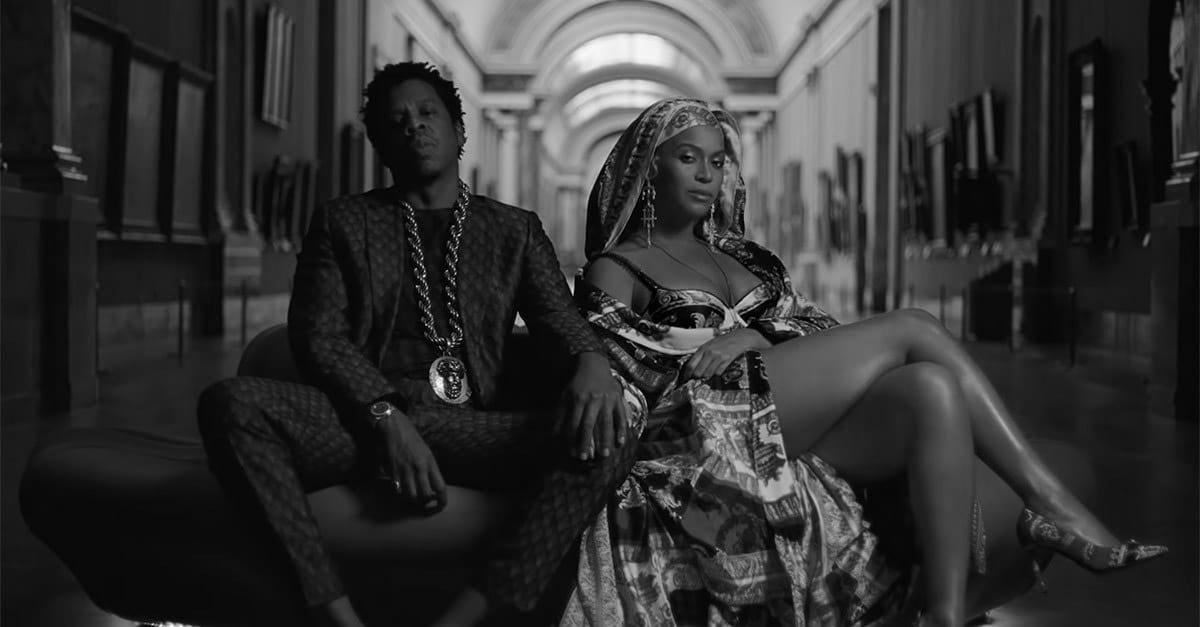 Beyoncé Knowles-Carter and Jay-Z are the musical power couple of our generation. Both artists have defined their respective genres of music, turned heads with outlandish performances and continued to make waves, album after album. The pair is also known for being politically outspoken, a trend continued in their recent music video for the song "APES**T." The striking video was shot at the Louvre Museum in Paris, France and draws attention to the exclusion of black artists in highbrow culture. The Carters are a great example of a new wave of activism paving the way for recognition of black artists and black modes of art in traditionally white spaces.
The high-budget video for "APES**T" dropped on June 16, 2018 and is filled with striking imagery, beginning with a shot of Beyoncé and Jay-Z leaning on the banister in front of the Mona Lisa. Throughout the rest of the video, the couple can be seen dancing around the empty museum with an all-black dance troupe, highlighting powerful images of contemporary political injustice, such as young black men with their hands up and men kneeling in tribute to Colin Kaepernick.
Additionally, many shots zoom in on the few black faces which are present in the Louvre's art. The juxtaposition of the black dancers and predominantly white art exemplifies the way in which black artists have been excluded from "high society" institutions like the Louvre throughout history. Featuring hip hop specifically in a traditionally white setting further underscores that same message. Beyoncé and Jay-Z's decision to take over the Louvre for the video both shows the immense power the couple boasts as entertainers and simultaneously highlights how difficult it is for black artists to make a space for themselves in high-society — the Carters needed to literally force their way in.
This video aligns with a long-overdue movement to recognize "forgotten" black artists. For years, world-renowned museums like the Museum of Modern Art (MoMA), Metropolitan Museum of Art, the Louvre and the Rijksmuseum have generally overlooked art by African Americans and black Africans. Artistic recognition has been almost exclusively limited to white men for centuries, but recently, more women and minorities have been acknowledged in the public eye.
A new wave of activism has also emerged in the past decade to recognize black artists' work. In one move towards progress, this summer the MoMA reserved its entire sixth floor for the biggest exhibition by a current artist in the museum's history. The artist who earned the honor was Adrian Piper, an African-American woman, whose work focuses on modern racism, misogyny and xenophobia, as well as other forms of oppression. Her exhibit is representative of the museum's new mission to include art by people of color. In addition, the MoMa will feature an exhibit this fall by Bodys Isek Kingelez — the first black African to have a solo exhibition in the museum's history.
In a more direct manner, the Carters have also attempted to create a space for black artists. For example, in a recent cover interview with Vogue magazine, Beyoncé discussed the importance of giving young black artists a chance to succeed in the music industry. She backed this talk up in the very same interview, by having her Vogue cover-shoot photographed by Tyler Mitchell, the first black man to ever shoot a cover for the magazine. This is not the only time Beyoncé has helped a black artist rise to fame. Her pregnancy photographs were taken by Awol Erizku, an Ethiopian artist, who uses black power and underground rap imagery in his works. Since these pregnancy photos broke the internet, Erizku has photographed several other famous black figures, such as Viola Davis and Donald Glover, for The New Yorker. Jay-Z has also contributed to this cause, adding works by many black artists to his personal art collection, including pieces by David Hammons and Jean-Michel Basquiat. Through their efforts, the Carters have shown their ability to leave a real impact on the art world.
For centuries, an overwhelmingly-white high society has either claimed black art as its own or pushed it out of the public eye. Now, it is time for black artists to gain recognition and fame for the work they have been creating for years. The Kingelez exhibit and Tyler Mitchell's photographs should not be ignored; there are many black artists ready to make waves, and Beyoncé and Jay-Z are here to help guide them toward success.
There are local ways to join the movement to expand awareness of black artists. This semester, the Smith College Museum of Art is featuring the work of African American artist Alma Thomas in an exhibit called "Alma Thomas: The Light of the Whole Universe." The exhibit will be open from July 27, 2018 to Dec. 31, 2019.