News
As Trump Rally Nears Campus, Students Find Creative Ways for Resistance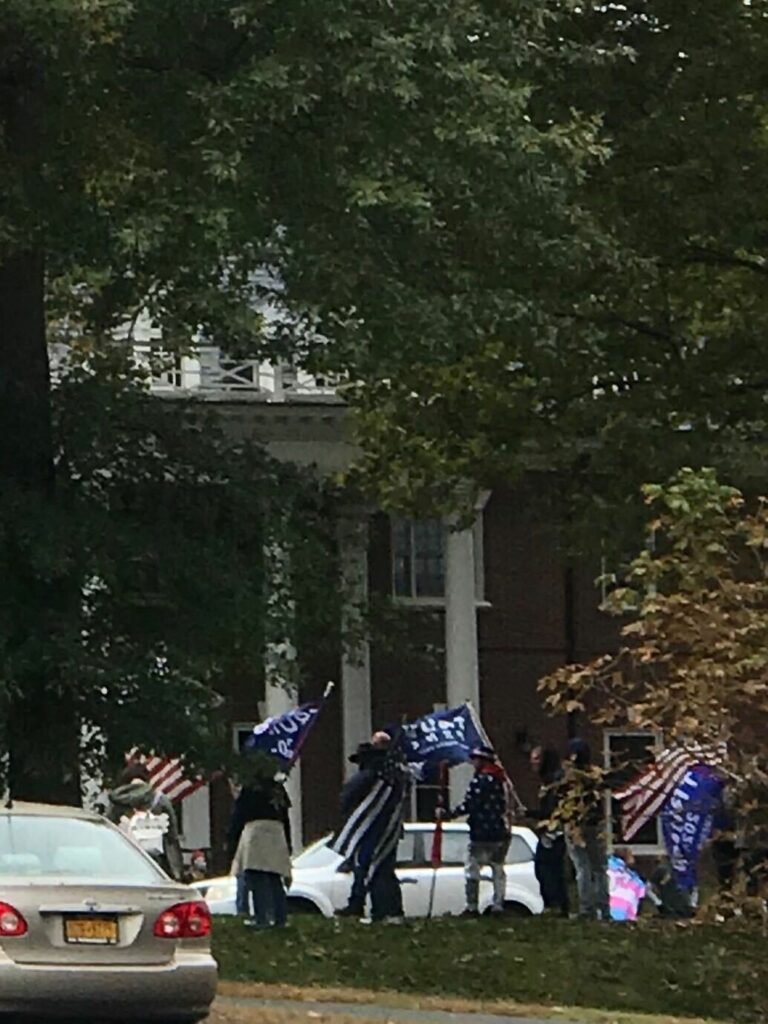 A rally in support of President Donald Trump and the "Back the Blue" campaign — along with a counter-rally against white supremacy — took stage on the town common directly in front of campus on the afternoon of Oct. 12. As the college implemented detours and guidelines for students living along the rally's routes, some had taken to Covid-safe ways of protest as campus grappled with the hurt that the rally presented for members of the community.

According to the event advertisement for the Trump/Back the Blue Rally, dubbed a "Columbus Day Blitz" by the Correctional Officers for Trump 2020, the event's organizers, it was intended to be a four-day demonstration held at a different location on each day, culminating in the Amherst rally. Shortly before the rally's planned start, on Oct. 11, local advocacy group Defund413 Amherst posted on their Instagram that they would host a counter-protest to "confront white supremacy in our communities and build a movement to abolish global capitalism."

The rally comes at a contentious political moment, less than one month before the presidential election and shortly after the summer's increased dialogue on racism following the killing of George Floyd. The rally's call to "back the blue" — "blue" referring to police officers — is particularly heavy, as it situates itself in opposition to demands to defund and abolish police after multiple instances of brutality against Black people across the nation and throughout history. 

Dean of Students Liz Agosto and Chief of Police John Carter emailed on-campus students, faculty and staff shortly past 8 a.m. notifying the community of the rally, which was planned to occur on the intersection of Route 9 and Route 116, which borders the town common as well as several college dormitories and academic buildings. According to the email, the college communicated with the town and the event's organizers advising them that demonstrators were not allowed on college property, but noted that "[the demonstrators] do legally have access to the surrounding public streets."

Agosto and Carter informed students who relied on the intersection to travel to and from main campus — primarily residents of Hitchcock, Seelye, Mayo Smith, Newport and Seligman, along with those who walk to the athletic fields — to take alternative routes on Woodside Avenue, Boltwood Avenue and behind College Hall to avoid the area, as "members of the crowd may or may not be practicing physical distancing or wearing masks." They added that students in the residence halls closest to the rally might consider staying in on-campus locations for remote classes to mitigate the disturbance the rally might cause.

Finally, the email advised that the area would be subjected to increased police presence by both the Town of Amherst police and the Amherst College Police Department (ACPD) and advised that "rallies such as this sometimes attract participants who exercise their ability to legally possess firearms." Firearms are prohibited on campus, the email said, and ACPD would enforce that rule.

"We cannot separate ourselves from the larger national context and acknowledge that, for some members of our community, especially people of color, the content of the rally and the presence of increased law enforcement may create concern, anxiety or fear," the email concluded. "Student Affairs staff are available for students who may need increased support. Please don't hesitate to reach out to us."

Not long after the initial email, Agosto sent a second email to on-campus students alerting them of the counter-rally against white supremacy. "Given the public health risks, no one in our college community should join or interact with the group," she wrote. "Please note that the town common is off campus and outside the 'bubble' we are working so hard to maintain. Please do not attend or interact with people off campus."

Nonetheless, students living in and traveling around the area witnessed much of the rally. Harry Brussel '23, who saw the event, noted that "there was certainly a lot of Trump paraphernalia … I think just about every protester had a MAGA hat or Trump flag or something to that effect." Along with a QAnon poster and campaign sign for Dr. Shiva Ayyadurai, a right-wing conspiracist who ran for Senate in Massachusetts but lost his primary, Brussel described the event as "vitriolic" and "disgusting."

Brussel said that he heard demonstrators say "disparaging things about Breonna Taylor, to the effect that … she would still be alive if she had followed the law." And multiple others described seeing one demonstrator raise up his arm in a Nazi salute.

A photo of the demonstrator has circulated around campus. The Black Student Union posted the photo on an Instagram story with the caption, "Hey f*** you man. The type of hate Trump encourages. This is disgusting." In an email advertising a series of restorative circles on Oct. 13, Chief Student Affairs Officer Karu Kozuma referenced student accounts of the Nazi salute, calling it — along with recent reports of swastikas drawn on a table at Book and Plow Farm — a "strong reminder that hate, anger and discord also happen on our campus, in our own backyard."

Ali Astrachan '23 said that she could hear demonstrators play police siren sounds from a speaker outside of Seelye, where she lives. Though she didn't at first understand what was happening, after the second time, she realized that demonstrators were playing police sirens knowing that the sound would be triggering to people of color and Black communities in particular, who are most likely to face police brutality than their white counterparts.

For some students, especially those living in the Triangle — a residential area composed of Hitchcock, Seelye and Mayo Smith, and located right on the corner of Route 9 and Route 116 — the rally spurred a call to action, though at a somewhat limited capacity given Covid guidelines. Talia Ward '23, a resident of Hitchcock, knew about Defund413 Amherst's counter-protest and hoped to "show up in some way." She, along with other students, sat on the Triangle's lawn with signs to show support for the counter-protesters.

"We were all on college property and socially distanced," Ward said. "And we were really hyper-aware that if we're going to show up, we don't want to get in trouble with the college and don't want to get other people in trouble. So we stayed separate and intentionally in front of Seelye."

While students were gathered outside of the Triangle, students also took to indoor forms of protest. According to Astrachan, some Seelye residents played the song "F*** Donald Trump" on a speaker for demonstrators outside to hear. After hearing the speaker, Ward said she invited the Seelye residents indoors to join those outside; both Ward and Astrachan estimated that between 15 and 20 students stood on the Triangle's lawn.

"We wanted to show our support [for the counter-protesters] and voice our views very clearly, but from a distance, so I think that was why we sort of set up this speaker. And you know, people were dancing; people seemed to appreciate it. I don't know if they could hear it across the street, but it made us feel at least like we were sort of involved while still following the rules," Astrachan said.

Though students took to action, many still felt the harms of the event sitting so close to campus. "It was nothing like other marches or other rallies that I've ever attended," Astrachan said. "It felt like the Trump supporters were really trying to antagonize us in a very malicious way … And it wasn't necessarily a civil discourse; any social contract was thrown out the window."

Ward said that while taking the Boltwood Avenue alternative route marked in Agosto's and Carter's email, she still had to circumnavigate demonstrators who had parked on that street. In doing so, she heard some demonstrators "yelling at students of color who like crossing the street saying, 'go back to where you came from, leave the country.' It was not cool." She emailed Student Affairs to relay her concerns, but said she hoped that the college would have implemented more thorough safety measures for students traveling from the Triangle, Newport and Seligman.

"I just didn't feel like it was super safe for anyone to walk alone because they just were going to be harassed," Ward said.

In a joint response to The Student, Agosto and Chief Communications Officer Sandy Genelius affirmed Kozuma's sentiments in his Oct. 13 email, adding, "In addition to providing immediate support in the form of mental health services, OSA and the Center for Restorative Practices are offering a series of conversations, based around impact circles, called Hate in Our Backyard. The programming will offer a place for students to share how incidents of bias and hate have impacted them and then have an ongoing conversation about it."

In the end, Ward noted that a rally like this one is not surprising, though startling.

"Some of the other students that I was standing with were saying stuff like, 'this is Massachusetts, how are there racists and Trump supporters in Massachusetts?' I feel like Amherst campus might be generally bluer than the United States. But on College Street, there are multiple houses that fly Trump flags and thin blue line flags that are between Newport and the sports fields," Ward said. "This is in the town of Amherst."