News
Basketball as a Passion, Sport and Career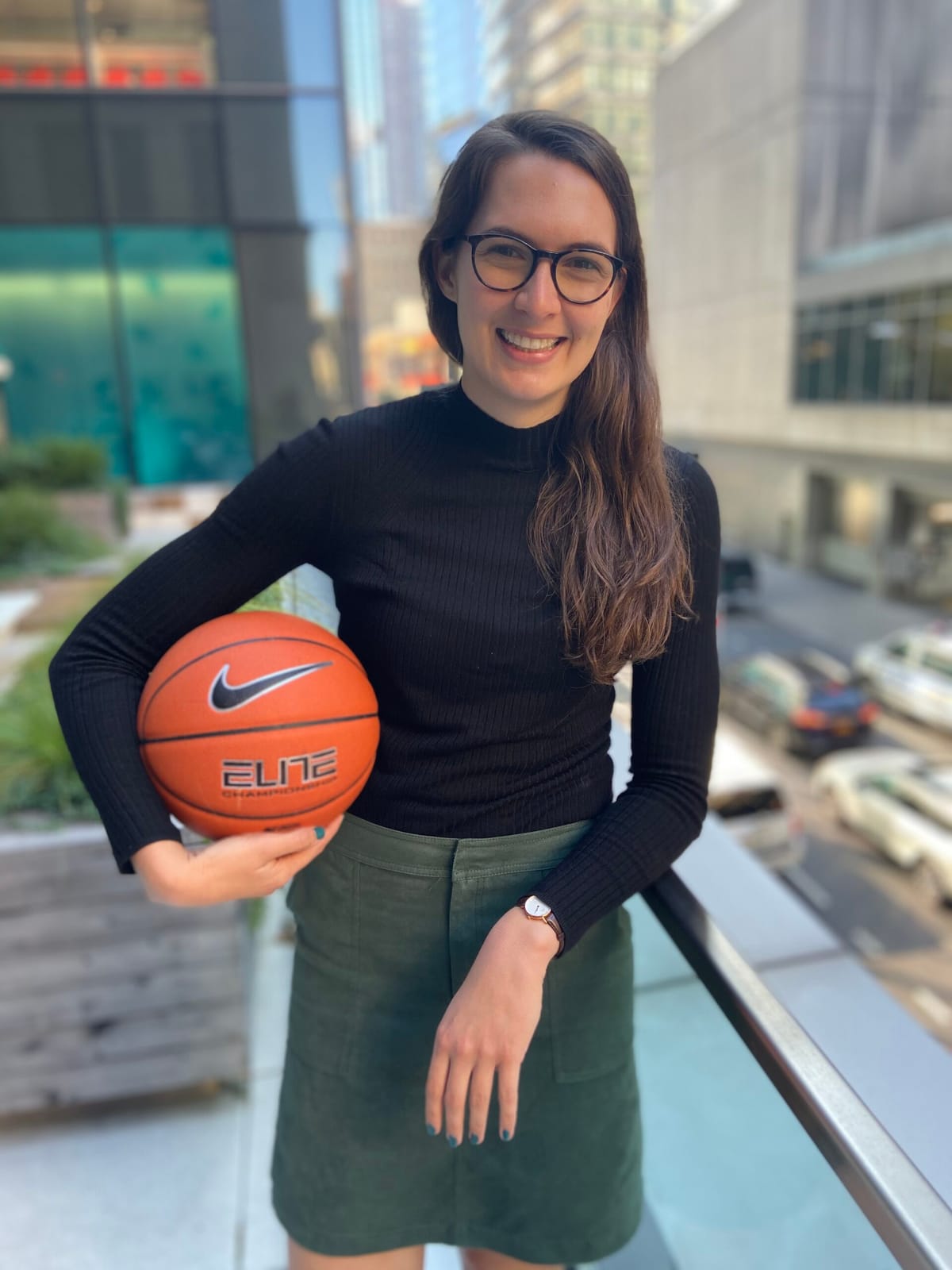 When children first start playing sports, many dream of one day throwing a football like Aaron Rodgers, serving like Serena Williams or shooting a three-pointer like Steph Curry. Megan Robertson '15 was no different — she fantasized about hitting home runs over the Green Monster for the Red Sox. When those plans didn't work out, however, she decided to pick up a basketball.
After a storied four-year career at Amherst on the women's basketball team, during which she was named the NESCAC Rookie of the Year, recognized twice on the All-NESCAC Second Team and made two Final Four appearances, Robertson has a lot to look back on and take pride in. Just as impressive as her athletic triumphs are her academic accomplishments — she was a triple major and one of the first students at Amherst to major in statistics. As she ventures into the professional world, her time at Amherst both on and off the court have prepared her well for what lies ahead.
Hoop Dreams Growing up with two siblings on a dead-end street in Tewksbury, Massachusetts, Robertson was very active from a young age. "We would always be riding bikes and running around and playing basketball or street hockey," Robertson recalled.
At age five, she participated in her first local basketball clinic and didn't stop after that. "I just kept playing, and I liked it and was pretty good at it. I was very tall, so that also helped," she said.
Robertson was a triple major and stand-out performer on the Amherst women's basketball team. Photo courtesy of Clarus Studios.
She had plenty of inspiration when it came to basketball, from the University of Connecticut and University of Tennessee women's basketball teams to WNBA players like Lisa Leslie. As a young fan, she even attended the 2006 NCAA Women's Final Four in Boston. "I went to the media day and got all of the teams to sign my poster," she said. "That was my original plan, to play basketball for UConn or the University of Tennessee. That didn't quite work out though."
Robertson was determined to play basketball in college, but had to adjust her expectations by the time she went to high school. Though she was always tall, she wasn't tall enough to play at a Division I school in the positions of forward and center, where her height had usually placed her at the high school level.
"Growing up, … no one was taller than me," she said. "[By the] end of middle school, when I started doing [Amateur Athletic Union] tournaments, and I'm playing against teams where [University of Tennessee women's basketball coach] Pat Summit is coming to the games, but to watch the other team … I wanted to make sure that I was making the right choice in terms of having the academic challenges and opportunities that I wanted."
All the while, she was enrolled in Phillips Academy Andover, which she felt prepared her well for Amherst and gave her some of the skills necessary to succeed in college.
"Essentially, you're thrown into a pretty collegiate-level environment, just at a younger age," she said. "It was a pretty heavy workload but you're also very independent in that you have to learn those time management skills on your own and figure out what's the best way to learn and how to study."
Coming to Amherst When deciding what college to attend, Robertson valued the advantages of a small school over a larger university. "I was definitely looking at something that was a little smaller just because for me, I really wanted to have the opportunity to interact with my professors," she said. Compared to bigger schools, where teaching assistants might lead classes or office hours, what really stuck out to Robertson was the fact that the professors were so involved in teaching at Amherst.
While Robertson was a triple major in history, mathematics and statistics, that wasn't originally her plan. "When I initially started freshman year, I was definitely interested in pursuing the history major. I just really enjoyed learning about history, understanding certain things about how the world is today in terms of policy, or even how countries' borders are defined," Robertson said. "It was always interesting to learn about the cultural shifts and the historical events that make up the world that we live in today."
It wasn't until Intermediate Calculus with Professor of Mathematics Danielle Benedetto that Robertson picked up math as a major. "I really enjoyed that course and ended up taking whatever the next level was with her husband [Professor of Mathematics Robert Benedetto] in the spring," she said. "I had such a good experience with them that I began to seriously consider a math major."
Interestingly enough, her love for sports drew her towards the statistics major, even before Amherst offered it.
"I was really interested in sports analytics and, at the time, there was no statistics major when I was a freshman and sophomore. Flash forward to my senior year, 2014-2015, that was the first year that they started the stats major," Robertson said. "I had taken a lot of courses that were required up to that point anyway because that was my interest. They added a few new courses that I needed to take to complete that major, and it just happened that I had enough of the prerequisites to complete the third major there."
Most of her professors were accommodating of her student-athlete schedule. "I got lucky in that I had professors who were very supportive. We usually wouldn't ever have to miss class for games because we mostly played on the weekend," she said. "When we got deep into the national tournament, there were times where we would be flying out for the Final Four, but my professors would let me take exams a few days ahead of time or I would take an exam and then go straight to the bus to the airport."
Two moments in her basketball career stick out above the rest for Robertson. "My sophomore year, we made it to the Final Four, and we had the previous year as well, but we graduated a bunch of really talented seniors the year before. A lot of people were like, 'Oh, we won't do as well as last year. Maybe this will be a rebuilding year,'" she recalled. "When we were able to cut down the nets in LeFrak [Gymnasium] to go to the Final Four again was pretty neat because it showed everyone that the people on the team were still really good."
The second incident came after Robertson recovered from damaging her knee in January of her junior year. "I ended up getting two surgeries and didn't play again until the end of December of that year, so almost a whole year," she said. "My first game back where I finally got to step back on the court after a year of learning how to be a leader from the bench and helping the rest of the team develop was a really cool moment. It was a home game, which was nice because my parents drove out to see it."
From the NBA to Nike Robertson decided to continue her studies after graduating from Amherst in 2015 and received her master's in statistics from Duke University in 2017. During her time in Durham, she spent the 2016-2017 season as the basketball operations analytics intern for the Charlotte Hornets after meeting the head of analytics at a conference.
"I wanted to work on building a model that would predict if a shot would go in using player-tracking data, with the idea that you can get information about how fast a person is going, where they are on the floor and how close is the defense or offense," Robertson said. "The idea was that if I can build a model that's going to predict 'if so-and-so shoots from here, there's an x percent chance of that going in and here's the variables that are affecting that probability the most' [it would] inform defensive scouting reports and help players improve on their own game."
Following the end of the season and her master's program, Robertson moved to New York to work as a data scientist for SimpleReach, a small software company. "They provided metrics to track how online content and articles were performing. For example, if there's an article out from The New York Times, we'd have a dashboard that would display how many people are reading this article, how far are they scrolling, how long are they spending on it, did they come through Google search, did they come through Facebook."
After just five months of learning the ropes, Robertson was laid off. However, she bounced back quickly, finding a new job as a data scientist at Nike. "One of my friends from Duke had interned at a start-up that had just gotten acquired by Nike," she said. "I got introduced to my now-boss through him and learned more about what they were doing and it seemed really interesting. While it's not exactly sports analytics, it's definitely a company with close ties to sports."
She works on a team that focuses on predicting customer lifetime values. "Essentially, it's looking at what you've purchased in the past, how much you spend, how frequently we see you and predicting how much you're going to spend in 12 months," she said.
After earning her master's degree from Duke University, Robertson worked for the NBA before moving to Nike. Photo courtesy of Megan Robertson '15
Robertson is still in touch with many of her former Amherst classmates and teammates — they made the transition to adult life much easier. "Living in New York City, there's just a bunch of Amherst alums here," she said. "I obviously have friends outside of Amherst in the city, but when I moved here initially, there was definitely a core group of people that I would hang out with or ask for recommendations."
Addressing current Amherst students, she added, "Take advantage of the opportunities while you're there. Once you graduate, it can be hard to pick up a new skill or take a new class in something you're interested in. Don't be afraid to try something even if you don't think it fits with who you think you are or what you want to do because you never know who you're going to meet or what you might learn or what connections you might make that will help you later in life."