Arts & Living
Becca Stevens Band Stirs Crowd at Northampton's Iron Horse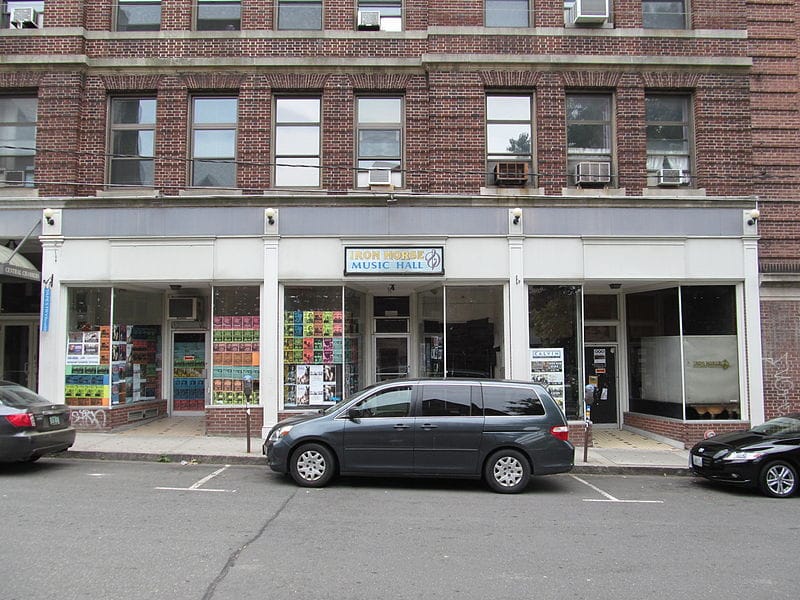 By sheer chance, my sister, my mother and I stumbled into the Iron Horse Music Hall in Northampton last Sunday night for a concert by the Becca Stevens Band. A quick Google search informed me that the "Becca Stevens band expands and blurs the boundaries of folk, jazz and pop while engaging the listener through keen poetic observation, rich musical language and beguiling singing." Plus, admission was only 15 dollars at the door, so we reasoned that it was the "Pioneer Valley" thing to do and decided to give it a shot.
The Iron Horse's dingy, unremarkable storefront is easily overlooked and has the clandestine aura of a speakeasy-only the complicit few shall enter. We entered the narrow and dimly lit main room, and sat at a charmingly antiquated bar at the back. As we ordered drinks, the pretty-faced Becca Stevens chugged a cup of whiskey and unleashed her fierce vocal chords.
Stevens is accompanied by Liam Robinson on the keyboard and accordion, Chris Tordini on the bass and Jordon Perlson on the percussions. Together, they produce a folksy, poignant sound, evoking the essence of the Pioneer Valley. Somewhat reminiscent of The Decemberists, their faded jeans and subdued demeanors invoke the desire to drink beer and be nostalgic.
Stevens' voice is the band's "edge" — the crucial factor that transforms their casual nostalgia into a more urgent sense of yearning. It is smooth, pleasant and polished, yet it also carries an ache of love and pain. To accompany her vocals, she alternates between playing a ukulele and a charango (a charango, as she briefly informs the audience, is a tiny Bolivian-stringed instrument).
Stevens is quite unlike the typical emotionally distant, self-important band front-runner that I have become accustomed to in the past. She has an awkward, nervous sense of humor that manifests itself in talking a bit too much and telling hilariously bad puns. ("Can I ask you guys to follow me on Instagram? Is that weird? Yes that's totally weird. I'm so sorry.") She quips about her fellow band members and is self-consciously vulnerable — no grandiose sense of self and no allusions to any highbrow deeper-meanings. The effect is refreshingly endearing.
The band performed mostly original songs, one of the most remarkable being "Imperfect Animals," which was the featured song on their latest album "Perfect Animal." The band is clearly willing to take risks in their songs; they often lack consistent patterns and tend to end each track rather abruptly.
However, something rather magical about their music is that Stevens metaphorically takes your hand and guides you through her stream-of-consciousness lyrics. Also, the covers that the band performed at the concert were fresh takes on current R&B hits, including Frank Ocean's "Thinkin' Bout You" and Usher's "You Make Me Wanna." Stevens' vocals are a welcome alterative to these originally male-sung songs.
Stevens is of musical blood. Originally from Winston-Salem, North Carolina, she has been performing music since the age of four in her family band "the Tune Animals," lead by her father. She later received her degree in classical guitar from the North Carolina School of the Arts and went on to pursue her Bachelor of Fine Arts in vocal jazz and composition from The New School for Jazz and Contemporary Music in New York. It was there, in Brooklyn, that her self-titled band was formed and the band currently resides there.
As of now, they are on the East Coast tour. Afterward, they will perform in North Carolina and then continue down the coast.
The Iron Horse Music Hall is an ideal venue for promoting promising artists. The patronage is generally quiet, engaged and genuinely interested in music. They host performances several nights a week, and their full schedule can be found at iheg.com. I highly recommend planning a night out to discover new music and support artists that are under the radar.
Becca Stevens Band far exceeded my expectations. They are perfect to listen to for a good, nostalgic cry or a cozy, campfire gathering. For anyone interested in some innovative takes on the intersection between folk, jazz and R&B, I recommend checking out the Becca Stevens Band.