News
Biddy Martin to Step Down as President at Year End
President Biddy Martin announced that she will be stepping down as president of the college at the end of the 2021-2022 academic year, in an email sent to the Amherst community on Sept. 13.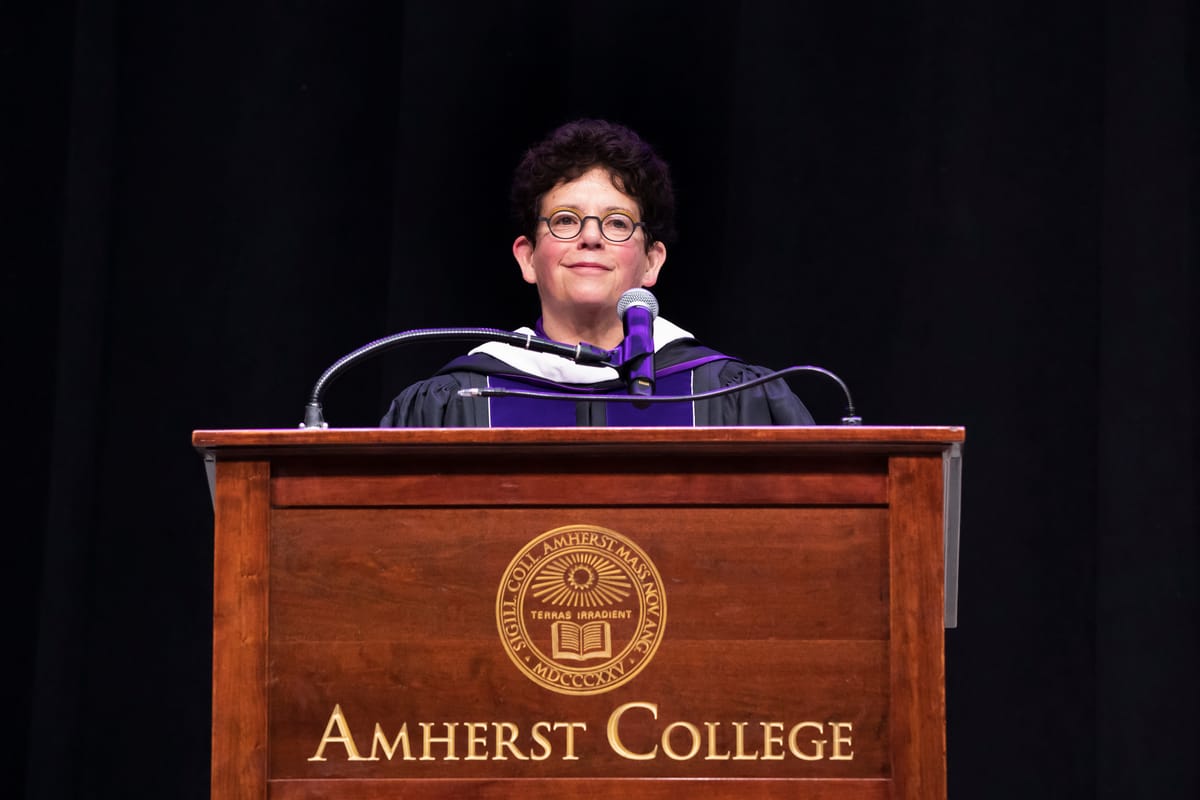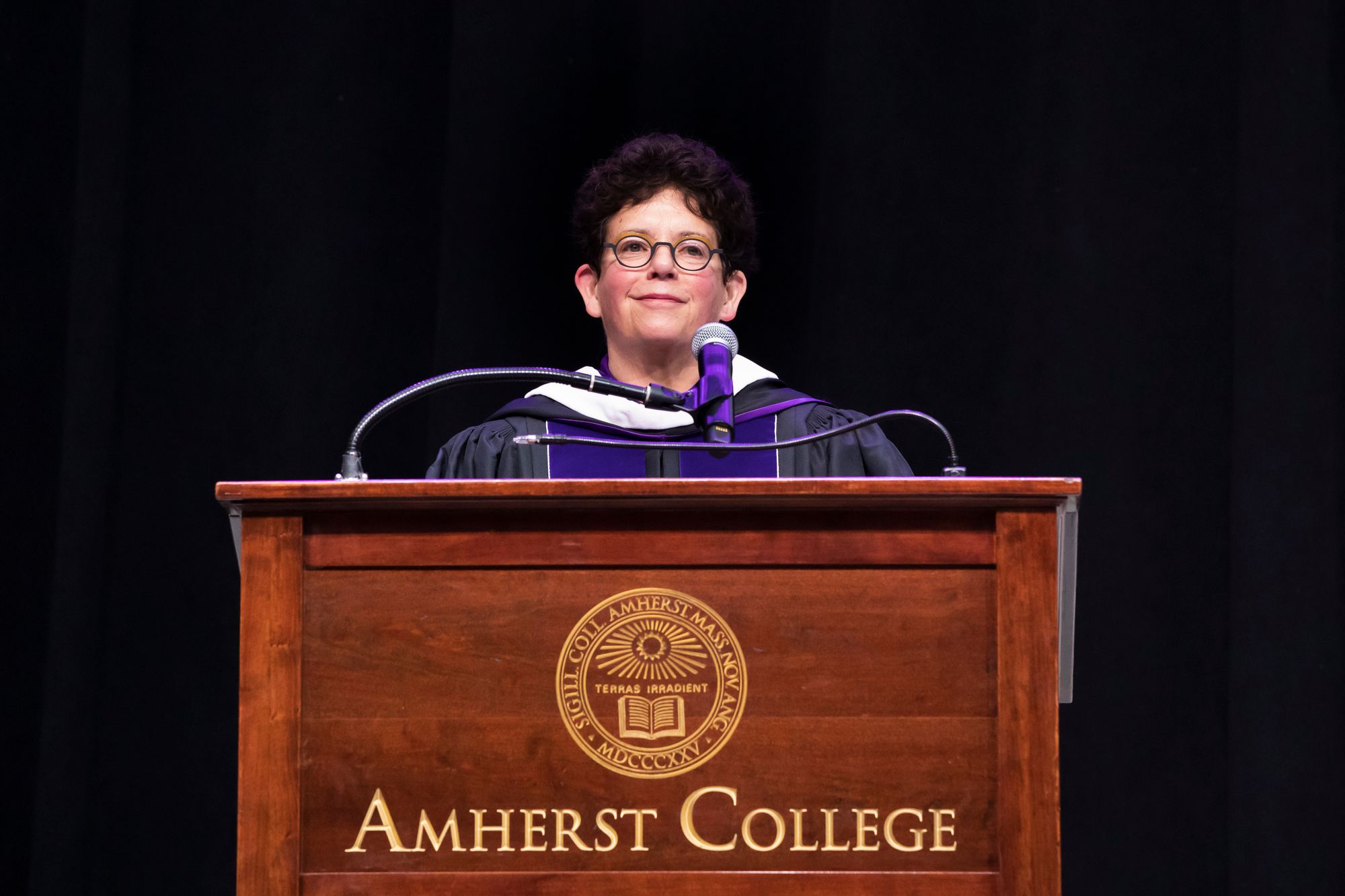 President Biddy Martin announced that she will be stepping down as president of the college at the end of the 2021-2022 academic year, in an email sent to the Amherst community on Sept. 13.
The first woman to serve as Amherst's president, Martin joined the college in June 2011, and will close out her 11th year in the position before ending her tenure. She will leave office as the longest-serving president in 50 years.
During her tenure, Martin presided over a number of transformations at the college, including an overhaul of sexual misconduct policies, the replacement of Lord Jeffery with the Mammoth as an official mascot, racial justice reforms prompted by Amherst Uprising and other student-led movements and the college's response to the coronavirus pandemic. Martin also oversaw the adoption of the Climate Action Plan, the construction of the Science Center and an increasingly diverse student and faculty body.
"I love this place, its mission, its beauty, and the people who make it so extraordinary. I love the work. And I feel at home here," she wrote in her Monday announcement. "Amherst students bring me tremendous joy, whether I am interacting with them at a festival, guest-teaching in a class, listening to groups or individuals in office hours, attending student concerts, poster sessions, public speaking contests, athletic events or just chatting with them at the top of Memorial Hill."
"The end of this academic year will be the right time for me to begin my next chapter," she added. "I look forward to writing and also to playing more, contributing to the causes that matter to me, and to a lasting relationship with many of you."
Before Martin came to Amherst, she was Chancellor at the University of Wisconsin—Madison for three years, and prior to that, she was Provost of Cornell University for eight years.
Martin will remain a tenured professor at Amherst in the departments of German and Sexuality, Women's, and Gender Studies, a position she was appointed to upon her arrival to the college — although she has not yet taught a class. In her email, she noted that she "look[s] forward to returning after a sabbatical year so [she can teach]."

Reactions Around Amherst
While many students are sad to see Martin leave, a large number of them felt like the decision was inevitable. "It feels like it was a long time coming, especially considering how they said she was one of the longest-serving presidents here," said Angel Musyimi '23. "She's definitely going to leave behind a legacy."
Several students also expressed ambivalence about the state in which Martin is leaving the college. "She probably has a lot of different interests to manage, and I'm sure she did the best that she could," said Josue Sanchez Hernandez '22. "But sometimes I wish she would've been more forceful, progressive or open about her own opinions. There's always been a lack of transparency."
Musyimi pointed to anti-racism and climate action as two areas where she wished Martin had done more, "She was a nice person, but she executed a lot of policies poorly," Musyimi noted. "She wasn't the most action-driven president. She took a lot of symbolic actions rather than concrete actions."
Faculty and staff members largely expressed appreciation for Martin's time at Amherst and her leadership style. At a pair of farewell town halls on Monday evening and Tuesday morning, dozens of community members — mostly faculty and staff — logged onto Zoom to express thanks and to give well-wishes to Martin in her next steps.
"Such bittersweet news. Biddy is one of the great college presidents and it has been an honor to work with her," tweeted Dean of Admission and Financial Aid Matt McGann. "She deserves an awesome retirement."
The Search for a New President
Shortly after she made her announcement, Chair of the Board of Trustees Andrew Nussbaum '85 lauded Martin for her work as president, and announced that the board will soon begin its search for the next president.
"We approach this search from a position of wonderful strengths. The committee to be established by the board will include trustees and members of the faculty, staff and student body, each selected by their peers. As in the past, all members of the community will have an opportunity for input," Nussbaum wrote. "If we end up even close to the success of that Feb. 2011 visit with Biddy Martin, Amherst will be fortunate, indeed, in the years to come."
The previous presidential search committee that hired Martin consisted of 16 members, including at least five members of the Board of Trustees, three faculty members, two staff members, two alumni and two students. The faculty, staff, alumni and student representatives were all elected by their respective constituency groups.
In her Monday town hall, Martin said that she expects the composition of the search committee to be similar to what it was during her hiring.