Arts & Living
"Birdman" and Noteworthy Sentiments Highlight the 2015 Oscars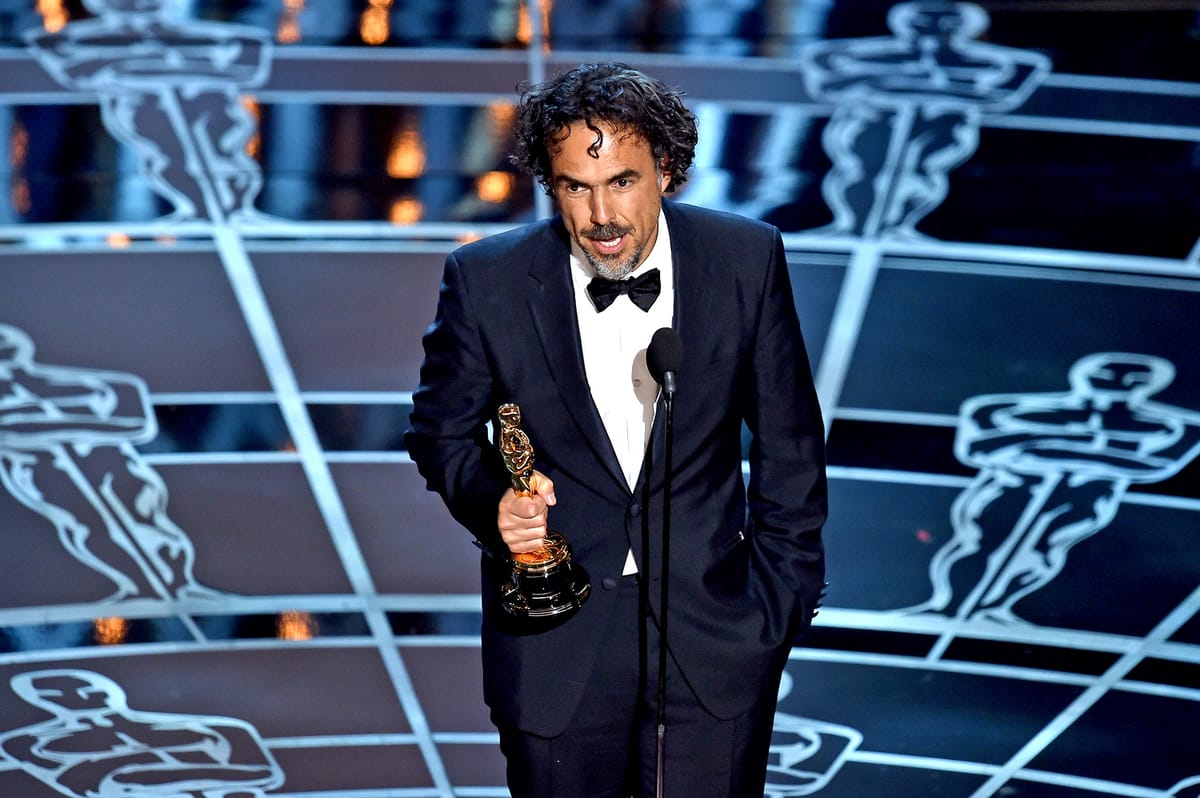 My favorite part of the dreary month of February is Oscar Sunday: a night to be distracted by the glitz and glamour of Hollywood stars as they award each other gold trophies for making million-dollar movies. Cynicism aside, I was very excited to see Neil Patrick Harris bring his Broadway talent to the Oscar stage. Although I expected a night of musical numbers, cheesy jokes and heartwarming speeches — not much different from the last 10 Academy Awards I've watched — I was in for a surprise.
"Tonight we honor Hollywood's best and whitest … I mean brightest," Harris quipped in his opening monologue, kicking off a night of political statements and unforgettable surprises.
One of the first winners of the night was "Boyhood," a groundbreaking picture filmed over the course of 12 years. Patricia Arquette won best supporting actress for her role as a mother who goes through three rough marriages and raises her two children as best as she can. She was the first woman of the night to use this platform to promote feminism.
"It is our time to have wage equality once and for all and have equal rights for women in the United States of America," Arquette said as she accepted her award.
The statement inspired an animated response from Meryl Streep sitting in the front row that matched many others and my own reaction while watching from home. That, in itself, was an unforgettable Oscar moment, but the night only got better.
John Legend and Common performed their nominated song, "Glory" later on in the night. The song was created for the movie "Selma," which tells the story of Dr. Martin Luther's King march through Selma, Alabama 50 years ago during the Civil Rights Movement. The performance highlighted the song's emotional potency, rousing tears throughout the crowd. The song — which would go on to win the award for best original song — was met with the first standing ovation of the night. However, the performance, as breathtaking as it was, didn't hold a candle to the emotional acceptance speech given by Win and Legend. Win created a beautiful metaphor about the bridge that King marched across in Selma and how the spirit of this bridge connects us all despite any and all differences.
"Selma is now," followed Legend, picking up from Win's words. "We live in the most incarcerated country in the world. There are more black men under correctional control today than were under slavery in 1850."
There are no words to describe the emotional impact this fact had on the room and on viewers at home. My friends and I were close to tears as we watched the two artists walk off stage, encouraging everyone to "march on."
After this beautiful and unforgettable moment came the second biggest shocker of the night. The Oscars paid tribute to "The Sound of Music," which premiered 50 years ago. After a musical montage of this beloved film, Scarlett Johansson presented Lady Gaga as the next musical number. I cringed, thinking that the pop star would make a mockery of my favorite childhood musical, as I'm sure many others did as well. Instead, Gaga — known for her over-the-top costumes and auto-tuned voice — came out in a beautiful silver dress with her long platinum hair swept over one shoulder and belted out "The Hills are Alive With the Sound of Music."
No one expected Gaga to cast aside her pop style and showcase her raw musical talent. Alongside a string orchestra, Lady Gaga sang her heart out and left the whole world in shock, including Julie Andrews — the original performer — who pulled her in for an embrace after the number.
The show kept on going with its usual touching moments and corny jokes. Graham Moore — the screenwriter of "The Imitation Game" — encouraged us all to "Stay weird, stay different." Eddie Redmayne — winner of best actor for his role as Stephen Hawking in "The Theory of Everything" — dedicated his Oscar to everyone around the world battling ALS and the Hawking family in particular. As the Oscars came to a close, the biggest awards of the night were left up for grabs. I was certain that "Boyhood" would take either best director or best picture for its innovative production length. However, I was surprised once again as "Birdman" — a film about a fallen superhero movie star — took both of these awards. It warmed my heart to see Mexican director Alejandro González Iñárrituaccept these well-deserved awards. Yet, the most shocking moment of the night weren't these two awards, but rather Sean Penn's presentation of best picture to Iñárritu.
As Oscar winner Sean Penn opened the envelope with a dramatic pause, he smiled, sighed and said, "Who gave this son of a b*tch his green card? Birdman!"
While this "joke" was meant to be friendly — Penn and Iñárritu have worked together in "21 Grams" — it was not the right time and place for such remarks. Iñárritu handled it gracefully and gave one of the most impactful acceptance speeches of the night, dedicating his award to Mexico.
"The ones who live in Mexico, I pray that we can find and build the government that we deserve. The ones that live in this country, who are just part of the latest generation of immigrants in this county, I just pray they can be treated with the same dignity and respect as the ones who came before and built this incredible immigrant nation," Iñárritu said before the crowd roared in applause. The winning director did not confirm whether or not this statement was a response to Penn's immigration joke.
Iñárritu's closing statement was a perfect end to a night full of gutsy comments and surprising sentiments. This is the first time in my life that I have seen so many stars use this platform as a way to speak passionately about a wide array of issues. No amount of creepy touching by John Travolta or the overplayed "prediction box" bit by Neil Patrick Harris could ruin this memorable show. In a year full of social injustice, it was refreshing to see the celebrities we look towards for distraction use their power to call attention to the real issues of our time.
As John Legend recalled of Nina Simone, "[she] said 'It is an artist's duty to reflect the times in which we live.'" I could not agree more.