Arts & Living
Bluestockings To Host Single Group A Capella Concert This Friday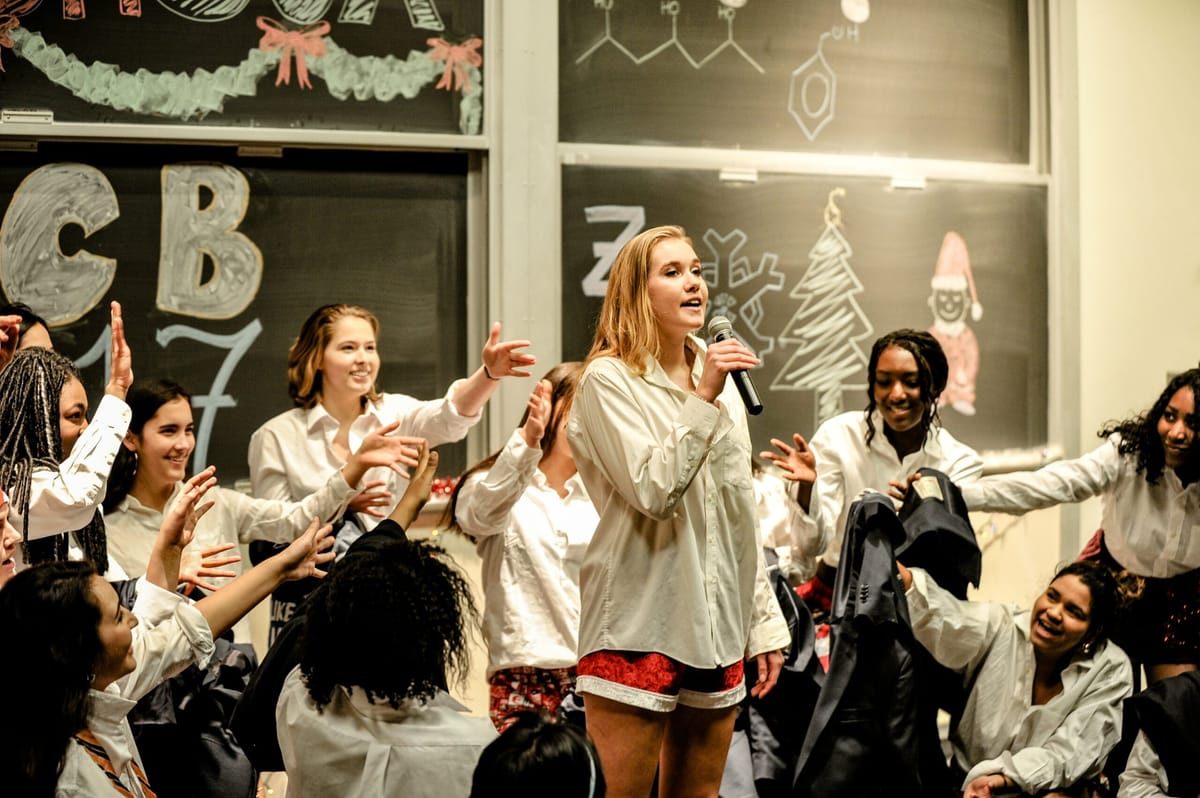 After a semester of joint concerts and openers, Amherst's a capella group, The Bluestockings, will take the stage in its own show on Friday, March 2 at 6 p.m. in the Morris Pratt Ballroom.
Having their own show means group members will have the time to perform more songs and debut new arrangements. New songs The Bluestockings will sing include "Heaven" by John Legend, "Rich Girl" by Hall & Oates and "Yesterday" by the Beatles.
For Bluestockings bass singer Devyn Prieto '21, "Yesterday" is one of the parts of the upcoming performance that she is most looking forward to. "The arrangement is really, really beautiful," she said. "The Bluestockings have never done it before. It's a completely new arrangement to us. It's all in unison. It's a very cool interpretation of the song."
She explained that often singers will reuse arrangements the group had done in the past but are still new to the particular collections of students in the group at a given time. That is not the case with "Yesterday," though, as a current member, Mia Nicholson '20, brought the arrangement to the group from her past a capella experiences.
In addition to the new songs, The Bluestockings will bring back old favorites, including TLC's "Waterfalls" and their signature "Blue." "I'm excited to sing ['Blue'], just because it's one of my favorite songs to sing, and we haven't had the chance to do that in a while. It's so much fun to sing," Prieto added, showing an ability to celebrate the old just as much as the new.
Coming together on stage gives The Bluestockings the opportunity to deepen their already deep bonds. "I love The Bluestockings. They're very welcoming, everyone is fun and kind. The second I joined, it was like I was already like a part of the family. We are very close in general," Prieto said, explaining how the group spends time together beyond rehearsal, hanging out and sharing meals.
Prieto added that this closeness also helps the quality of the group's music and performance.
"Because we are all so close and we all enjoy each other's company a lot, rehearsal is fun; we like to go to rehearsal," she said.
Regarding the group's bond, Prieto added, "We all really like to sing, and we all enjoy each other's company, so we really have fun when we actually practice the music, so it's not like a chore for us. I think that definitely makes it better. It makes you want to practice it and to work on it."