Arts & Living
Breezy Comedy "Girls Trip" Outshines Tired Action Blockbusters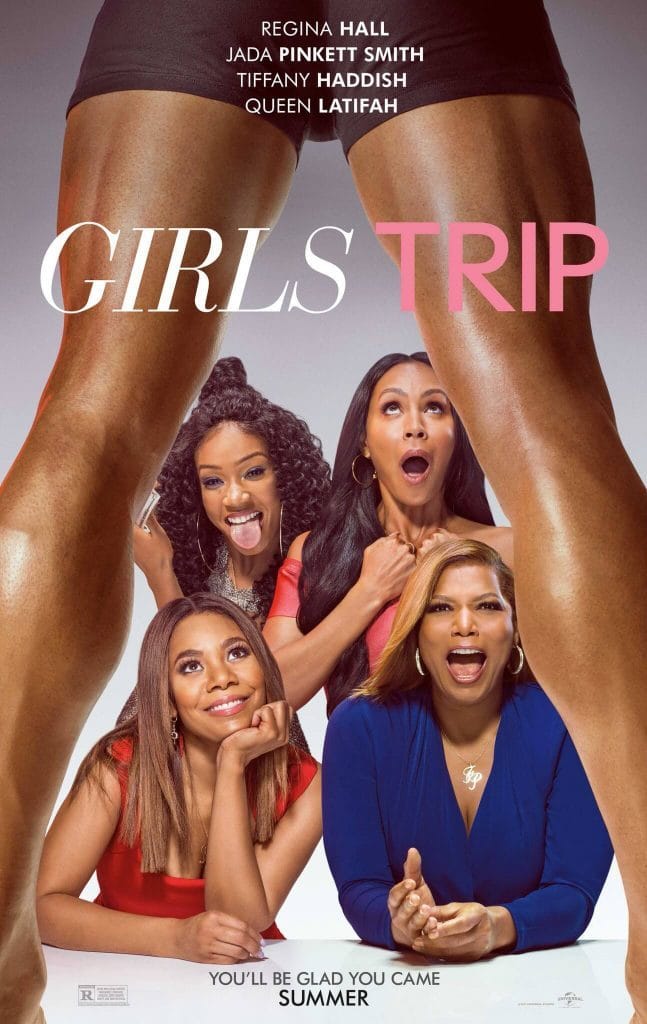 When I walked into a Santa Monica AMC to see the new comedy "Girls Trip," I had just come off a long day at work at my internship in the area. I wasn't in the mood for explosions, saving-the-world plots or quippy lines from bored, veteran movie stars clearly wishing they were somewhere else. The movie industry flooded this summer with particularly disappointing big-budget blockbusters with thin stories and little to offer besides attractive white faces and muddled CGI vomit. Given the success of "Girls Trip," Hollywood should recognize that a simple, breezy comedy with a modest budget can both attract an equally large audience and bring in new fans. This is especially true when that comedy features representation that's long overdue and that Hollywood continuously insists doesn't sell: black talent in front of and behind the camera making a story for that audience.
Directed by Malcolm D. Lee ("The Best Man," "Barbershop: The Next Cut") and written by Kenya Barris and Tracy Oliver, the film follows four friends from college, known as the "Flossy Posse," as they go on a trip to New Orleans for the Essence Music Festival in order to reconnect. Along the way, they rediscover their wild party sides, reassess their relationships — both with each other and other people in their lives — and partake in many hookups, stunts and confrontations, exposing their vulnerability.
The perfectly cast set of characters include Ryan Pierce (Regina Hall), a world-famous self-help author in a seemingly ideal marriage with star athlete Stewart (Mike Colter), Sasha Franklin (Queen Latifah), a celebrity gossip columnist yearning for a more meaningful journalistic career, Lisa Cooper (Jada Pinkett-Smith), a recently divorced super-mom of two, and Dina (the scene-stealing Tiffany Haddish), a promiscuous, reckless party girl and passionate friend seemingly unchanged from her college days.
I was more excited for "Girls Trip" than any other movie this summer, and possibly this year. Despite being a 20-year-old black college kid on a modest budget in L.A., I was determined to see "Girls Trip" in theaters in order to play a small part in convincing Hollywood that a summer movie headlined by a black woman ensemble cast could garner substantial support. I saw the film in a packed theater of mostly black people. Sitting next to a family with two teenage boys, I felt like I was at the best family outing ever. The movie's four black women reminded me so much of my cousins, and I felt invigorated watching them find joy, personal growth and hard life lessons through their unbreakable friendship.
Each girl goes through her own personal troubles throughout the movie. Ryan discovers that her husband has been cheating on her and has to decide whether to leave him and risk her public image or stay with him and keep projecting the image of a black woman who has it together. Sasha struggles with guilt over the lasting hurt her celebrity gossip blog causes but depends on it to stay financially stable. Lisa struggles to rediscover her adventurous side after years of domestic life, and Dina struggles with how her temper and lifestyle land her and others in sticky situations.
Ryan's struggle resonated with me the most, perhaps because it is so relevant right now. She knows that Stewart has cheated in the past but has swallowed his weak apologies in order to keep her fans' perfect image of her alive. Despite her college friends' insistence she dump Stewart, Ryan remains conflicted. In an era when black women are pressured to project an image of strength and power, a film that recognizes that they can be messy, confused and vulnerable is refreshing. I doubt this would have happened had the script not been written by Tracy Oliver, a black woman, and drawn from her and her friends' own adventures from college. At its heart, this is a film about four black women who have each others' backs, something that is regrettably revolutionary for Hollywood.
But this movie would be nothing if it were not for one simple fact: it is the most creatively funny movie this year. This is partially due to Haddish's standout performance as Dina. Her mastery of physical comedy, pitch-perfect line deliveries that at times seem like ad-libs and charmingly familiar personality for any friend group with a wild one makes every moment when she's onscreen a blast. One scene involving a grapefruit had me almost on the floor laughing. I was disappointed that I had never heard of Haddish before this movie, and she's now one of my favorite personalities in Hollywood right now.
As this is a film about four women who rediscover their wild side, their adventures at the Essence Music Festival make this film a crowd-pleaser. "Girls Trip" brings this foremost festival for black music to life, as well as the entire city of New Orleans, through extended scenes involving the posse simply having a good time. They partake in casual hook-ups, go to costumed dance-offs and meet old flames. One particular standout scene involves them zip-lining between two buildings, until one of them gets stuck and ends up (SPOILER ALERT) peeing on the crowd below. A lesser R-rated comedy would not have had a proper build-up to this, instead inserting the grossness where it is completely out of place. But this film's breezy pace keeps up the posse's carefree party energy, making these jokes all the more hilarious, grounded in a carefree energy that we are either familiar with or we crave.
"Girls Trip" left me with a warm feeling after I left the theater. I felt proud of myself, even though I personally hadn't done anything. Finding myself in proximity with black excellence has a way of making my day even if everything else gone poorly. A film like this that normalizes the messy, layered and unbreakable friendship of black women should not be the exception in pop culture. Films about black women not centered around racism, oppression or a white savior should be commonplace. The next day, I won't deny I felt a bit of anger in knowing that if this movie had failed, Hollywood would never consider doing a film like this again. If this movie gets a sequel, which is likely given its box office performance, I will definitely be pre-ordering my ticket.