Arts & Living
Bringing Back the Bass: Jazz@Amherst Returns
Jazz is back in town! This week, staff writer Milo Leahy-Miller '24 discusses the return of Jazz@Amherst. The jazz group kicked off its 2021-2022 season with a stellar performance on October 7th and looks forward to a year full of the best in blues.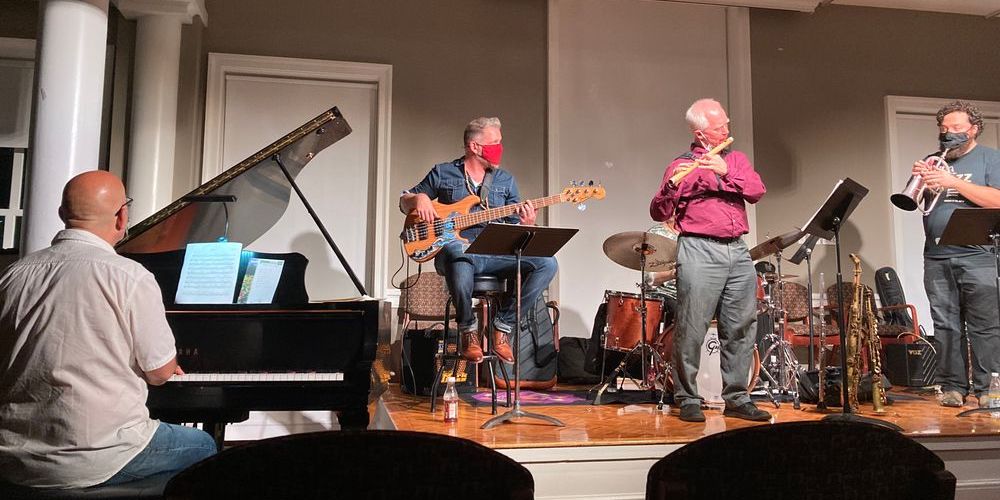 Finally vaccinated, students are starting to return to regular campus life. As a result, many clubs are back in full swing, including Jazz@Amherst. During the worst of the pandemic, Jazz@Amherst had no in-person performances, and practices were restricted by plastic barriers and half-hour time limits. But this semester, apart from masks, Jazz@Amherst is back to normal. Last Thursday was the first of the Jazz@Friedmann Room performances, a three-part concert series that features both professional musicians and student groups, which will run until next week.
Amherst Jazz instructors Carl Clements (saxophone/flute), Geoff Cunningham (trumpet/flugelhorn), David Picchi (bass guitar), Claire Arenius (drums) and Eugene Uman (piano) kicked off the show at 8 p.m.with "One for Joe," an original by Clements, followed by "Little Dancer" by Tom Harrell. After another original called "Got the Spirit," this one by Uman, the group played "Olvidar" by Clements, "Short Story," by Kenny Durham and "Wheel of Time," by Uman, finishing it all up with "Sun Samba" by Arenius.
Overall, the performance aptly felt like a professional showing. Featuring experimental songwriting with solos to match, the veteran artists provided a high-energy show with both jarring dissonance and danceable grooves. It was a great way to warm up the audience for what was to come. Two of my favorites were "One for Joe" and "Got the Spirit." "One for Joe" featured a mid-high tempo funk style groove with horn harmonies and weird-feeling time signatures. "Got the Spirit" was a Latin-style piece with a fun and memorable vamp.
After the instructors left the stage, Cumulus — the first student ensemble to perform live for an audience in over a year and a half — took over. The group's members are Cole Richards '23 on bass, Will Amend '24 on drums, Jameson DeNyse '25 on electric guitar, Peter Klisiwecz '25 on saxophone and Adam Schultz '25 also on electric guitar. Their set consisted of the standards "Ladybird" by Chet Baker, "Recordame" by Joe Henderson, "Scotch & Water" by Cannonball Adderley and "Mr. Clean" by Freddie Hubbard. Some of the tunes were adapted to fit a funk-style groove, which made their performance all the more unique and interesting. With every member of the group soloing at least once, it was a wonderful performance that demonstrated the musical talent of each member.
Finishing up the night was another student combo, Cirrus, made up of Daniel Flores-García '24 on guitar (and, briefly, conga drum and claves), Mathew Mueller '24 on piano, Camuel Hart '23 on drums, Quentin Jeyaretnam '23 on bass, Will Fishell '22E on trumpet, Ben McMaster '22 on saxophone and Dean Gordon '22 also on saxophone. They played "Armando's Rhumba" by Chick Corea, "Dolphin Dance" by Herbie Hancock, "Poinciana" by Ahmad Jamal and "Washing Machine (For Peace)," a fusion-style original by Hart. The group closed off the night with a tight performance, featuring guitar and bass effects that helped provide a distinctive timbre to a unique piece.
These performances were very fun — not just because live music is hard to come by these days — but also because they marked a significant change from last year. Each performance was buoyed by the excitement of being able to play for a live audience and the anticipation of the end of the pandemic. The Amherst community is coming back together, and hope is in the air.
As the semester rolls on, so will Jazz@Amherst: every Thursday for the next few weeks, performances will feature a guest artist and student groups. This week, Oct. 14, guest pianist Joshua White will be on the stage at 9 p.m., followed by student groups Stratus and Nimbus. Finally, on Oct. 21 guitarist Bob Ferrier will play with the Amherst College Jazz faculty, with the student group Storm Clouds closing out the night at the last Jazz@Friedmann performance of the semester.