Arts & Living
"Brooklyn" Offers a Resonant Take on a Classic Immigrant Story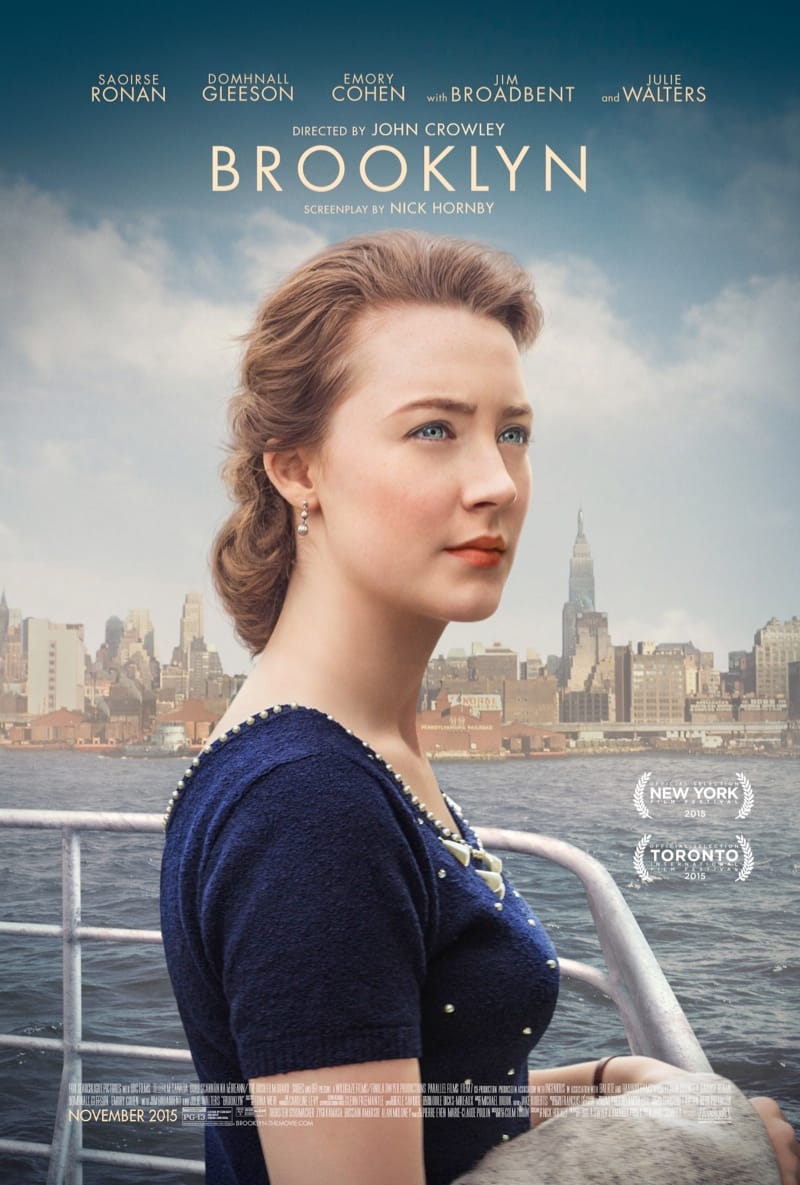 It is 1952 and young Eilis Lacey (Saiorse Ronan) is tired of her small Irish hometown. Her sole income comes from her part-time job as a shop worker under the insufferable Mrs. Kelly, and dating prospects are limited. Life, as she imagines it, exists elsewhere for her, so with a heavy heart Ellis abandons her mother and sister and everything she has ever known for the mystical faraway land of Brooklyn, New York.
Eilis boards a cramped steamship and is taken under the wing of a more seasoned Irish migrant, who instructs her to not eat the food on the ship, throw on some lipstick and liner and "think like an American." Her naiveté is highly apparent, and she is wholly unprepared for the less than glamorous Brooklyn that awaits her.
In Brooklyn, she finds herself boarding with a mishmash of giddy, babbling Irish and American women among whom she is clearly an outsider. Her plain, matronly clothing, oily, un-made-up face and pale blue eyes brand her as the innocent and sensible one of the pack, making her the subject of their snickering jabs.
At Bartocci's, the department store where she works, Eilis is overwhelmed by the fast-paced, posh New York City lifestyle that she herself is not the beneficiary of yet. She struggles to ingratiate herself to customers through the elusive art of small-talk. Above all, she is weak with homesickness, desperate for each letter that she receives.
In spite of the trials of being a young immigrant, she continues to study hard at her night classes in book keeping with the hopes of becoming an accountant, to work tirelessly at Bartocci's and to establish herself as the favorite boarder. Her drive stems from the recollection of how little life there was for her back home. Her steady path through Brooklyn changes tempo when she meets Tony (Emory Choen), a sweet and gentle Italian boy who says he "really likes Irish girls" but really really likes Eilis.
For many of the women with whom Eilis lives, finding a man is a Saturday night sport, a sole glimmer of hope for a better life and a measure of self-worth in society. Yet for Eilis, Tony's presence is spiritually transformative. He illuminates every aspect of her existence, making her become bolder and more effervescent. With him, the home that Eilis had so fervently sought both back in Ireland and in the callous world of New York City finally takes form.
That is, she has a home until tragedy strikes, and Eilis is once again forced to grapple with another painful split of her identity.
Saoirse Ronan's portrayal of Eilis is perfect. The characters around her also evolve beyond their stock characterizations. Nosy, shallow women reveal themselves to be women that have been hurt but who accept this hurt as a fact of existence with wise resignation.
Adapted from Colm Tóibín's novel of the same title, John Crowley's film beautifully captures the dizzying feeling that one's life is disseminated across the globe, never to be perfectly consolidated. On a broader level, it portrays the difficulty of struggling to create a home for oneself and the beauty of eventually finding that home for oneself in another person or entity. It depicts the many forms that love can take and the agony that comes with difficult decisions we must make in life. Yet, perhaps most profoundly, it explores the conflict between the people who evoke the past and thereby reconnect you to your roots and those who come from a new world, free from any connection to your past.
The hackneyed themes of home, journey and "small-town girl meets big city" rarely stir any emotion within me. Brooklyn, however, revitalizes the representation of a story that so often seems like a cliche. It is salt on the fresh wound of a girl torn between her college and home life. Far from bleak, the film ultimately shows how perhaps there is an answer, a place for us that, however imperfect, is still ours.
"Brooklyn" is the sort of film that is easily consumed as though it were cheap entertainment, but it somehow manages to weave in a distinctive profundity that will leave you aching and raw. Its universal language lingered with me and may shape the way I will approach my own difficult choices, my disseminated self and my own uncertain future.