Arts & Living
"Call Me By Your Name" Beautifully Depicts Budding Young Love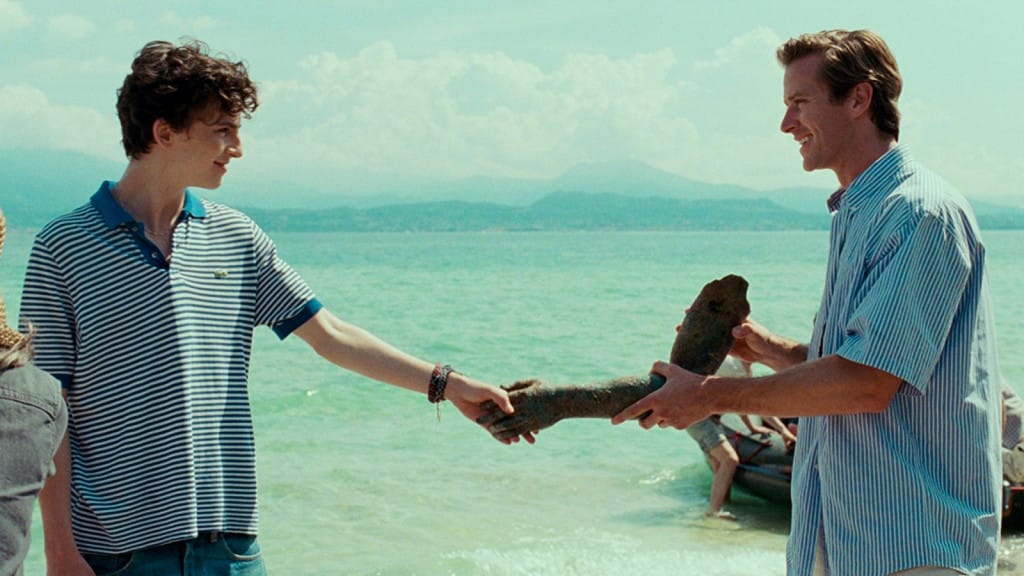 In the dreary wet days of January, perhaps the best antidote to the worry and disillusionment of this season lies in Luca Guadagnino's newest film "Call Me by Your Name." Beautiful scenes of Northern Italy — the cerulean blue of the Mediterranean and lush green groves that shimmer through the hazy summer heat like an impressionist painting — splash across the screen throughout the movie. It's nearly impossible not to fall in love with the Italian coast, and this tantalizing vision of scenic bliss leads the viewer to fall in love with not only nature, but towns, families and incredible feats of love.
The film, adapted from André Aciman's novel of the same name, details the unfolding of a passionate relationship between two young men, Oliver and Elio. Set in the 1980s, Oliver (Armie Hammer), an American doctorate student, is invited to stay for a summer with Professor Perlman (Michael Stuhlbarg), his wife (Amira Casar) and 17 year old son, Elio (Timothée Chalamet) in exchange for research assistance. In between discussions of Hellenistic bronzework and Haydn's compositions, the characters spend their days lounging in sun-soaked gardens and pools, eating late dinners at the house and dancing on the town at nights. Elio finds himself attached to Oliver, and he confronts the intensity of his desires while also exploring a relationship with an old friend, Marzia (Esther Garrel), a foil to the main romance. Through tentative hints and bold declarations shrouded in poetic discretion, Oliver and Elio move from hesitant acquaintances to intimate friends and finally lovers, with their relationship culminating in a dreamlike weekend spent in Bergamo.
The film just recently claimed Oscar nominations for Best Picture, Best Writing for an Adapted Screenplay and Best Actor for Timothée Chalamet's performance.
Chalamet and Hammer give nuanced performances that make for a startlingly believable representation of intimacy. The characters wear light facades that hide their innermost feelings from the world. Oliver, portraying the sweepingly confident American of the '80s who always says goodbye with a brusquely casual "Later!" is perhaps less at ease than he lets on — "I think he's shy," Professor Perlman even says as explanation for this quip. Elio is even more transparent at his age, unable to completely conceal firecrackers of emotion with a collected demeanor. He resorts to a precocious knowledge of classical art and philosophy, which are quasi-natural to him due to his intellectual upbringing, as he navigates new territory. Chalamet in particular brings a ferocious vulnerability to the role, realistically conveying this contained turmoil. It's a must to stay through the end credits to see Chalamet channel the emotional complexity of the entire film in his facial expression alone; at only 22, this young actor possesses incredible talent.
It is not just the acting, but the direction that is responsible for the film's success, and this is wholly Guadagnino's film. He orchestrates the actors' connections with one another and their surroundings as if the story were a dance. In one scene, Elio glides from the sidelines of the dancefloor with his gaze trained on Oliver to dancing with Marzia, conspicuously oblivious to Oliver who is right next to him; in another, he confesses his attraction to Oliver while they circle in opposite directions around a large war monument and then meet again at the other side. This is a movie about the way people interact with each other, and Guadagnino takes the minute over-thinking and second-guessing of human experience and transmits it into the movement of objects and individuals across the screen.
This film breaks barriers by featuring a young gay couple in a world where gay couples receive little attention in film. We must remember though, in conjunction with this, that it still does reflect flaws in the mainstream consumption of queer cinema, where Western and male-centric stories tend to be pushed to prominence. Nevertheless the film is distinctly groundbreaking for its decided lack of politicization within the film itself. The characters live for the most part separated from the AIDS epidemic and conversion facilities of the time. While the level of acceptance shown is a privilege most of the world could not access, the film seems less interested in conveying overbearing societal pressures of the 1980s than in pushing us as viewers to reconfigure homosexuality as just another aspect of life, more specifically as one that is not inherently bound to hardship. It seems to say "this is what people feel and how they navigate attraction. Isn't it awkward? Isn't it beautiful?" Championing a radical and innately human acceptance of desire, you leave understanding sexuality as an elegant condition of humanity that's only one of many components bound up in connection, also stringing in friendship, intimacy, ardour, pain— all of which should be cherished.
Ultimately, the film takes a long look into human experience and gently teases out much that is universal from the specific. We follow Elio through the momentous dips and curves of a first passion and intimate friendship that push him to transform before our eyes into a person who is wiser and fuller. In one of the final scenes Elio's father urges him to accept and indulge all that he feels, riding through the thick of both joy and pain and all in between; after all, "to feel nothing so as not to feel anything — what a waste!" It's a testament to an altered cliche that ends up ringing profoundly true: feel life to the fullest, let all linger, cast nothing out.