Arts & Living
Campus Art (and Food) for All
Students, staff, and faculty gathered in Valentine Hall for the "Campus Art for All Inaugural Exhibition," featuring work from students and staff. Managing Arts and Living Editor Alex Brandfonbrener '23 breaks down the story behind the event's inception, as well as the artists' inspirations.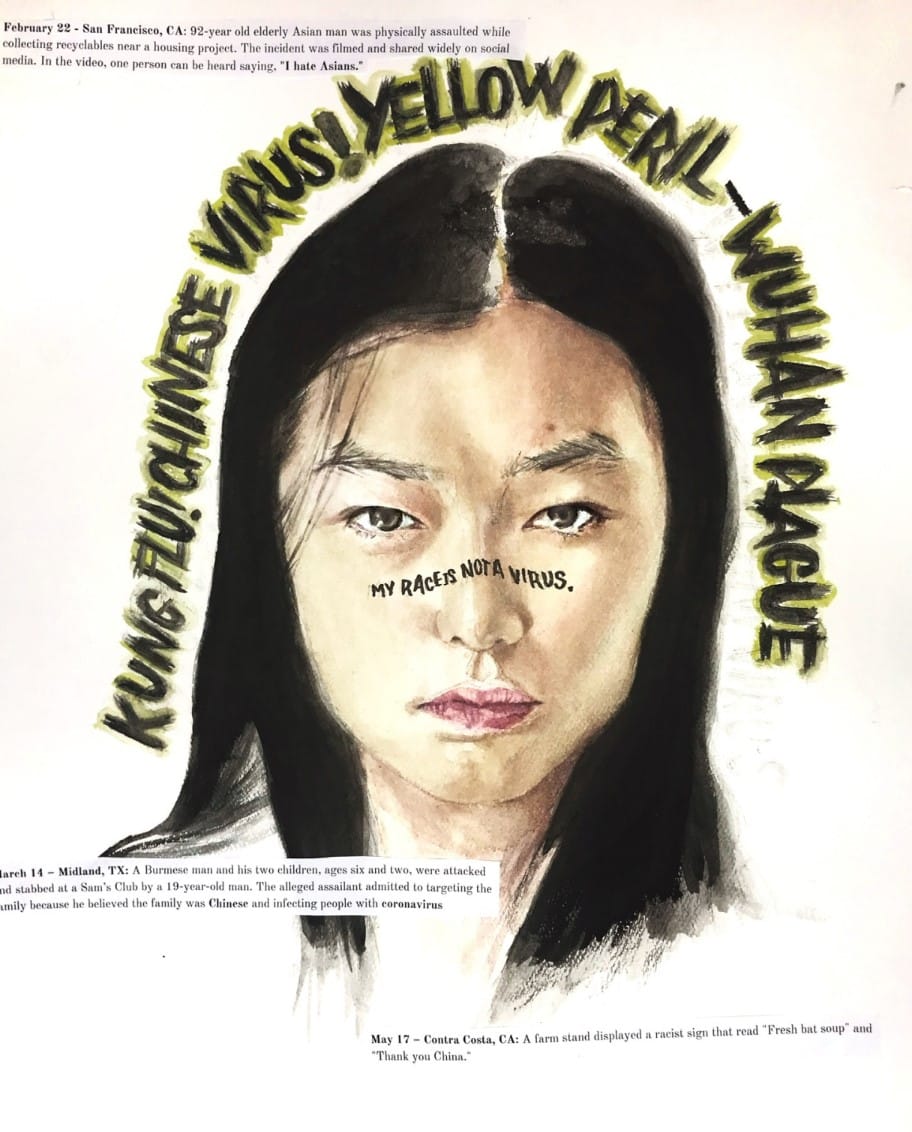 On Monday, Feb. 6, Amherst students, faculty and staff gathered in the Weiller Wing of Valentine Dining Hall for the "Campus Art for All Inaugural Exhibition." The event featured 26 works of art from Amherst students and staff, reflecting a wide range of mediums, themes and artistic inspirations.
One of the main forces behind the event was Anna Piergentili, Manager of Dining Hall Operations at Valentine Hall. I spoke with her to learn the story of how the event came to fruition.
"During Covid, checking out the dining hall and really looking at the walls, [I thought that] they [looked] really bare. And I thought that it was an opportunity to get some artwork up," Piergentili reflected. Last spring, she teamed up with Nathalie Tacke, Office Assistant for Dining Services, and they began to look for student art to hang on the walls. But they didn't have enough time before the semester ended and struggled to get a footing. "We put out an advertisement last spring, and we didn't get any submissions — one or two, actually," Tacke lamented.
So she went to Fayerweather Hall, and working with Studio and Gallery Technician Seth Koen, they were able to recover student artwork remaining in Fayerweather and hang it in Valentine Hall during the summer.
But they soon had a big problem. "We didn't know who [the artists] were, because they were abandoned works," Tacke admitted. "Some of them had their names on the back, but we didn't know if they wanted to be associated with that piece ... So we made the decision to take it [all] down and start from scratch."
Gabby Avena '25 was the first student to bring this concern to Piergentili and Tacke, and quickly they began to work together. Avena helped kickstart the planning process for the current exhibition, connecting Piergentili and Tacke with Dr. Miloslava Hruba, Study Room Manager and European Print Specialist at the Mead Art Museum. Together, they formed the Campus Art for All (CAFA) committee with other students and staff members and received support and funding from the Arts at Amherst Initiative. The CAFA committee members hope that this event is the first of many, and that they can continue to feature student art on the walls of Valentine Hall.
At the exhibition, after attendees enjoyed snacks provided by Dining Services, the event opened with remarks from Hruba. She noted that the purpose of the event was to embrace nontraditional exhibition spaces, in order "[to connect] communities through the transformative power of art."
She was followed by a guest speaker, local artist Anthony Melting Tallow. Melting Tallow comes from the Siksika Blackfoot nation in Canada, whose heritage motivates much of his art. "If you don't see your story out there," he said, "then the whole world is open for you to do that." His art reflects on intergenerational trauma from the Canadian residential school system, a program that separated thousands of Indigenous children from their families. For him, art is not only a mode of expression but also a means to heal. In his words, "Art saved me. ... Keep those creative fires burning [because] they saved me."
Melting Tallow has an upcoming exhibition at the 50 Arrow Gallery in Northampton, featuring meme-inspired art with subversive yet humorous messages. He also said that he hopes to become more closely involved with the Amherst College community in coming months.
The reception concluded with jazz from a student band, The Slipper's Quartet.
I was pleased to have a chance to speak to many of the artists and hear about their inspirations. One of the most striking pieces in the exhibition was Rachel Lin '25's evocative painting, titled "Labeled." The piece features a girl's stern face with the words "My race is not a virus" written across her nose.
Lin reflected, "I created this piece in the beginning of the Covid outbreak when the alarming rise of anti-Asian hate crimes brought an immense sense of discomfort and fear within the Asian community and beyond." Lin sees her art as a way to join "the collective effort to advocate for justice for the AAPI community." I was glad to hear that Lin's painting had been displayed for a year in the tunnel between the U.S. Capitol and House Office Buildings in Washington, D.C.
Another impactful piece was Ayomide Eniola '24's painting, titled "Portal to Dream Worlds." A figure stands at the threshold of the unconscious, witnessing neurons as big as trees. The painting played a key role in a theater performance last semester, "In Worlds, As If," a collaborative senior honors project by Hee Won Youn '23, Nick Govus '23E, and Julian Brown '23. Eniola actually painted the piece onstage during the performance. They felt that the piece was aptly inspired by the themes of "In Worlds, As If": "[The] show explored the relationships between dreams and memory, the in-betweens of asleep and awake, and the relationship between neurons in your brain that makes it all happen. I processed the show's themes by painting this homage to the dreamscape, a hazy soul stepping into their subconscious mind."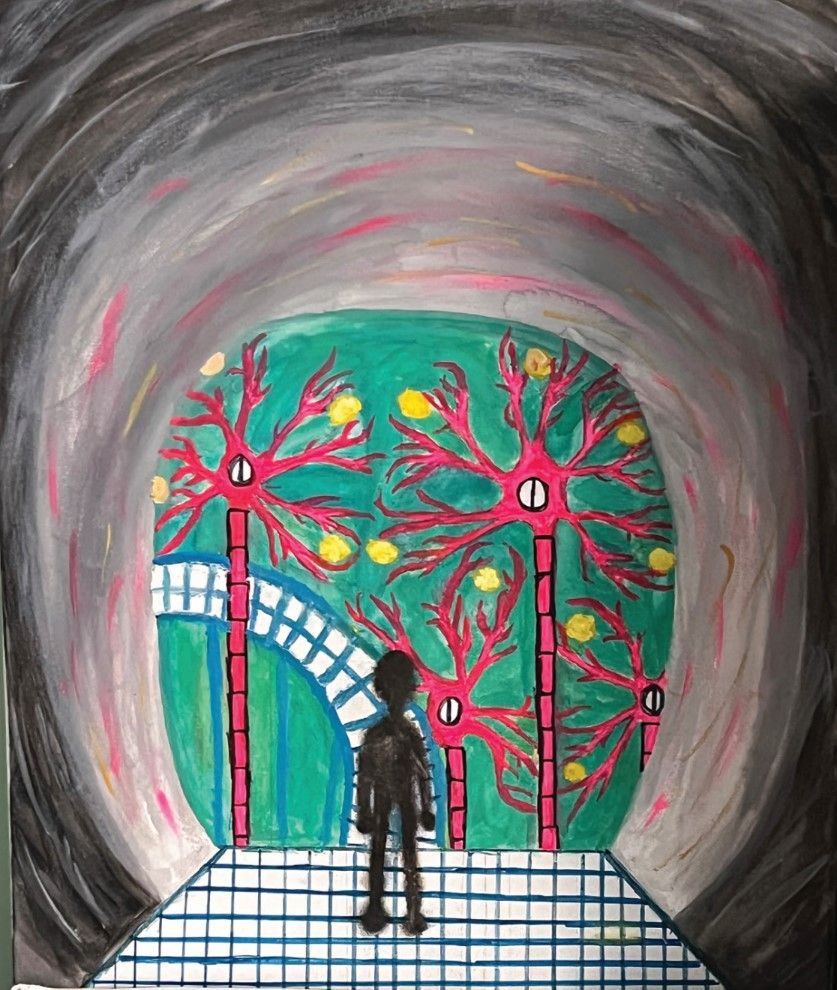 Not all of the artists were students, though. The exhibition featured an untitled photograph from Senior Police Officer Jessica Kirby. The image portrays a tree saturated with ethereal and otherworldly colors. Kirby told me that it was luck that allowed her to take the photo. "I had been walking around the Dakin property, near Humphries House, when I was suddenly awe-struck by the sun peeking through the fog and how it illuminated this majestic oak tree. I knew I needed to swiftly capture the moment. I often carry my camera with me and I was thankful to have it that morning."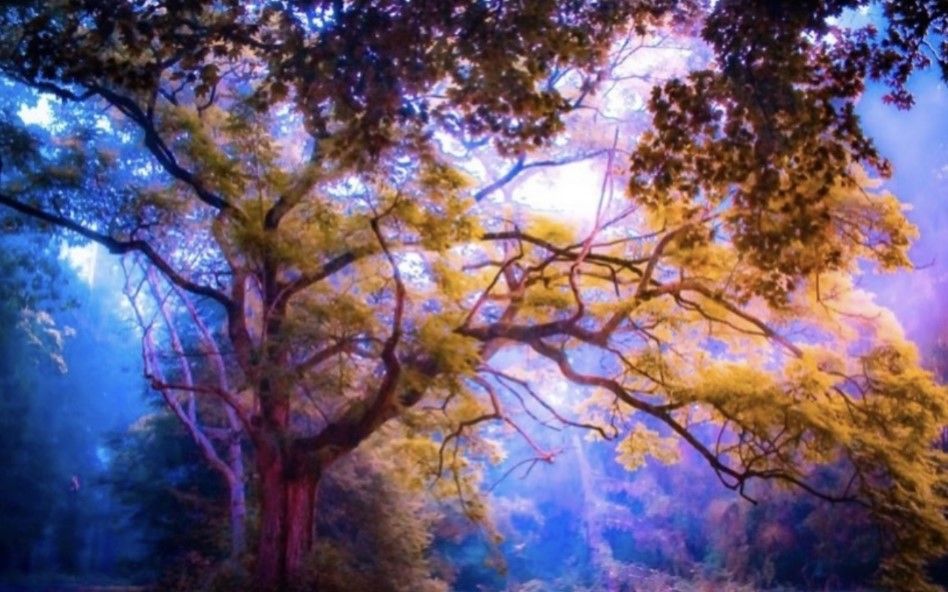 The exhibition also showcased art from students in STEM classes who used data to make their art. Fiona Anstey '24, Tina Zhang '24 and Caroline Wu '26 used topographic data collected from the formation process of drumlins, landforms found in areas where glaciers once flowed, to make their piece "Drumlins: Glacial Formations and Fourier Transformations." The three-plus minute long computer-generated video played in a slideshow on the TV in Weiller Wing, which cycled through student art during the event.
Another student who used her passion for science to make art was Ana Varona Ortiz '24. She originally captured her image, titled "Entering the Mouse-croscopic World," to submit for a friendly competition in her Quantitative Image Analysis class. She admitted to me that she felt driven to try to win. "I wanted to pick a sample that would be both fun to image and also [had] a final wow factor. I remembered we had a slide of a mouse embryo that I thought looked really cool and thought it would be the perfect sample to image." She took the photo using the new integrated Zeiss 980 microscope that the school acquired after Professors of Biology Sally Kim and Marc Edwards received a Major Research Instrumentation Grant from the National Science Foundation.

While I was at the exhibition, snacking on grapes and arancini and admiring the art on the walls, I was struck by how many people came together to create the event: students, staff and faculty from a wide variety of academic departments. Even though it can be easy to get lost in the hustle and bustle of assignments, the "Campus Art for All Inaugural Exhibition" was a reminder to simply slow down and appreciate some art.