Arts & Living
Cartoonist Fran Krause Illustrates Everyone's "Deep Dark Fears"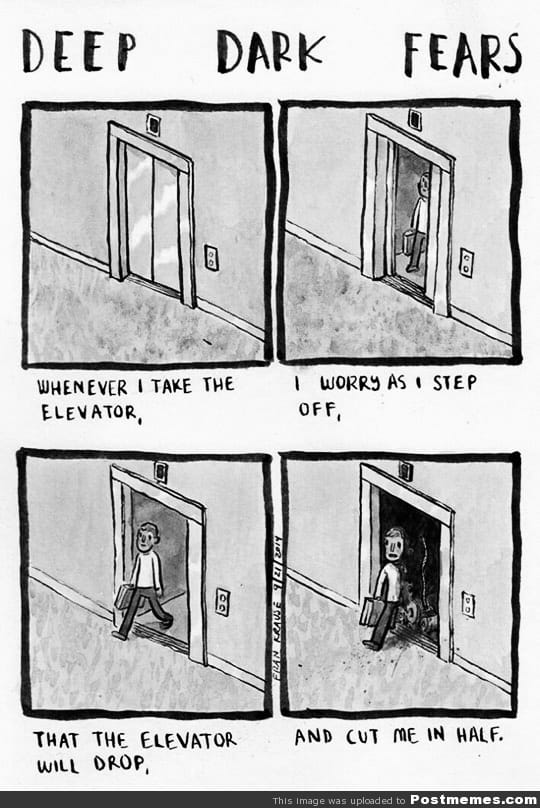 Whenever I have something important to do in the morning, the fear of oversleeping plagues me so much that I spend the entire evening obsessively checking that my alarm clock is set.
Fran Krause, a professor at California Institute of Arts, began cartooning irrational fears of his own just like these, then started to illustrate submissions of fears he received from the general public and posting them on Tumblr. Early in September Krause culminated this long running Tumblr project in a book entitled "Deep Dark Fears." The book is centered on the irrational obsessions and fears that people battle every day.
The illustrations are probably the most captivating aspect of Krause's work. Krause has a simple, childlike illustration style; he sometimes sacrifices anatomical accuracy or realistic placement of objects in order to maintain this aesthetic. The smooth lines that we see in most graphic novels do not appear in "Deep Dark Fears." Instead, Krause draws with shaky, disconnected lines. His drawings sometimes look like watercolor paintings, with inconsistent pigmentation and blurred brushstrokes. The work is highly stylized and has a distinctive youthful charm. Readers who are familiar with Ludwig Bemelmans' children's book series "Madeline" may recall Bemelmans' style while reading "Deep Dark Fears," although Krause uses a more subdued color palette than Bemelmans.
Krause's artistic style is well suited to the book's subject matter. The fears within are childish and irrational; he portrays the confessors as either actual children or silly adults. Subjects like sex, drugs or politics rarely appear in "Deep Dark Fears." For these reasons, the book appeals to our inner child — the vulnerable and naive part of everyone's subconscious that we hide in order to appear sophisticated and mature as adults.
The book is arranged as a series of unrelated, four-panel comics that are accompanied by only a sentence or two that explain what fear is illustrated. There is virtually no dialogue and no plot development. Krause usually follows the style of a typical four-panel comic: a three-panel buildup to a climactic last panel, which is either the most funny or the most horrifying. This gets a bit boring and borders on predictable by fear No. 70. Occasionally, Krause mixes things up by supplying one panel or nine panels, but for the most part his style is so repetitive that the humor starts to get dry.
"Deep Dark Fears" also lacks variety in the types of fears Krause illustrates. Most of the fears are funny and whimsical enough to entertain, but after a while some started to seem artificial, as though the person submitting the fear was not actually afraid of the thing but thought it would be funny and cool to submit to Krause's Tumblr. For example, one fear reads, "I'm not waving at anyone, and I'm not crazy. I'm just making sure there are no invisible people in my bathroom." This just doesn't seem like something someone would be afraid of. It seems like someone thought of something cute and quirky that would match the other fears Krause had already illustrated.
There's another issue with the book: The topics of the fears get repetitive. Ways to gouge your eyes out, ways to get into a car accident, ways that the creepy things in your room will get you at night. Granted, this book isn't meant to address the somber, more adult fears of modern life (like working a dead end nine-to-five job), but by limiting himself to childish, irrational fears, Krause risks boring the reader.
Despite these complaints, "Deep Dark Fears" is still one of the best books I've encountered recently. The gorgeous illustration style combined with the fears that I actually enjoyed made it an enjoyable and quick read, one that I'll continue thumbing through long after I finished it. It's best to read this book before visiting the Tumblr page. Unfortunately, as is common for authors who make the transition from web-comics to published media, Krause reuses some of the more popular content from the website, so fans of Krause may find themselves disappointed by the number of comics they've seen before. However, Krause's premise is fresh and charming, and, despite noticeable faults in the execution, the book is definitely worth your time and money. This book would also be great to give as a gift because it doesn't appeal to any particular interest, and is good for anyone who enjoys aesthetically pleasing and funny comics.