News
Chimaway Lopez: Bridging Home Wherever He Goes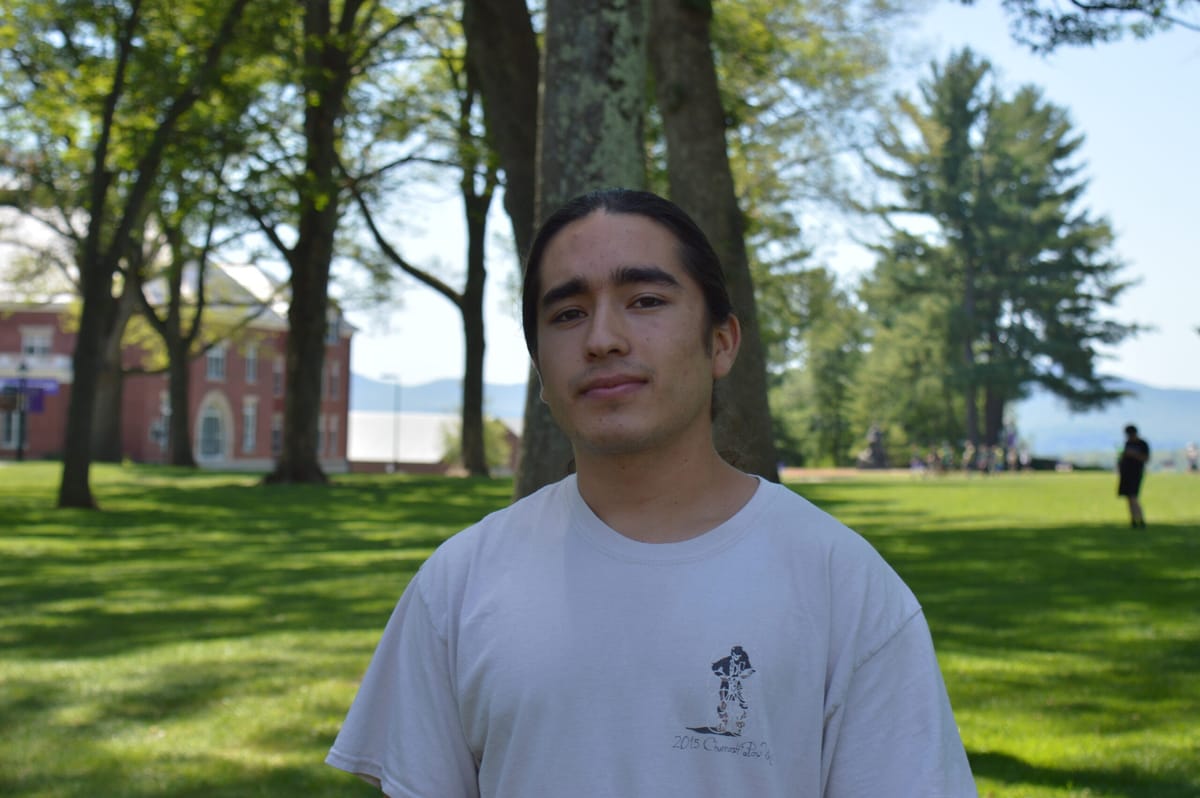 If there's one word that comes to mind when talking to Chimaway Lopez '20, it's welcoming. Sure, thoughtful, passionate and kind will all be at the tip of the tongue, but they don't paint a full picture "welcoming" does.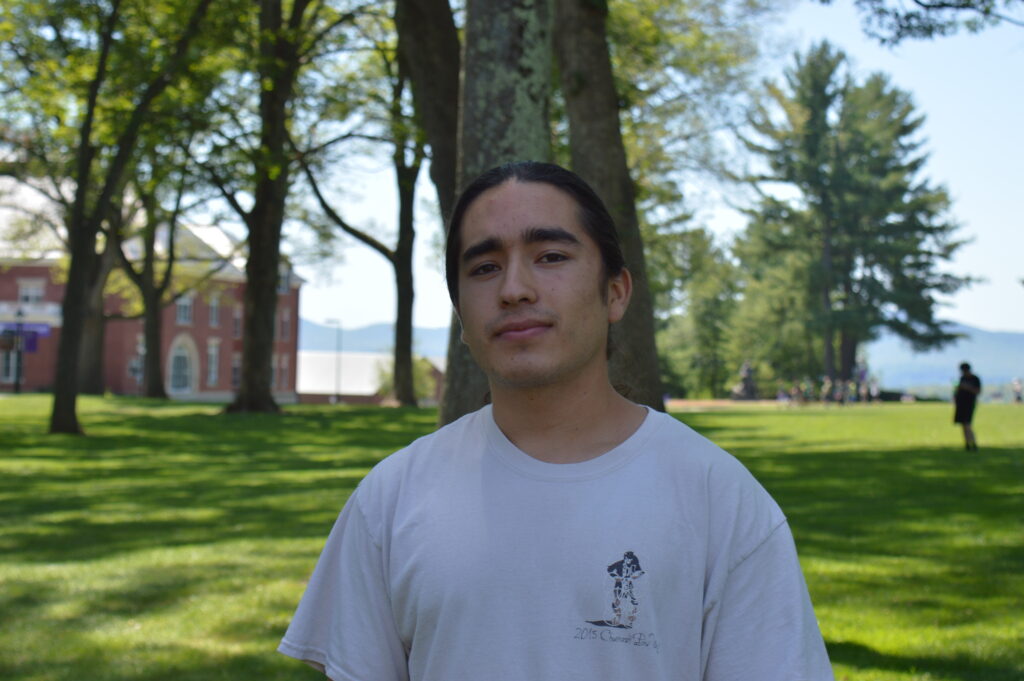 Whether he's with his Chumash family in Santa Barbara, his friends on campus at Amherst or the Urban Thunder drum group in Western Massachusetts, Lopez is able to find his place alongside people who care for him. Using his experience as a Mellon Mays fellow and the help of a number of excellent professors, Lopez crafted an award-winning senior thesis for the American studies department that will guide his future endeavors and change the way people view his hometown.
East, West, Home is Best
Nature has been a keen interest of Lopez's from a young age. He was raised on the same plot of Chumash land in Santa Barbara as his father and grandfather. Lopez's familial ties to his surroundings helped connect him to the local environment, especially the nearby creek and plants.
In high school, he was a part of a program for Native students at University of California, Irvine that taught him about earth science and bolstered his curiosity about the climate. When it was time to look at colleges, Lopez was ready for a change of pace: "As much as I love Santa Barbara, I just wanted to go someplace new. Whether it was California, whether it was farther out."
A major factor in his decision to attend Amherst was being able to see the college thanks to the Early Overnight for Native Students, one of the Diversity Outreach programs hosted during the college's Diversity Open House each October. Lopez was appreciative of the encouraging words from local Natives from around the Pioneer Valley. "I was really impressed, specifically, by some of the choices they made in contacting members of the community, leaders from the Native community around Amherst and asking them to talk to the incoming students," Lopez said.
The presence of Native professors and the strong community were determining components in Lopez's final college decision: "The fact that there were Native professors like Professor[s of American Studies Lisa] Brooks and [Kiara] Vigil. I said, 'You know, I think that I can find a home and community here on campus that can help me get used to life in college.'"
Still, Lopez knew he would have to face one sizable adjustment: the weather. Lopez recalled, "When I told people that I was going to be in Massachusetts, they said 'You're crazy! Why would you ever move from California? Why would you ever move to someplace where it's the winter and it's going to be snowing?'" He worriedly bought all the equipment he thought he would need to defeat the Western Massachusetts wintertime. He soon found out it was more bark than bite. He reminisced, "After the first winter, I realized it's not as scary as people in California seem to think. It's not so bad, and it's honestly really beautiful. That's one thing that I appreciate during my time at Amherst College. I got to experience that."
Finding His Path
Although Lopez ended up completing a thesis in American studies, that was not his original plan. His prior encounters with natural science made environmental studies an easy choice for his major, but Amherst's open curriculum allowed him the opportunity to explore different classes.
En route to a departmental presentation for environmental studies, Lopez bumped into Rowland Abiodun, the John C. Newton professor of the history of art and Black studies, who convinced him to take a Black studies course. "My first year at Amherst College, I was very much involved in the Black studies department. It was a great experience, and I learned a lot. It got me up to speed with how to be a student at Amherst College. I actually thought I was going to be a Black studies major," Lopez said.
Despite his initial hesitations, Vigil knew that Lopez would be a great fit in American studies from his time in her Rethinking Pocahontas class. "I think he was a reluctant American studies major. Early on, I was trying to steer him towards American studies because I could see that he wanted to do Native studies work. I think he wasn't sure American studies could provide him with what he needed," she said.
Vigil, with the help of Brooks, was able to finally convince Lopez that American studies was the perfect department for him. "He could do more in American studies around Native studies than in environmental studies, and the two majors together have given him a really good foundation to do graduate level work," Vigil said.
Lopez got on board with American studies when he discovered how interdisciplinary and flexible the department is. "I liked the community American studies had. I decided that if I was going to double major, I would be a better choice to go into American studies," he said. "I could take courses from a Black studies curriculum and put them in conversation with the Indigenous studies courses as well as environmental humanities scholarship."
Passion Project
The inspiration for Lopez's thesis came from his interactions with the physical environment he grew up around. He describes it as an "Indigenous studies project that ties the environmental history of cattle ranching and cattle raiding to the narratives of colonization and Indigenous resistance performed in Santa Barbara." In particular, he wanted to demonstrate how different historical memories challenge the political and ecological aesthetics of Santa Barbara as a place.
"I know a lot of people, longtime residents, who are very concerned about the ecology of Santa Barbara. They have a deep understanding of it, and they'll still talk about the rain in bad weather even though they know that rain is really important for us in a dry climate. When we get rain, we should be happy. Assumptions of what is good about a natural place and what is bad can seep in deeper than you realize," he said.
His argument also relates to the significance of settler colonialism in his town: "There is this tentative way of understanding and being in Santa Barbara that is, 'I survived colonialism,' and [it] is existing in spite of colonialism that I try to argue is a way forward."
Though it was written for the American studies department, the foundation for Lopez's thesis started in an anthropology class, underscoring his interdisciplinary approach to academics. "I didn't realize this, but I started with that first research paper with [Visiting Professor Caterina] Scaramelli. I found out about environmental history as a field and environmental anthropology and writing about Santa Barbara. I realized that I could write about Santa Barbara from an environmental, historical and from an Indigenous studies perspective."
Brooks, who would become Lopez's thesis advisor, spoke about his incredible work ethic and the importance of his thesis. "I've been hearing about this project for a long time. It really resonates with me, the way that he uses Indigenous methodologies is right at the cutting edge of Indigenous studies. But also because of the potential impact of his work. Thinking about climate change and the way that Indigenous people, in many ways, are at the forefront of climate change but often excluded from the discussions about it," she said.
She continued by describing the collaborative working environment that they shared when writing the thesis, noting that "I was always learning too. They were often exchanges and conversations. He is a very humble and modest person, so he would probably say that he was learning from me, but I always felt like I was learning from him. And I thanked him for that when I shared with him his honors determination from the American studies department meeting."
It's no wonder then that his thesis achieved summa cum laude honors and was awarded the Doshisha American Studies Prize for "the American studies honors thesis judged by the department as the most likely to stimulate interest in and understanding of America overseas, a gift from Amherst House, Doshisha University," according to the college website.
According to Brooks, Lopez's work encapsulated the accolade. "He wanted to look at the Chumash homeland in Santa Barbara within a framework that would encompass the Pacific. There's a real transnational framework to his thesis."
Forging Friendships
Daniel Delgado '20 distinctly remembers his first interaction with Lopez as a first year in Professor of American Studies and Black Studies Solsiree Del Moral's Race and Revolution in Cuban History class.
"This was our second semester, and it was my first time taking an upper-level Black studies class with a concentration in history. I remember this being when Chimaway and I first connected. Sitting next to him in one class session, I voiced some questions about the Cuban Revolution's unique place within the island's long and tumultuous history of anti-colonial struggle. Chimaway turned to me and gave me a fist bump and said, 'good question.' Believe it or not, without that encouragement, I may not have become as active a participant in class discussion as I then learned to be," he said.
Lopez and Delgado then spent an entire summer getting to know each other better through the Mellon Mays Undergraduate Fellowship, in which they both took part.
Brooks helped explain the goals of the fellowship program: "It's designed to create a pathway for especially promising students, who often [are] low-income, first-generation and/or underrepresented minorities, to get a Ph.D., become professors and teach in humanities. The Mellon Mays Undergraduate Program provides mentoring, training and support, as well as collaboration within a cohort of scholars." She also noted the novelty of its existence at Amherst. "Chimaway was among the first cohort of Mellon Mays fellows here at Amherst. I've been working with him as his mentor in that program since he was a sophomore," she said.
Delgado talked about their unique connection, noting how difficult it is to put into words: "Chimaway and I spent a lot of time just thinking and asking each other questions and encouraging one another through our research. There is something irreducibly difficult to convey about why Chimaway and I were able to create such a close intellectual companionship. Chimaway is a gift to our community that should be valued, cherished and appreciated as such. As a friend, Chimaway will always have a special room in my memories as a student at Amherst."
Beyond the classroom, Lopez elaborated on the home he found within Western Massachusetts, specifically amongst the local Native community — one of Lopez's main attractions to Amherst in the first place.
He said, "I've been really fortunate that a lot of Native people living in the Connecticut River Valley have been supportive of me and welcoming to me. As you grow to know people and build relationships with the community, you become little by little your own kind of contribution to the communities you're involved in. I felt like I was able to build a family there."
He also found family in Urban Thunder, the intertribal drum group he became a part of in his time at Amherst: "Part of that was singing with the Urban Thunder and the Five College community drums. Everyone from Justin Beatty, the drum keeper and lead singer, to everyone who sang with them. They helped me, in a lot of ways, get through Amherst because I felt like I was part of the family."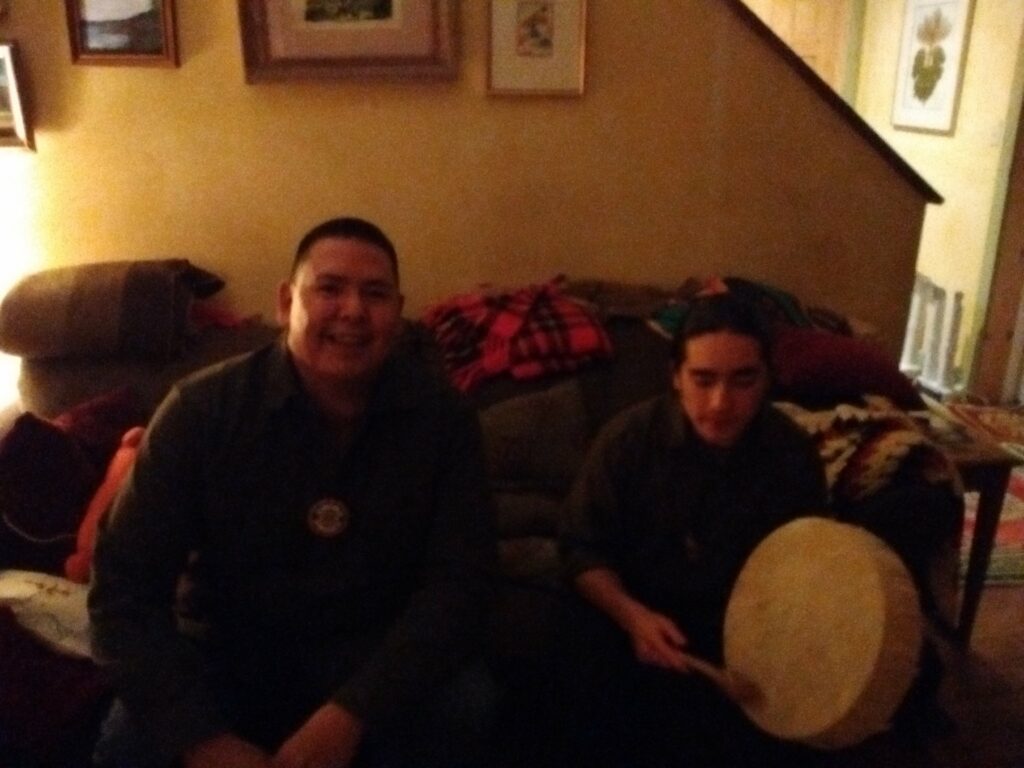 Vigil even recalls Lopez performing a song as a senior in Native Futures, an American studies course about colonialism and Indigenous sovereignty. Vigil specifically emphasized his transition into becoming one of the leaders of the class. "There was a moment where one of our classes inspired Chimaway to share a song with the class. But this to my knowledge, and he said this, was his first time ever being inspired by the readings, the way the community in the class was working, to share a song with the class. So he did actually sing a song for us as part of when we went around in the circle. And I think that was really profound and that sharing it was very inspirational for the other students in the class, especially the Native students," Vigil said.
Just Getting Started
Even as Lopez formed a secure community in Western Massachusetts, he always kept in mind his Chumash community in Santa Barbara. He went on, "They always encouraged me to get an education, to go to school, to be creative, to add to my understanding of the world. I felt that I wasn't just there to get a degree [for] myself but also to follow the in the footsteps of a lot of members of the community who really were intellectually minded in their own philosophies and understandings of the world, that are profound and important, that never got the chance to get into school and never got the chance to have access to the tools of research that you do at a great academic institution like Amherst College."
The next step on Lopez's path is getting a Ph.D. in Native American studies at the University of California, Davis. As he returns to his home state of California, albeit a different town, he'll be able to build a new community that will enable his success in whatever he does. Delgado is certainly confident in Lopez.
"I know his future will be amazing. The world needs people like Chimaway to keep pushing us towards new sites of knowledge and to keep us questioning convention," he said.
Between his family in Santa Barbara and his friends and professors in Amherst, Lopez already has a large community to rely on for support.