Arts & Living
Chloe Tausk '18 Uses Amherst Women's Hair to Create Socially Engaged Art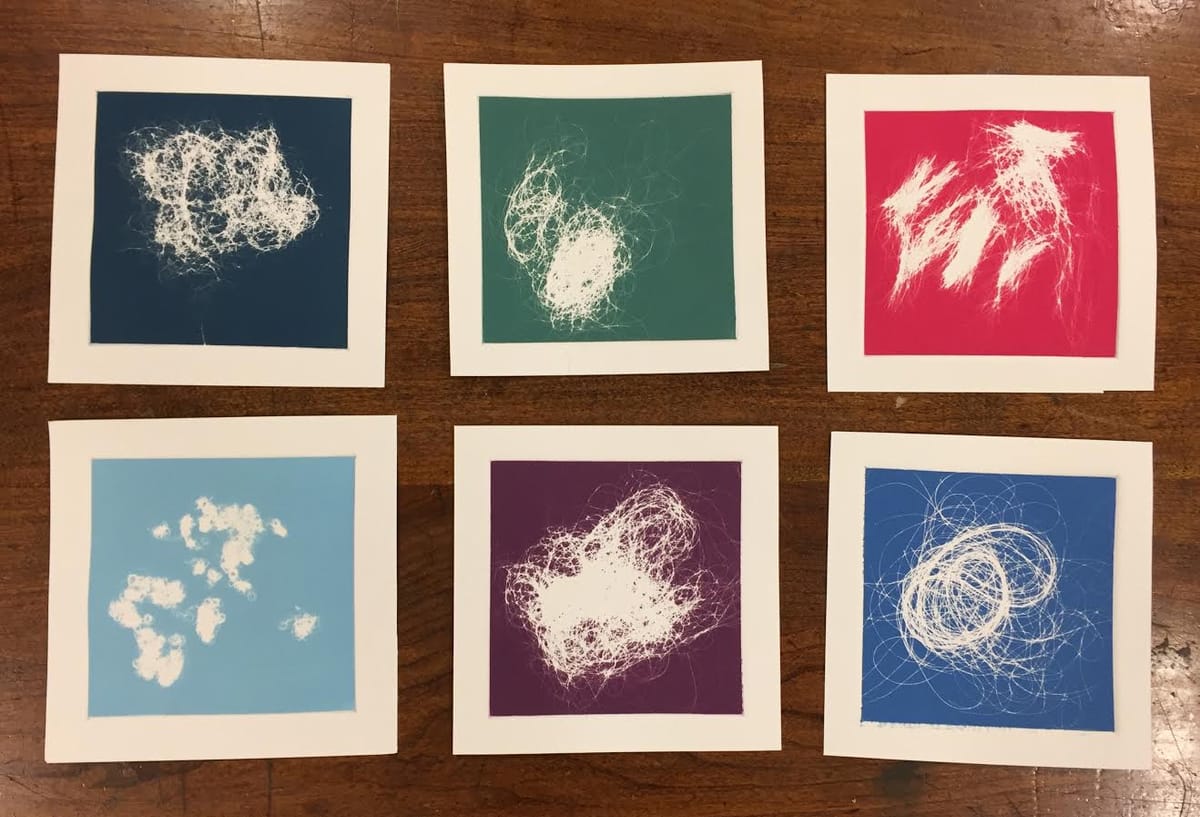 You may have seen intirguing flyers in your bathroom or a post from Chloe Tausk on Facebook requesting your hair. It is an unusual request but it is all in the name of art. Tausk '18 explained the purpose behind her project and her hopes for its effect.
Q: How would you best describe this project?
A: I'm creating a socially engaged art project by collecting pieces of women's hair and making them into art prints. I consider each print as an abstract portrait of each participant. To do this, I displayed posters around campus, specifically in women's bathrooms, and invited women on social media to participate by sending me strands, locks or clumps of their hair. I'm now working on a large series of monotype prints that will use these contributions. Each woman who sends me hair will contribute to a unique print with a different color ink.
Q: How did you originally come up with this project?
A: I wanted to step outside my comfort zone and create a social art project that engaged with themes of gender, race and identity. I thought about how my experience in both printmaking and painting could translate into a new project to explore these themes in an artistic way. I decided that making monotype prints to depict the uniqueness and identity of women through their hair would be most effective for my idea. I started exploring monotype prints (a printmaking technique that creates a "unique" print because it cannot be reprinted) last spring, and I thought the nature of their uniqueness would be perfect for my project. The final project will be shown on campus, so from the beginning of my research, I imagined a wall filled with color; as a viewer comes closer to the artwork, the lines on each print become more visible and meaningful. I love using color in my work and seeing how colors build off of each other to really depict the wholeness or truth of something or someone.
Q: Do you think you began your project with an intention? If so, what? And did it change?
A: Professor Amanda Herman had my class individually write down our core concerns as artists — what drives us to make art. Most of the artwork I make doesn't fall into one general category or "concern," but I knew I wanted to create a project that mattered to specific people around me, to members of the Amherst community. I also wanted to create a colorful, expansive work of art that hopefully creates positive experiences for those who see it.
Q: What was/is the most challenging part of your project?
A: The most challenging part is making sure I receive enough hair! I understand that it's such a weird request, so I've been trying to ask and explain to people in person. My class is having an exhibition in the Eli Marsh Gallery in Fayerweather in December, so I have been thinking about how I want to display this project. I originally imagined a wall full of colorful prints, but I might have to adjust this depending on the number of contributions.
Q: Do you think your other art projects/practices/classes influenced your project? If so, how?
A: Definitely! Professor Betsey Garand introduced me to monotypes and print installations in "Printmaking I" and "Working in Series Working in Series: The Interdisciplinary Connection Between Drawing and the Hand Printed Image," and I have been interested in those techniques ever since. Last semester, I created an installation of color-driven prints that covered a set of windowpanes in Fayerweather. I love exploring and pushing boundaries in printmaking, so I wanted to work with hair, like artists Mona Hatoum and Lorna Simpson do.
Q: How do you think people will respond to your project?
A: Thinking about how people have and will respond to my project is another challenging aspect for me. I've experienced so much encouragement and kindness so far, but I also understand that asking people for their hair and striving to make prints about identity isn't a very normal or easily understood gesture. I feel very grateful for the enthusiasm people have showed so far, so I hope people continue to have a positive experience with my work.
Q: What are the next steps for the project?
A: I plan to create prints throughout November and install them in time for the exhibition opening on Dec. 1. After the exhibition, I'll be sending all the participants their individual print!