News
Class of 2021 Arrives for Orientation Week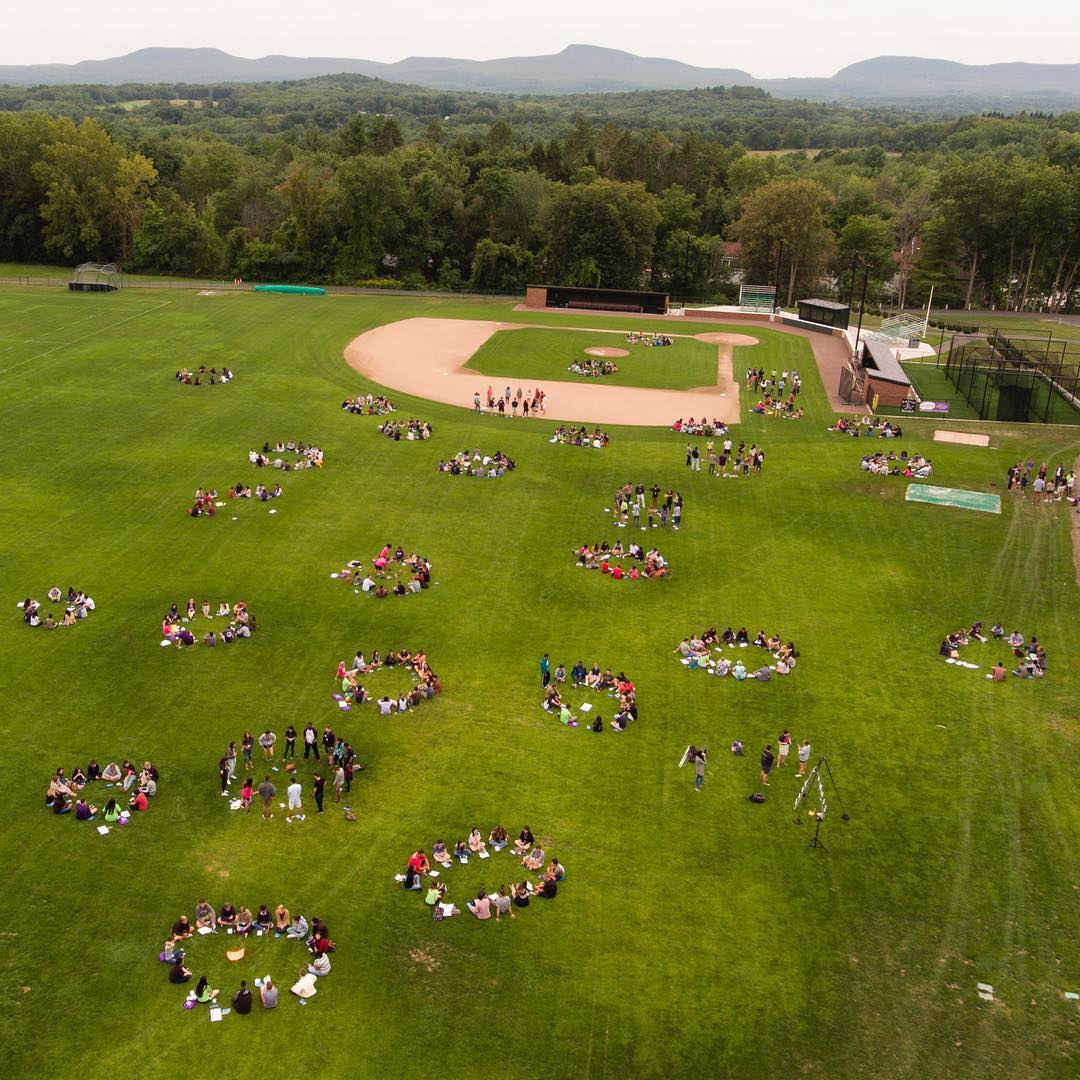 Amherst College welcomed 473 new students from around the country and the world on Tuesday, Aug. 29, kicking off the college's orientation week, which included familiar programs from years past as well as new changes and improvements.
According to the Office of Admission, members of the class of 2021 were selected from a record-setting pool of 9,285 students, up 10 percent from last year. Of those applicants, 1,198, or 12.9 percent, were offered admission. One hundred and seventy-two students were admitted through early decision.
Students traveled to their new homes on the First-Year Quad from 388 secondary schools in 38 U.S. states and Puerto Rico as well as 26 countries. Of these students, 43 percent identify as domestic students of color. Men and women comprise nearly half the class each, with one student identifying as non-binary transgender.
The incoming class boasts record-high scores and academic achievements, with an average SAT composite score of 2232 and ACT composite of 33. This year's class was also the first to take the SAT in its new format. Eighty-two percent of students ranked in the top decile of their high schools' graduating classes.
Fifty-five percent of new students are receiving financial aid, and 11 percent are first-generation college students. In addition, 16 are transfer students, including two U.S. veterans.
Dean of Admission and Financial Aid Katie Fretwell '81 said in an email interview that the new class brings "a tremendous array of talents and interests across the academic disciplines."
"As a group, they have the distinction of having particularly strong aspirations for careers in diplomacy and foreign service and have had an unusually high participation rate in Model United Nations programs through their secondary schools," Fretwell added.
This year's orientation week includes familiar elements such as squad meetings, Sexual Health Educator (SHE) skits, the DeMott Lecture and the "Voices of the Class" performance. Meetings on subjects like sexual respect and addressing bias will build on themes from previous years, but Dean of New Students Rick López said in an email interview that the format of some orientation events continues to "[move] away from having students listen to speeches" and toward "redesigning orientation events into small group dialogues."
López said that some other changes geared toward students include longer academic advising and registration periods, a reception geared toward first-generation and low-income students, and at the request of student government members, the return of the class-wide Honor Code signing event.
Also new to orientation are residence-hall specific dinners. "[Their] purpose is to help students create their own dorm identity, while also bonding with students in nearby dormitories," López said. "Like all other events in orientation, our focus is on fomenting dialogue while creating community."
Many students' families accompanied them to campus to participate in orientation programming on Tuesday that was designed with guests in mind. President Biddy Martin addressed students and families in an all-new "President's Welcome" event.
Receptions for guests and families in Spanish, Mandarin and Korean were also held on the first day. The Korean and Mandarin-language receptions were new this year.
López initiated the first such event for Spanish-speaking family members three years ago. "The session proved to be such a hit … This year we looked at our student body to think about whether we can extend the program to other languages," he said. "We found that the two other languages that are most commonly spoken in students' homes are Korean and Mandarin."
According to López, these language-specific receptions featuring faculty, students and staff were designed following students' feedback that some parents and family members could feel more welcome and better support their students after attending an informational session in the language most comfortable to them.
At the end of the first day of orientation, students were able to spend time with their families prior to their departure in a two-hour "Family Block" time that was incorporated into the schedule.
On Friday, students departed from campus for Learn, Explore, Activate and Participate (LEAP) programs, which focus on a specific topic or field of exploration with the added goal of bringing students closer together in small groups. In addition to longtime programs such as First-Year Outdoor Orientation Trips (FOOT) and Community Engagement Orientation Trips (CEOT), this year had a new addition — "Discover The Distant Past by Land, Sea and Air" — designed to introduce students to the region's natural history.
On Sunday, students will return from LEAP. Convocation and the annual student organizations' involvement fair will take place on Labor Day, and Tuesday will mark the first day of classes.