Arts & Living
Clothesline Project Aims to Raise Awareness of Sexual Violence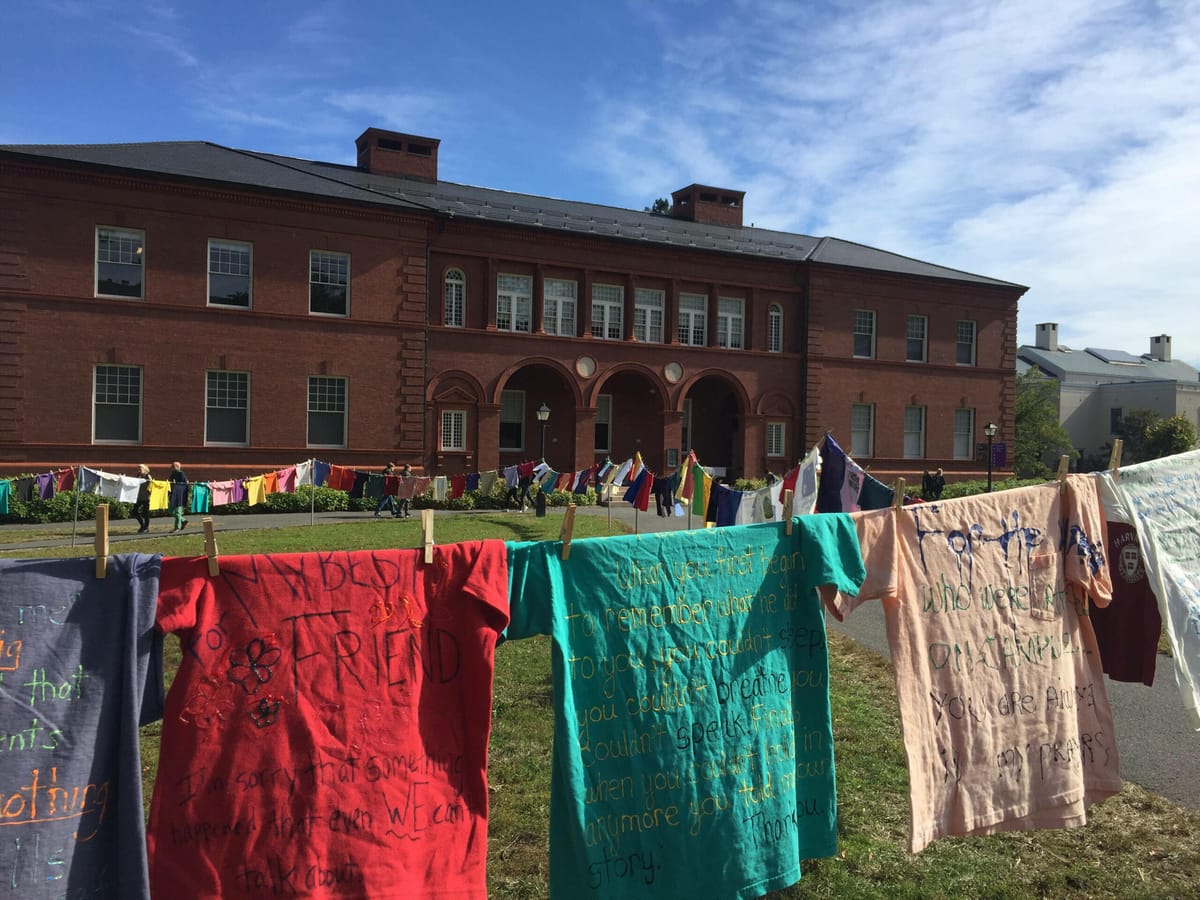 Last week, the Peer Advocates for Sexual Respect hosted the Five College Clothesline Project on Valentine Quad. Hundreds of shirts, each created by an individual affected by sexual violence, were hung on clotheslines throughout the quad.
On Wednesday, Oct. 17, people of all identities and backgrounds were invited to contribute to the project and create a shirt to share their story.
Survivors, their friends and family and anyone affected by sexual assault in any way expressed their experiences through images, descriptions and quotes. Some shirts told honest and painful stories, while others featured artwork and imagery. A few read "no means no" and "love should never hurt," while many displayed messages of calls to action. All of them expressed the voice of individuals in our community.
On Thursday and Friday, Oct. 18 and 19, these creations were hung throughout the quad for people to walk through and observe. Each shirt represented a unique voice, and together they hung shoulder to shoulder, representing the unity of those affected by sexual violence. Over the course of the installation, students could be seen walking the lines of brightly colored shirts, reading and reflecting on their messages. Walking through the exhibition, I was struck by the sheer diversity of the ways in which individuals have been affected by sexual violence. Reading the various messages on the shirts was an opportunity to learn about others' experiences and reflect on our own. These shirts remind us that although progress is being made to address the disturbing pervasiveness of sexual violence in American society, these evils continue to affect large swathes of our community.
Students could be seen processing the installation both individually and in groups of friends and strangers alike, and everyone was invited to talk with the Peer Advocates who were stationed at a booth next to the entrance of Valentine Dining Hall.
In an email interview, Lauren Simpson '21, a Peer Advocate who was involved in organizing the project, said the Clothesline Project was an empowering but upsetting reality check for her.
"There was something so powerful about hanging the t-shirts up and looking at them all together," she said. "But it was also heart breaking, seeing so many t-shirts on the line, knowing we have so many more bins full of shirts that couldn't fit onto the line, and seeing a physical representation of how many people have been affected and hurt by sexual violence.
The Peer Advocates outside Valentine Quad explained how supporting, listening and learning from survivors is one of the best ways we can be advocates for survivors of sexual assault. They shared ways in which everyone could be a part of resisting a culture of sexual violence and invited onlookers to contribute to a collage, which included some ways that everyone can participate in changing this culture. Simpson added that attending Peer Advocate events is definitely "a great way to get started in terms of educating yourself on issues of sexual violence and learning more."
She also noted the importance of being aware of the little things, emphasizing how "if you see things that make you uncomfortable, like friends making inappropriate/offensive jokes [or] people exhibiting problematic behavior and making someone else uncomfortable, or especially if you think that someone may be at risk of experiencing sexual assault, domestic/relationship violence or violence of any kind, do something about it. Intervene in the situation. Speak up."
The Peer Advocates did recognize that, for many, this installation could be difficult to face. They set up the installation in such a way that the shirts faced away from residence halls and the path between Morrow Dormitory and Valentine Dining Hall remained clear for those who needed to avoid the project.
This was not only an opportunity for survivors to heal, but for the whole community to be a part of that healing process. Breaking the silence around sexual assault and giving survivors a voice has historically been difficult, and de-stigmatizing sexual assault has been an ongoing national process in recent years. This project is one of the many steps that Amherst students have taken to be active in the fight against rape culture and create a community of support, safety and respect.