News
College PPE Donations Bolster Local Hospitals, Emergency Services
As the coronavirus pandemic continues to deplete hospitals and emergency services of the resources required  to treat patients of the virus, the college has begun donating masks, gloves and other personal protective equipment (PPE) to local essential services, such as the Baystate Medical Center, the Amherst Fire Department (AFD) and the Whately Fire Department (WFD).
The campus's transition to remote learning has left it almost completely deserted of students, leaving the college with a large number of supplies that are no longer needed for this semester, including gloves, masks and lab coats.
Meanwhile, hospitals and emergency services across the nation are currently running at full capacity and need all the PPE they can access. As a result, colleges across the nation have begun stepping up to make donations. Laboratories at Massachusetts Institute of Technology, Harvard University and the University of Chicago began to donate spare equipment to hospitals. Late last month, Yale University began offering housing in its dormitories for asymptomatic individuals living with family members who tested positive.
Within the five colleges, University of Massachusetts Amherst has been 3D printing ventilator parts and face shield frames; Smith and Hampshire have offered on-campus housing to Cooley-Dickinson Hospital, and Mount Holyoke has donated masks and other PPE to local hospitals.
 In mid-March, Richard Mears, the director of environmental health and safety, and John Carter, chief of Amherst College Police, began collaborating to organize these donations. Carter stated that the initial motivation for organizing the donations was to provide assistance to the AFD because "Amherst Fire has always been supportive of the college, a great partner." AFD Chief Tim Nelson agreed from the other side of the partnership, noting "it's a great thing that [the college is] willing to help … it's part of a good relationship we've had for many years."
Mears was central in leading the effort to collect and distribute donated items; he coordinated with individual professors who had extra supplies in their labs. According to Carter, professors David Jones, Caroline Goutte, Alix Purdy, Anthony Bishop and Sarah Turgeon all donated the supplies they would have used for their STEM classes and labs under normal circumstances.
Donating equipment represented the clearest course of action for Goutte, chair of biology. "Our labs are shut down with nothing happening in them," said Goutte. "The least we can do is donate protective equipment to protect those caring for the sick." Similarly, Jones remarked that "there was no question that the gloves could be put to good use by health and safety folks on the front lines of the coronavirus response."
Through this collaboration, faculty and staff have organized the donation of a significant number of supplies, which, as of April 14, includes gloves, goggles, gowns and the direly needed N95 masks, all distributed among the Baystate Medical Center, the AFD and the WFD.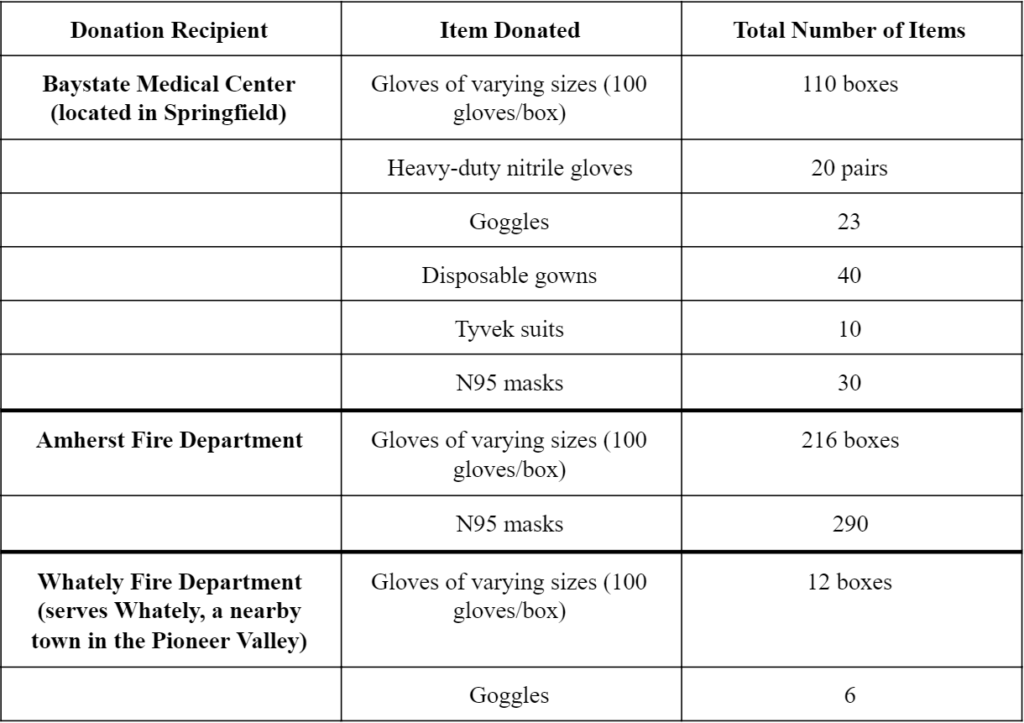 The recipients of these donations have been grateful for the college's help. Nelson said that receiving the additional PPE, particularly N95 masks, was extremely helpful to AFD during this "unprecedented time" when "the whole world is ordering the same stuff at the same time."
In addition to these larger-scale donations, individuals in the Amherst community have stepped up to do their part as well. Assistant Professor of History and Asian Languages and Civilizations George Qiao facilitated the distribution of almost 5,000 surgical masks to students, staff and other community members. "I started distributing my masks because I am really concerned about the impact of the virus," said Qiao. "[I] hope that I can help the people that I care about and help our community."
During uncertain times like these, many find comfort in the act of giving to those who are most in need. "In times of trouble, I think as a community, we are all trying to do what we can to help each other," Qiao said. "I just happened to have the connections to do a small thing."