News
College Provides First Payments to ACEMS Members
Starting this semester, the college is paying members of the Amherst College Emergency Medical Services. The pay ranges from $500 per semester for starting ranks to $1400 for the highest possible rankings.
Beginning this academic year, student emergency medical technicians (EMT) for Amherst College Emergency Medical Services (ACEMS) will be paid for their work. The new stipends will be paid directly by the college, making the students college employees.
Pay is based on the students' level of Emergency Responder Technician training, which they receive through ACEMS. This semester, all Med-13s (starting rank) will receive $500 per semester, Med-12s will receive $820, and Med-10s (highest possible rank) will receive $1,400.
The move to pay EMTs comes after the Association of Amherst Students (AAS) passed a bylaw to pay its officials using senate funds in 2022. This prompted larger discussions about paying student groups like ACEMS, for their work. (The AAS attempt eventually proved unsuccessful as it lacked the legal basis to become an employer.)
ACEMS first petitioned the college to introduce the stipend last spring, and the college ultimately approved it just before this semester.
Co-director of Diversity, Equity, and Inclusion for ACEMS Fionna Yohannes '25 said that the change represents a new way to make working for ACEMS more accessible to the wider campus community.
"I cannot tell you the amount of people I've talked to that were like, 'Oh, yeah, I thought about joining ACEMS but I didn't have the time because it's a big time requirement,'" Yohannes said. "And that big of a time requirement and not getting paid is really difficult for Amherst students who are in classes, extracurriculars, have jobs or might play a sport."
Yohannes said that, by making the club more accessible to the wider campus community, a goal of the plan is to foster greater diversity in ACEMS' ranks.
"If you only have students who can access ACEMS that can afford to take all that time and not get paid, then you're feeding into the barriers that first-gen low-income students already face," Yohannes said.
The sliding pay scale reflects the varying level of expertise among student EMTs. Students working for ACEMS undergo a training course during January term, where they become state-certified EMTs. Someone's "Med" level determines the services and aid they are enabled to provide. Director of Recruitment Aidee Hernandez '25 elaborated on the differences between these roles.
"Med-13s are called probationary members, and they are mostly in charge of monitoring vitals on scene, they are not allowed to be on the scene alone," Hernandez said. "In comparison, our Med-12s all have Massachusetts EMT certification and national certification as well. They are in charge of writing the Run Report, which is a fully detailed report on what happens. Meanwhile our Med-10s have a little bit more training and are able to carry a glucometer as well as administer Narcan. They're in charge of medications."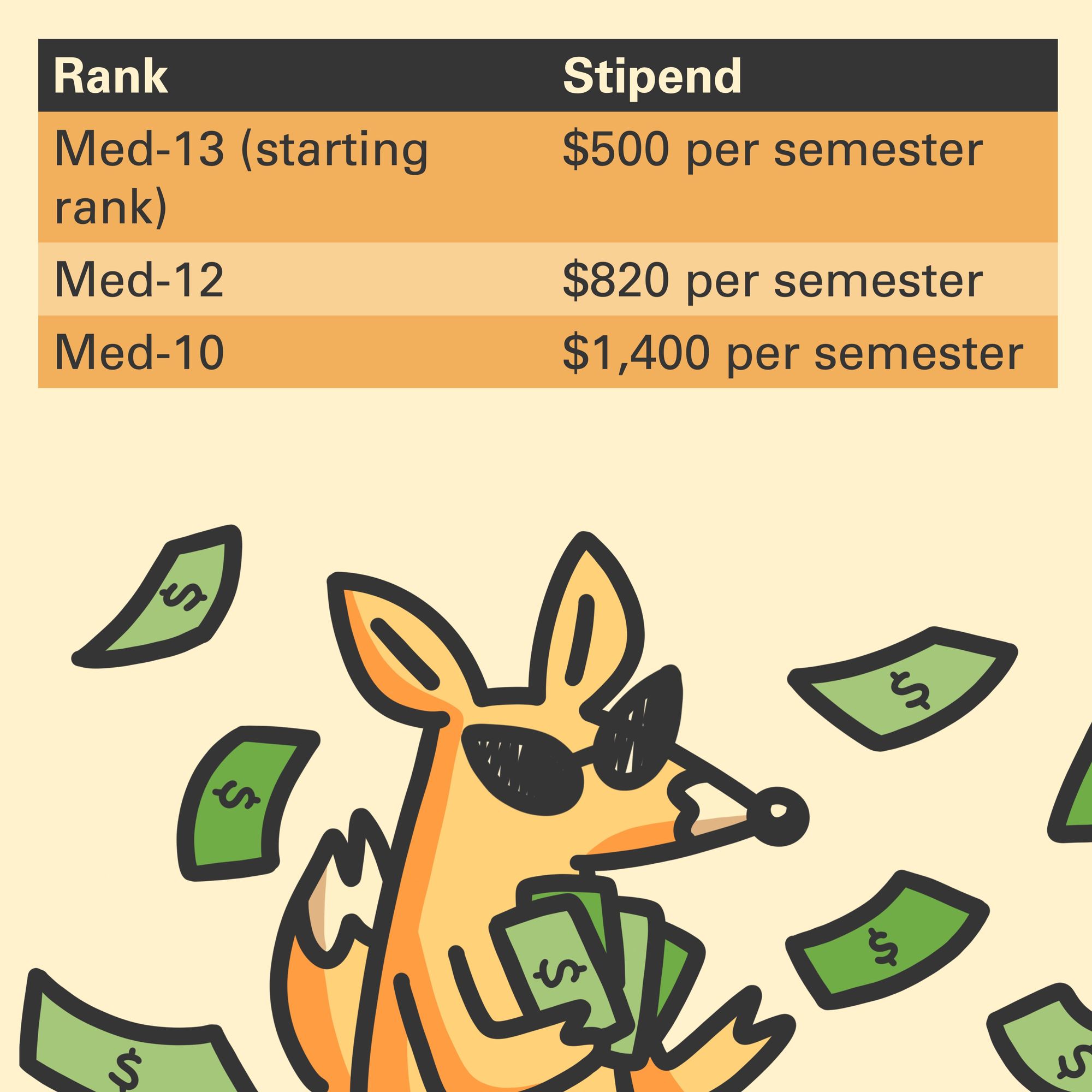 ACEMs members feel that the pay they will now receive reflects their central role on campus.
"We respond to every medical emergency on campus, regardless of the severity," said Co-director of Diversity Equity and Inclusion for ACEMS Deryn Patin '25.
Though ACPD may be called along for "more dangerous calls," Patin noted that ACEMS approaches each call to check on the student's wellness exclusively, while ACPD may be more inclined to take a legal approach to answering a call.
In light of all of these responsibilities, students can often feel overwhelmed at the prospect of joining ACEMS, Hernandez said. Nonetheless, she encourages anyone interested to apply by the midnight Oct. 11 deadline.
"For students who are experiencing working with patients and as a medical provider it's just a really wonderful formative experience," Yohannes said "For students who are really interested in health care, whatever that looks like, having that experience might make you a more competitive applicant for summer opportunities for professional schools in the future."
Students throughout the program have already received their first paychecks. Hannah Kim '25, a current Med-13 in ACEMS, expressed excitement about the program.
"I'm glad we're getting paid," Kim said. "A lot of individuals on ACEMS work really hard to make [it] what it is today."