Arts & Living
Context, Creation, Come-Up: Gabby Moore '23
In this edition of 3C's, Columnist Kobe Thompson '24 speaks with multi-instrumentalist Gabby Moore '23 about her journey through music at Amherst and her upcoming project.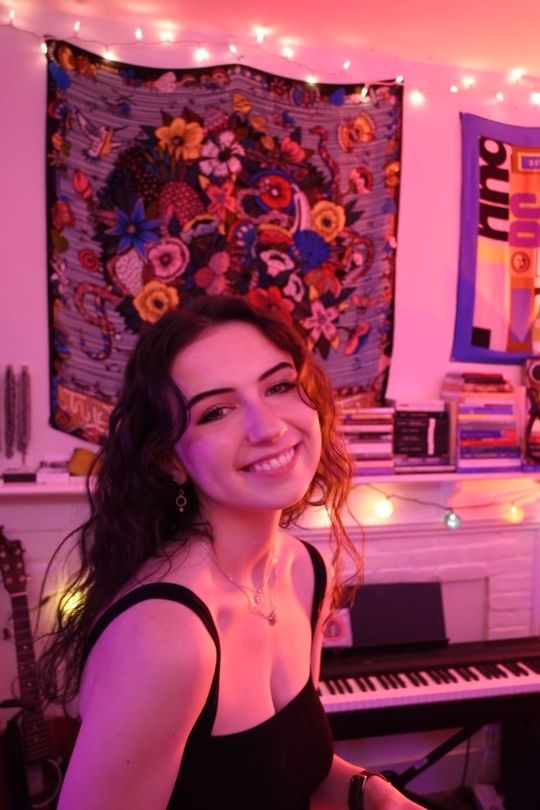 "I was frustrated I had to rely on other people to play things," says Gabby Moore '23. For the latest edition of 3Cs, I got to speak to Moore about the Context of her life-long involvement in music, the Creation of her first serious project, and what's on the Come Up for this natural-born musician.
Music runs in the Moore family: She is the youngest of four talented instrumentalists. "My mom wanted all of us to take lessons and learn for at least a couple of years, but once we got to middle school, she let us choose whether or not we wanted to keep going," she told me. "All of us did." Moore admitted that seeing her older siblings practice their instruments inspired her to do the same. She even revealed that her choice of the bass guitar, which she describes as her favorite instrument, was informed by her older siblings' opinion that it was "the cool instrument."
Moore's musical journey began around the age of seven, when she started taking lessons at The Music Institute of Chicago, where she was introduced to her first instrument: the piano. She continued lessons at the Paul Green School of Rock, where she began experimenting with other instruments, such as the bass. It was there, under the tutelage of her teachers Diane Renner and Gordon Patriarca, that Moore said she discovered her love for the bass.
While it was her family that motivated her to begin her musical journey, it was their diverging life paths that led her to delve into it as she did. As the youngest child, when Moore's older siblings began leaving for college, it was up to her to fill in their musical gaps. As she began writing music, it was far too inconvenient to break up her workflow to orchestrate a band of her musical relatives, so Moore sought the independence that came with knowing the instruments herself. "I was frustrated at the fact that I had to rely on other people to play things," she said. Her background with so many instruments gave her a strong foundation for branching off to play practically everything else.
When it comes to music, listening and playing go hand in hand for Moore. Her family not only offered her the opportunity to play and learn instruments outside of school, but they also gave her a diverse taste in the music she consumes. "There's a whole lot of music that I feel like I might've turned up my nose to if it hadn't been for my siblings blasting it on their speakers in their room or my mom playing it in the kitchen," she said. Around the house, she picked up on the stylings of the Motown classics and '70s rock. She named some specific influences, such as Paul McCartney: "[He] was another big reason I wanted to play the bass. I played a Hofner for the first six years I played the bass: his same instrument and everything." Freddie Mercury, Otis Redding, Stevie Wonder, David Bowie and many others were also major influences in her early life, especially for her piano-playing.
As Moore began to invest more into playing the bass, she found herself increasingly drawn to Motown and artists like James Jamerson as inspiration. She expressed a deep gratitude towards Patriarca, her teacher, and his "encyclopedic knowledge" of music genres, telling me how it contributed to helping her learn more about the artists she heard at home. It was Patriarca's influence that gave her a powerful appreciation for understanding the history of music and a respect for those that came before her. Patriarca introduced Moore to The Talking Heads, Tina Weymouth, and Esperanza Spalding, now some of her favorite artists.
Moore presented a dichotomy in her approach to music, splitting it into the two categories of songwriting and song-playing. "I listen to music for very different reasons, depending on what I'm doing," she said. When focused on songwriting, she loves artists like Fiona Apple and Elliott Smith. She also finds herself listening to music with more intense emotional connections, letting herself be vulnerable within the full complexities of a soundscape. "[Songwriting] has always been an emotional outlet for me," she said. Listening to these artists hit a fever pitch in middle school for Moore, as she was entering her "emo phase" and, most importantly, focusing more on becoming a songwriter by honing the relevant skills.
On the other hand, she also listens to music for the fun of playing it. "Do I want to play this [song] on bass and cover it in a band?" she said she asks herself. Moore frequently receives requests to play the bass and jam with friends, and a good chunk of her music listening is spent with the intention of playing it. There was a time where Moore was more pretentious about her music taste, she said, but with age came more experience with other musicians and a maturity of her own sound, and she was able to find joy in the simpler parts of music. "You'd end up playing with kids and they'd want to play this song and you'd be like, 'Okay, I don't really see why,' and then you play it and it's really fun to play!" she said.
As the president of [email protected], she speaks very highly about the Jazz Performance Program on campus. "I honestly did not play a lot of jazz until I got to Amherst, really," she said. She didn't seek out jazz so much as it came to her. As a bassist, Moore was a valued musician to recruit. "[The Jazz Performance Program] needed bassists [and they said], 'Come play with us!'" As a member of [email protected], Moore made many important and lasting friendships with fellow musicians, whom she said inspired her to stick with the genre.. In general at Amherst, Moore said the close friendships, other talented musicians, incredible coaches, and a respectful and inclusive environment helped her grow as both a musician and a person.
She preferred her time at Amherst to her experiences in her hometown Chicago music scene. "There was definitely a sense in which you're a woman and you walk into the room and you're assumed to be a vocalist or dating somebody," she said. At Amherst, Moore felt taken seriously, but outside of it, she had to fight to carve her own spaces to be seen and respected based on her own talent. Moore's experiences in the Chicago music scene were not entirely negative, but Moore learned to be careful around whom she decides to play with and why. "I think that the shittiness of a lot of music scenes is what pushed me to be more of a songwriter," Moore reflected. However, for jams, forming bands, and interacting with a greater community, Moore was subject to a mixed bag of artists she loved and respected and the occasional poisoned wells of bands that would tokenize or objectify her, even at a disturbingly young age.
Fortunately, Moore was not put off music entirely because of this. Instead, she uses it to reflect on how to make spaces more welcoming and involved. Moore approaches musical groups by paying attention to accountability and ensuring everyone feels safe. Not only does she stand up for herself, but she works hard to speak up for others. From playing at Madison Square to playing in your parents' garage, what Moore demonstrates is a bravery that is borne of a love for music down to its most social aspects.
Moore also sings alongside the other talented musicians in the Zumbyes, an Amherst a cappella group. Moore's time at Amherst has opened her up to new musical experiences and let her practice her weaker skills, such as a cappella singing. "I feel like I've gotten substantially better at singing," Moore shared, which was one of the things she admits was holding her back from recording and releasing a project. With more confidence in her voice, Moore is beginning to focus on the creation of a project she hopes to release in the summer. As far as the music goes, her songwriting is in incredible shape. Her vault of unreleased but recorded music is vast, and  with new ideas and after some small tweaks, Moore will be ready to release her songs. Moore revealed that she makes two versions of her songs: one that she sings " in front of other people," and the version that she performs "alone in [her] room." The only downside is that Moore writes these songs in bits and pieces, inspired to write a phrase or idea but never fleshing it out at once. Moore will spend her time this summer expanding these stems into more developed songs and then releasing them.
The aspects of the project are not as developed. It does not yet have a title, nor does Moore have much of a presence on streaming platforms, primarily performing as a live musician. Moore is making a very concentrated effort to put her time and talent into this singular project, but it is easy for her mind to wander to other potential music. As her time at Amherst wraps up, she has more time than ever to "sit at a piano for 20 minutes" and really crank something out, bit by bit. Moore is hoping to release this untitled project on July 14 but doesn't want to commit too heavily to the date. It holds a personal significance to her, but the nearness of the date conflicts with the perfectionist attitude with which she is approaching this project.
For Moore, this project is the first one she is officially releasing with intention, and that comes with a healthy dose of vulnerability. "It'll be the first one that I'm proud of," she told me. Moore has honed her skills for 15 years, with a litany of live performance and witness testimony to prove her as a master of her instruments, but never before this moment will she have such a permanent fixture out in the world to point towards as a culmination of all that she's done. This is no small matter, nor does Moore treat it as such.
For updates on Moore's music, she can be found on her Instagram @g.d.m. If you want to see Moore play one more time before she graduates, she, along with her friend Becca Awuah '23, will be hosting a musical event during Reading Period that will likely be held outside Lipton Hall, with details to come. This final musical performance will be Moore's goodbye to music at Amherst, but her musical journey is only getting started. Returning to Chicago, Moore plans to reconnect with the music scene of her hometown, before heading off to law school.
Moore would like to show her appreciation for a handful of students on campus that have made her time on campus so memorable. This includes Becca Awuah '23, Lauren Dinhofer '23, Adrian Friedman '24, Taz Kim '23, Vietta Kuntz '23, Phoebe Neilsen '25, Maya Roberts '23, Memo Rodriguez '22, Saif-Ullah Salim '24, Bianca Sass '23, Gregory R. Smith III '25E, and Sam Wright '23. In Moore's own words, "There are too many musicians that I just adore on campus." I couldn't agree more.