Arts & Living
Context, Creation, Come-Up: Jerome Raymond '24
Jerome Raymond '24 is a singer-songwriter with an upcoming EP, "Monochromatic." 3 C's Columnist Kobe Thompson '24 speaks with Raymond about his path into music, from quarantine to streaming services.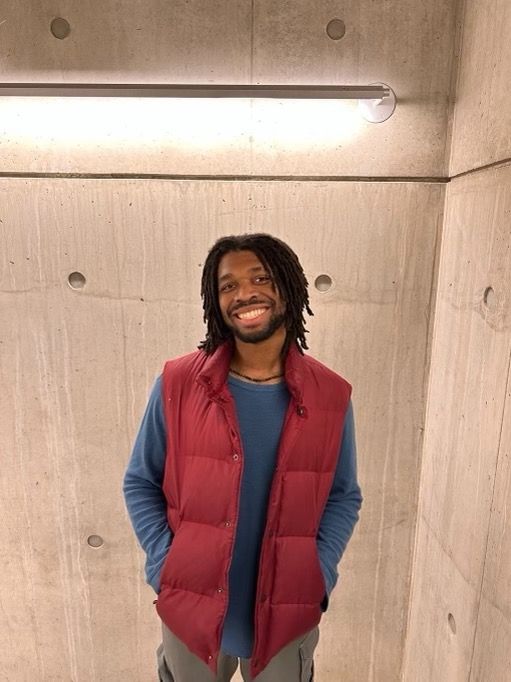 "I have to do it with my whole chest, " says Jerome Raymond '24.  "You can't be a half-assed musician." For this week's Context, Creation, and Come Up, I interviewed Raymond about the "Context" of his passion for singing, his "Creation" as he enters "recording mode", and what's on the "Come Up" as Raymond returns from a two-year hiatus.
Singing is one of Jerome Raymond's first loves. However, circumstances relegated this unrequited passion to a hobby and ever-shining green light. During the COVID-19 quarantine, Raymond made time to answer his musical calling and released his first song. The briskness of it all left Raymond needing a name, deciding on "J.Jerome. It was supposed to be a placeholder. I needed to have a name to put up [on streaming services] and I'm not going to put Joseph Jerome Raymond, that's a mouthful." Opting instead to go by his first initial and middle name, J.Jerome has been the singer's nom de scène ever since.
This first of Raymond's was a long time coming. Raymond's other great talent, playing soccer, for many years competed with his interest in music. Instead of pursuing a dream of singing, Raymond was pushed to follow other goals. "I think that's because it was what a lot of people around me wanted, not for me, but maybe for themselves. But I had always been singing." Nurturing his desire to perform, Raymond credits his godmother for encouraging his songwriting. "She told me this … probably since the time I was 12. She was like, 'You need to start writing music. Write everything down. You're going to sing." It would take more than his godmother's insistence to break Raymond's devotion to soccer — something like a global pandemic.
"And then COVID happens. Everything's put on pause. Everybody's in their rooms going crazy. I was just bored one day. I was like, 'fuck it, let me just make a song.'" Using his brother's old MacBook, a $20 microphone from Amazon, a MIDI keyboard, and free software, Raymond wrote, recorded, mixed and mastered "Playin' Me," a song that was long overdue. "People liked it … it was cool to see that people were willing to listen as well." For Raymond, this flipped a switch in his relationship with singing. It was a neglected passion, one he had yet to show the proper respect. The process of creating and releasing this first song brought his fondness for the craft into a more serious context. "I did not actually have aspirations of being a musician at all until COVID." But with his history of singing, it was only a matter of time.
"I grew up in Wilmington, Delaware. So I sang in the Wilmington's Children's Choir from the time I was six until I was 12." Even after leaving the Children's Choir, Raymond continued singing when he moved to Washington State. "Music has always been around, but it hasn't always been what I wanted to do. I sang because it was fun." Over a decade later, Raymond remarks on the ways the choir stays with him. "The directors [of the choir], Kim and Phil, are still very close to me. Every time I go back to Delaware I always make sure to visit them. I think about them as the start of my music journey."
Soon, Raymond tried out songwriting. It did not come to Raymond as easily as singing did, and it wasn't until his high school's "Project Week" that he ever made an attempt at it. He was assigned to write a song in one week. Being both a first attempt and happening during a time of Raymond's relative indifference to music, he made something that was "very bad, it was so bad…. That was technically [my] first song, but that was when I wasn't taking music seriously; I was doing it because I had to participate." This Jerome Raymond is almost unrecognizable from the avid songwriter I've come to know only four years later. Raymond's successes are embodied in his curiosity and drive to capture the world in a poetry uniquely his own, in its rawest essence. His passion moves him forward not just as a singer or songwriter but in all aspects of music.
However, taking these inspirations from the world offers a double-edged sword for Raymond as he fights with and against the influences of his youth. Growing up, Raymond enjoyed music from his grandparents' collection of records, such as The Delltones, The Temptations, and The Supremes. "That definitely influenced what I found as good music, in a sense. Granted, a lot of that is just tied to being Black." Raymond's musical journey was tied to diversity, cultural affirmation, and familial love. It's no wonder he prides himself on his ability to create resplendent melodies from guitar riffs and basslines in mesmerizing ballads delivered in his one-of-a-kind voice. "That's something I bring to the table when I sing. But it took a long time to come to that."
While Raymond was being exposed to genres and eras that gave him a broad appreciation of music, he fell into the pitfalls of any aspiring singer. "This is typical of anybody that sings — you want to sound like your favorite singers." Listening to the likes of Usher or Trey Songz, some of Raymond's favorite musicians sang in a manner that his own dulcet tones struggled to reach. For him, this meant going through the motions of accepting his own sound even when it wasn't reflected in his favorite artists. "I found new favorite singers, but at that point in time I was like, 'Damn, I can't do this with my voice.' But I'm cool, I'm growing into it, [I'm] still maturing. So I love my voice. It's a journey, but I like it."
Raymond has an uncanny ability to construct harmony within his music while still taking risks. Behind these impressive feats are days of trial and error, "asking questions, just trying to learn [to be] an open book." Whether it be picking up the bass himself and finding out what works, or his collaboration with fellow musician Gregory R. Smith III '25, Raymond pushes himself to find a common thread while unraveling complex and unconventional rhythms and instrumentation. Raymond adds his voice as the linchpin that brings the composition together, a skill passed down to him from observing how the musicians around him approach some of the same challenges he faces.
The singer's creative process includes listening with purpose and holding onto ideas as soon as they appear to him. "Everything starts with a voice memo. It might be the smallest thing, and this comes back to what my godmother said about 'write everything down.'" A well-learned lesson, Raymond speaks about the middle-of-the-night strokes of inspiration, even "four or five" seemingly inconsequential words, that lead to "a couple of months down the line where I'm playing the piano and I'll scroll through my phone and be like, 'Oh my God, I can use that!" Raymond follows along with the music he listens to by humming harmonies, writing down thousands of "notes of phrases or stanzas of poetry" that eventually become music.To see this in effect, Raymond "[listens] to music intentionally," saying, "A lot of times [we] listen to music to pass the time, which is okay. But I think as somebody who wants people to engage with my music, I have to be engaging with other people's music in the same way." Raymond practices listening to a different album every day, offering "Raven" by Kelela as his most recent listen. Raymond also draws inspiration from a diversity of cultures, citing a class he took with Five College Professor Olabode Omojola, African Popular Music.
This listening practice coincided with the release of his first EP two years ago. "I really started listening to more music, but before I dropped ["Where the Petals Fell"] I wasn't listening to music critically." Raymond believes this is one of the reasons behind his improvement as an artist. He cites another as his growing comfort with his voice since he began taking lessons with Classical Voice Instructor Thomas Oesterling. Now, Raymond has also been writing more than ever. Whereas the release of his first EP was meant to "put out something for people to listen to," Raymond has been preparing his return by filling a notebook with songs and poetry. Claiming that releasing music is an expensive endeavor, Raymond was excited and, most importantly, careful and selective as he began the process of recording again after a two-year hiatus. "I feel ready to deliver how I want to, I'm in a good place which is why I'm working on dropping [again] before the end of the school year."
Raymond elaborates on his new EP, "Monochromantic." "I'm developing this idea of an album that's detailing all of my experiences in romance and love and everything that falls under that." The shades of love that Raymond is putting together for the project represent "the first time I've had a very clear vision of a cohesive project I want to put out." Raymond has started recording demos and wants to release singles from this EP and promote it before the semester's end. He has plans to record more of the final project for the summer, working again with Smith and filling his dorm with the appropriate equipment. Raymond hopes this return to releasing music will be followed by a string of new projects, and he has prepared himself with a well of new ideas to record and put out into the world.
Raymond was not idle during these two years and speaks about working extensively with other artists both on and off campus for inspiration. He certainly gives credit to Smith for creating such unconventional chord structures that challenge Raymond's songwriting abilities. Aside from being grateful for his partnership with Smith, he also appreciates his collaboration with fellow singer Becca Awuah '23. Raymond appreciates Awuah, praising her for being able to infuse her roots into the indie genre. He holds her in high regard for her strong voice and similar musical upbringing. Raymond recounts a recent visit to The Drake, where he frequents open-mic nights and other performances. During this visit, he met an older Black singer from New Orleans and received both advice and a CD from the fellow musician. "I'm always learning. I think that's, like, my motto for music or anything." Raymond emphasizes the importance of being "willing to learn and challenge what you already know."
With "Monochromantic" on the horizon, Raymond reflects on what's to come for his future in music: more releases, more promotion, and dedicating himself fully to music. He plans to change his name: "if anything, [changing my name] would fit perfectly. It's me putting out a longer project and being much more intentional."
Raymond's music can be found under J.Jerome (for the time being) on all streaming platforms. He also regularly performs around campus at Coffee Haus, and at open-mic nights at The Drake every second Tuesday of the month. He's also making plans with Awuah to put on a concert celebrating Black music on campus. Raymond has performed during the Black Art Matters festival, and, as he "enters into a performing phase," it's likely he'll make more appearances around campus. For more music from Raymond, his Instagram is @J.Jeromeee, and his TikTok is JJeromemusic.
Jerome Raymond is following a dream, and in this stage of his life, it's finally his own dream. That can be a risk, a gripping uncertainty that makes it hard to be vulnerable as Raymond has been in his music. The list of names responsible for supporting Raymond and encouraging him to take risks is uncountable, but Raymond narrows down a few names who mean the world to him. Raymond shouts out Gregory R. Smith III '25, Becca Awuah '23, A'Cora Hickson '25, Corii Hickson '25, Maya Roberts '23, Hannah-Divine Marsden '23, Anniyah Rawlins '23, Abadai Zoboi '24, Carolina Cordon '24, his neighbors that put up with his late night recording, and, of course, his grandmother. "[My grandmother and I] were listening to a song in the car one time and she was like, 'You know, you could have written this.'"