amherst
As Students Settle to a Second Covid Semester, Counseling Center Adapts Mental Health Resources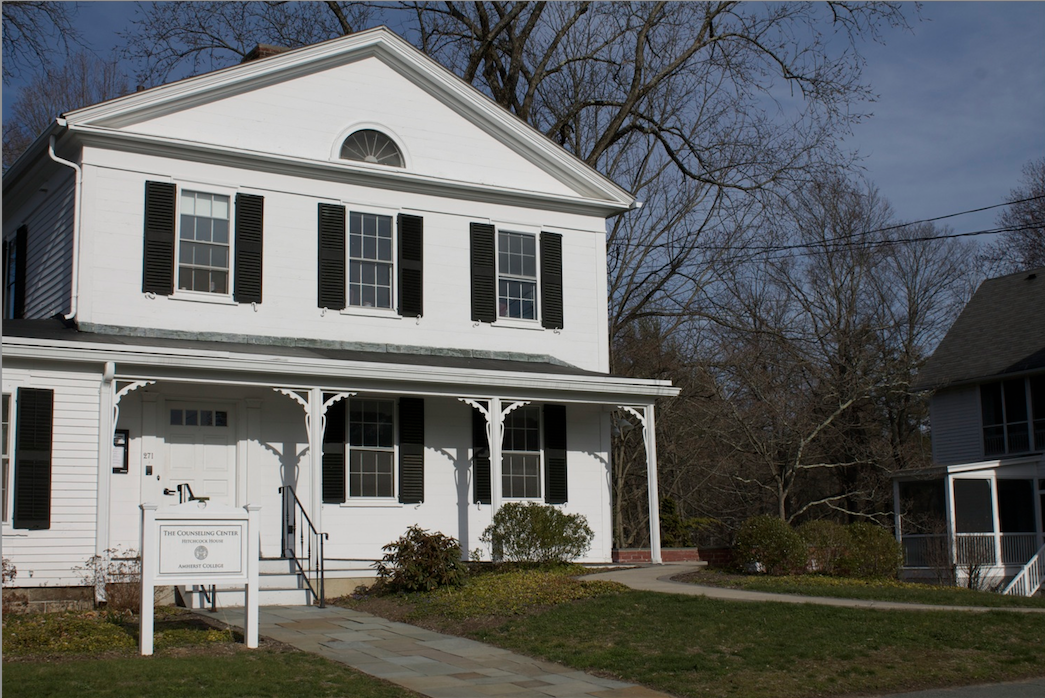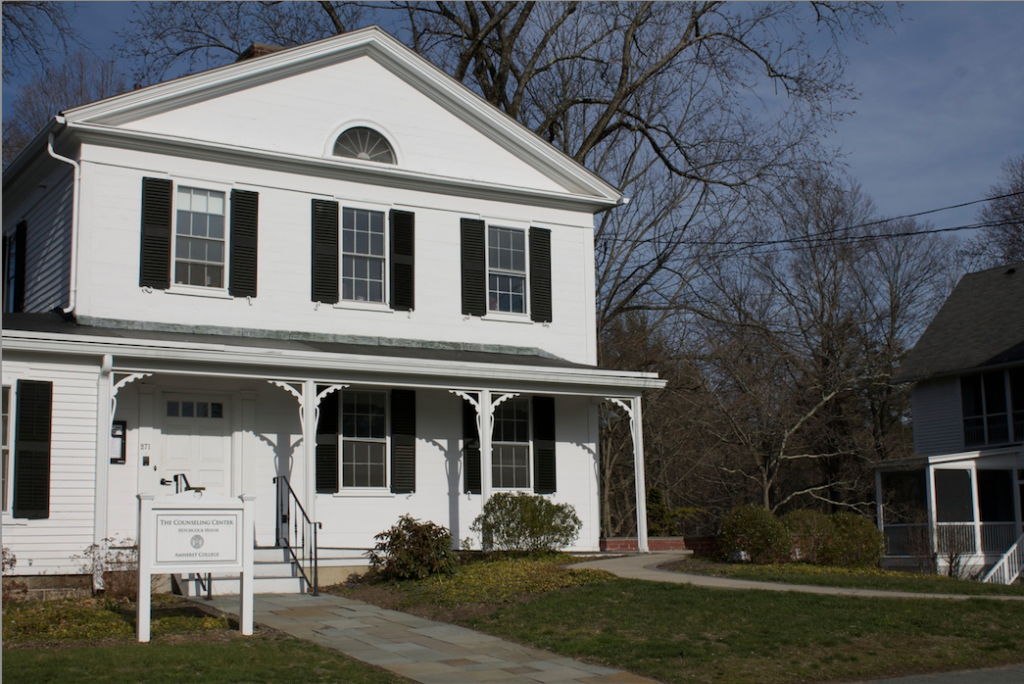 Throughout the year, the college has grappled with the difficulties of serving the needs of a student body that is scattered across the country, and even across the world. The same is true with regards to providing mental health support for students. The college has worked to offer an array of mental health services and resources for both on-campus and off-campus students. Students report, however, that there remains room for improvement with respect to how well the resources are promoted and address their needs.
While mental health has long been an issue on campus, the pandemic has significantly magnified the stressors that weigh on student wellbeing, creating new challenges in the provision of accessible and effective mental health services. As with other programs and activities, most in-person counseling services have largely paused to adapt to the new, pandemic-safe remote environment. Moreover, because counselors licensed to practice in Massachusetts can only take on patients located in Massachusetts, the Counseling Center is unable to offer counseling, even remotely, to out-of-state students.
"We've had a real conundrum, because so many of our students are living outside of the state," said Jackie Alvarez, director of the Counseling Center. "We've been working to figure out, how do we best help students access mental health care in the location that they're currently residing in?"
For on-campus students, the Counseling Center continues to provide many of the same services offered prior to the pandemic. These include individual psychotherapy, psychiatric care — which includes medication management and case management for students seeking referrals off campus — and urgent and emergency care. Urgent care services are available every day during business hours for students who have an immediate concern, and emergency services are offered on a 24/7 basis through the Counseling Center's phone line.
Out-of-state students who need to access counseling can turn to the Counseling Center's case management office, which offers students one-on-one assistance with finding a suitable provider in their home community. Students, particularly those living in under-resourced areas, can also try using My SSP, an app that was made available to all students this past September in partnership with the company Morneau Shepell.Short for My Student Support Program, My SSP allows students to connect with a counselor via chat or phone on a 24/7 basis. Unlike the crisis line maintained by the Counseling Center, students do not need to be in an emergency situation to speak with a therapist through My SSP. The app also refers students who would like more ongoing support to tele-health services similar to those offered at the Counseling Center, and maintains a collection of resources that educate students on self-care and coping skills.
Besides clinical services, the Counseling Center also offers consultation services for faculty, staff, students, parents or any person who is seeking information about mental health or advice for responding to others who are struggling with their mental health. Support groups, many based on identity and affiliation, are available as well to students regardless of location, and are meant to create space for students to talk about their experience around race and ethnicity.
The Counseling Center will also host its peer support skills training (PSST) during the spring 2021 semester, which will enable students to develop a skill set so that they can support their friends and peers. PSST will teach students how to engage in active listening, give them the ability to recognize when their peers are in distress and refer them to appropriate resources. Although it was previously a "very in-person, very roleplay-dependent" program, a lot of work has gone into finding a way to bring the training into a remote space, said Garrett Fitzgerald, program director for mental health promotion.
Fitzgerald also noted the availability of ProjectCONNECT, a program that ran in the fall and will continue to be offered this semester to all students, regardless of their location. It is overseen by the Wellness Team, a group of current students who serve as peer educators on mental health promotion.
"[ProjectCONNECT] is a five week program of small group gatherings that really focuses on developing skills and experiencing with other people the opportunity to explore connection [and] vulnerability," said Fitzgerald. "From that, not only do you form connections in that space, but you gain the skills to be able to create that with others, which is the goal."
"While we stayed as true to the content and concepts [covered in previous years], because that had been what's sort of been tested and demonstrated to be effective, there are adaptations we made to allow us to work with students literally all over the world," he continued. "Our first cohort that we ran in the fall focused primarily on first-year students who were not able to join us on campus this year, and so we had, I think, over 10 different countries represented within the different groupings that we ran."
With the many challenges that the pandemic has presented, mental health support is particularly important for students at this time. Alvarez acknowledged the numerous difficulties plaguing students. "We know that isolation and loneliness are really challenging right now for folks. We know that the monotony of routine is very challenging for folks. We know that some of our students are in living environments that are really tough for learning. We know that some of our students have tremendous home responsibilities that they didn't used to have," she said.
Cat Sarosi '22, a student living on campus this semester, added that "A lot of people's really important emotional supports are in the friendships that they have during a normal semester, and I think with everyone all over the place and having so much more going on, I think a lot of people don't have the support from their peers that they did."
"I've talked to a few different people who have basically been like, yeah, I got really isolated and really depressed. I'm on campus because of family stuff, but none of my friends are," she said. "I'm all alone, you know, I feel like we don't do anything. I never leave my room. Or people who are at home who have been like, I've not heard from my school friends at all, I don't really know how they're doing. I don't know if I can reach out."
The pandemic has, at the same time, made it more difficult to communicate the services and programs that are available to assist students. "I think students are kind of inundated with email right now," said Alvarez. "Some read the daily mail, some don't read the daily mail, some are in close contact with their Community Advisors, others are not. So just getting the word out about the services being available to students is more challenging right now."
When asked, for instance, if she had heard of My SSP, Sarosi said, "I'm not sure that's very well-advertised. I don't know that I've heard anyone I know who's off campus or has been off campus that was talking about that. I've definitely heard a lot of people mention frustration about not being able to get care during the pandemic."
Even when students are aware of available programs, the format and limitations of the programs can make them less than ideal for many. "If you've just spent eight hours in Zoom receiving lectures and doing small group work and things of that nature, the idea of attending one more Zoom to talk about how fatiguing it is to be on Zoom all day, it's a tough ask," explained Fitzgerald.
For Maddie Hahm '24E, who is on a gap semester after enrolling remotely in the fall, My SSP was no substitute for the therapist she had already built up a relationship with on campus. "I have the app downloaded on my phone, but I just haven't used it," she said. "I trust it, but at the same time, I'm kind of nervous to use it, because I don't really know the person on the other side, you know?"
"I think Amherst did the best that they could, but I wish there were some ways that they could have maybe supported the remote students a bit more," she added.
The pandemic has nonetheless had its own positive impacts on increasing comfort around discussing mental health struggles, as well as usage of counseling services. "I think what's been beneficial about it is that it has brought attention and awareness to, sort of on this global scale, [the fact] that feelings of isolation, feelings of loneliness, are, as much as they can feel like an individual experience, not a solo experience," said Fitzgerald.
"I think for students, especially when you're in an environment like we are right now during the pandemic, and you're spending a lot of time in a room by yourself, it creates, actually, some access," Alvarez said. "I think the last dashboard that I looked at, we had over 170 students who have used [the My SSP] service. For many [of these] students, it's their very first introduction to mental health care. Many people say, 'I accessed this because I thought it was gonna be easy and quick, and [it] was a soft entry into mental health care.'"
Both Alvarez and Fitzgerald also emphasized that mental health care is by no means limited to seeking clinical support. "I always think of mental illness on a continuum, and mental health on a separate continuum, because the absence of mental illness is not the same thing as mental health," said Alvarez. Fitzgerald added, "We are looking to not just bring awareness but also lower the bar of what mental health work looks like."
Indeed, several students mentioned the importance of activities beyond counseling in improving their mental health. "I think there's a lot of different outlets to express mental health," said Mohammed Alausa '24. "As an athlete, the best way for me [to] cope with stress or anxiety is working out and playing basketball. I think the fact that they opened the gym and allowed us to practice last semester really helped me stay grounded."
"I feel like they should have more activities on campus so that people feel like they're not just bogged down with work, because when you're just bogged down with work, it's kind of hard to not be slightly depressed or slightly sad," he continued. "But if you start to look forward to the weekend, it's more motivation and you just feel happier as a whole."
Kelly Huang '22, who reported feeling left out of campus activities as a student studying remotely in the fall, spoke favorably of Association of Amherst Students' (AAS) Take Your Peers Out – Remote (TYPO-R) program, which funded virtual activities for groups of students who had not been on campus during the semester. "I had a really good time with a group, just using that money however we wanted to use it. All of us just bought food for ourselves, but you know, free snacks — always a good thing."
As programming begins for the spring semester, the imperative to cater separately to the needs of on campus and off campus students is high on Fitzgerald's mind. "What we learned a lot of [from last semester] was how to, as effectively as possible, split our focus and acknowledge that the experience of students that are on campus are needed to be attended to in a different way than the experience of students that are off campus," he said. "And that's a challenge, and it takes a lot of work, and sometimes we get it right, and sometimes we don't."
As students begin a semester that is bound to be full of challenges, Alvarez encourages students to recognize their own strength, as well as the support that is available to them. "I think students soldier on, you know?" she said. "They continue in the face of tremendous adversity, and they have incredible resilience and grit, and they persevere and are tenacious. It's really quite remarkable. It's really, really quite remarkable."
She concluded, "I think my message [to students] would be, we're better together. And to get through the challenges in life requires community and connection, and so I would hope students would never feel like they have to be alone in this. There are resources here, there are people here, who really want to support them through their journeys, and I believe their journeys will be richer in good company."