Arts & Living
Detail and Design: "Women and Wallace" Intrigues
Staff writer Sarah Weiner '24 reflects on last weekend's student-run performance of "Women and Wallace," which successfully combines humor with a difficult coming-of-age story and a series of impressive technical effects.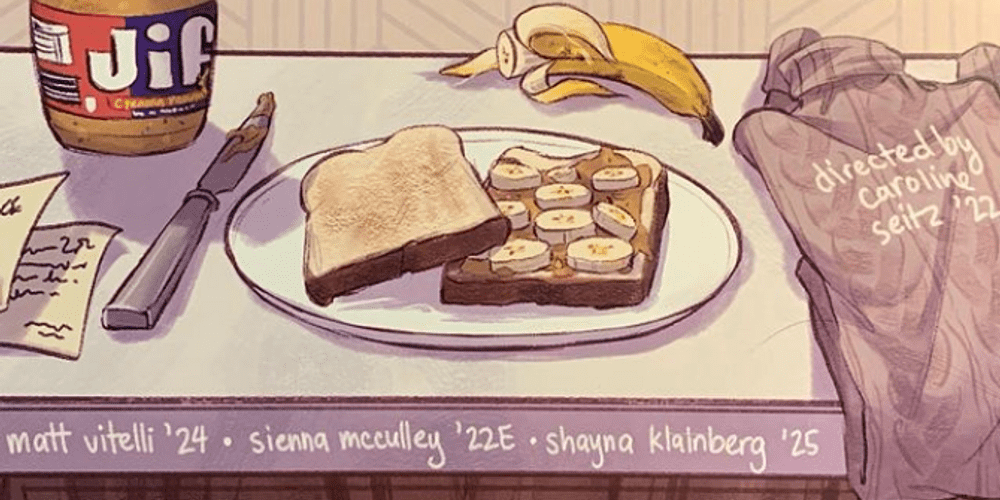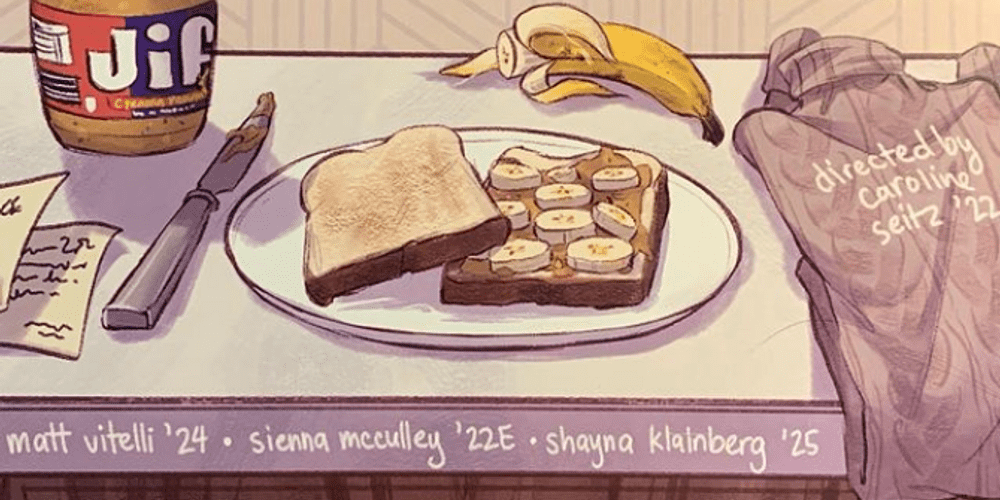 The independent student-directed, designed, and performed project, "Women and Wallace," was a reminder of everything it means for theater to be an art of storytelling. The diligent work of the actors and crew was attested to by the transparency and genuity displayed onstage, while the play's direction, design, and music were simple, yet effective, giving rise to a production in which every moment was cared for.
"Women and Wallace," written by Jonathan Marc Sherman and originally published in 1989, is a hard play in every sense of the word. The coming-of-age story follows Wallace Kirkman and his relationships with various women after the death of his mother when he was six. The content is emotionally difficult, and as a one-act play with over 20 scenes, its structure proves to be a challenge too.
Historically, the play has been performed with a varying number of actors distributed over the eight female characters and one playing Wallace. This production featured the talents of Shayna Klainberg '25 (Grandmother, crew), Sienna McCulley '22E (Nina, Mother, Victoria, Psychiatrist, Sarah, Lili, Wendy), and Matt Vitelli '24 (Wallace). Starring opposite each other, McCulley and Vitelli certainly showcased their range, with McCulley covering seven different characters, some more complex than others, and Vitelli four distinct ages. Klainberg gave a gentle and grounded performance as Wallace's grandmother, a reliable source of calm amidst the frequent chaos of Wallace's life.
The script's traumatic plot is complimented by moments of humor, some very dark and others pleasantly funny. Delightfully, the cast took on these moments with as much skill as their dramatic acting. Klainberg and Vitelli are both members of Amherst's eminent improv comedy group, Mr. Gad's House of Improv, and their comedic timing certainly lived up to any and all expectations. McCulley's delivery was strong, garnering laughs from the audience with her patience, curiosity, and spontaneity. Her solo ending to the peanut butter and banana sandwich scene was one of the highlights of the show.
The choice by Caroline Seitz '22 (director) to cast one person in seven out of nine parts was daring. McCulley took on each part sincerely, and her constant reinvention added profundity to the plot — for example, what does it mean when your dead mother reappears as your first kiss? However, the costume changes necessary for McCulley's reinventions paired with the full turnover of the set before nearly every scene made for lengthy transitions.
Friedmann Room did not lend itself to these transitions, or much else of the play. The huge airy room conflicted with the intimacy of Vitelli's performance. Even when exposing the most quirky and questionable parts of Wallace's character, Vitelli worked intently and successfully to keep the audience sympathetic to his cause. Friedmann's large back and door windows (and lack of true stage wings) also rather harshly illuminated the transitions from scene to scene and character to character. I was not sure how I could make it through them all without losing my grasp on the flow of the plot. Once I gave into them as an intentional part of the story, however, my perspective entirely shifted.
The transitions, as well as the play's immersive "overture," featured the musical talent of Eli Quastler '22E on the piano, placed directly next to the audience's seats. The score of mostly original compositions created a throughline, holding the audience fast to whatever was about to happen next in Wallace's life. What could have easily been filler music instead catalyzed my understanding of the transitions between scenes as just as much part of the story as the dialogue between the characters. Quastler's work, in addition to that of the crew, rendered the strike and set up of scenes a compelling reminder of the mighty team required to relate a story of Wallace's weight.
The swift work of Ella Vacchi '23 (crew, stage manager, costume design), Calvin Woods '21 (crew), and Klainberg to set every object and piece of furniture with exactitude also added a sense of curation to Wallace's life: who is behind his story? Who is behind all of our stories? These questions were also emphasized by the decision to keep Vitelli standing onstage through some transitions, waiting for the next moment in Wallace's story to be designed before he entered it. While most productions adamantly conceal any hint of technical labor, this production had no choice, and I ended up appreciating it much more than I anticipated.
The show's lights were designed by Seitz and Vacchi and run by Luke Herzog '24 (assistant director) with precision. The design was simple; and I knew its simplicity was almost to a fault when I felt utterly refreshed, borderline relieved, by the singular use of swirling colors to frame a dream sequence. The result was a unique lighting effect that also managed to avoid tackiness, leaving me wanting more, although the nuances of the Friedmann Room lighting system are beyond my knowledge.
Seitz and Vacchi also designed props and sets, which were simplistic, but in this case perfectly so. They gave the audience exactly what was needed and nothing more, supporting the story without swallowing it. The costuming, by Vacchi, was extremely effective. Each character appeared distinct and no choice was distracting. Congratulations are also in order for designing the costumes in a way in which they could be donned and shed easily as McCulley moved from character to character. The buttons, zippers, and layering used was a logistical feat, as well as an artistic one.
As the cast took the stage for the curtain call, I couldn't help but think of the other bodies behind and in front of the stage I had also witnessed telling Wallace's story. The group of three actors appeared especially small for having just told a story of such depth. Performing "Women and Wallace" took a village — a village of patient, acute, and passionate storytellers.