Arts & Living
EXPO-Losion: A Fun, De-Stressing Event Amidst Amherst Uprising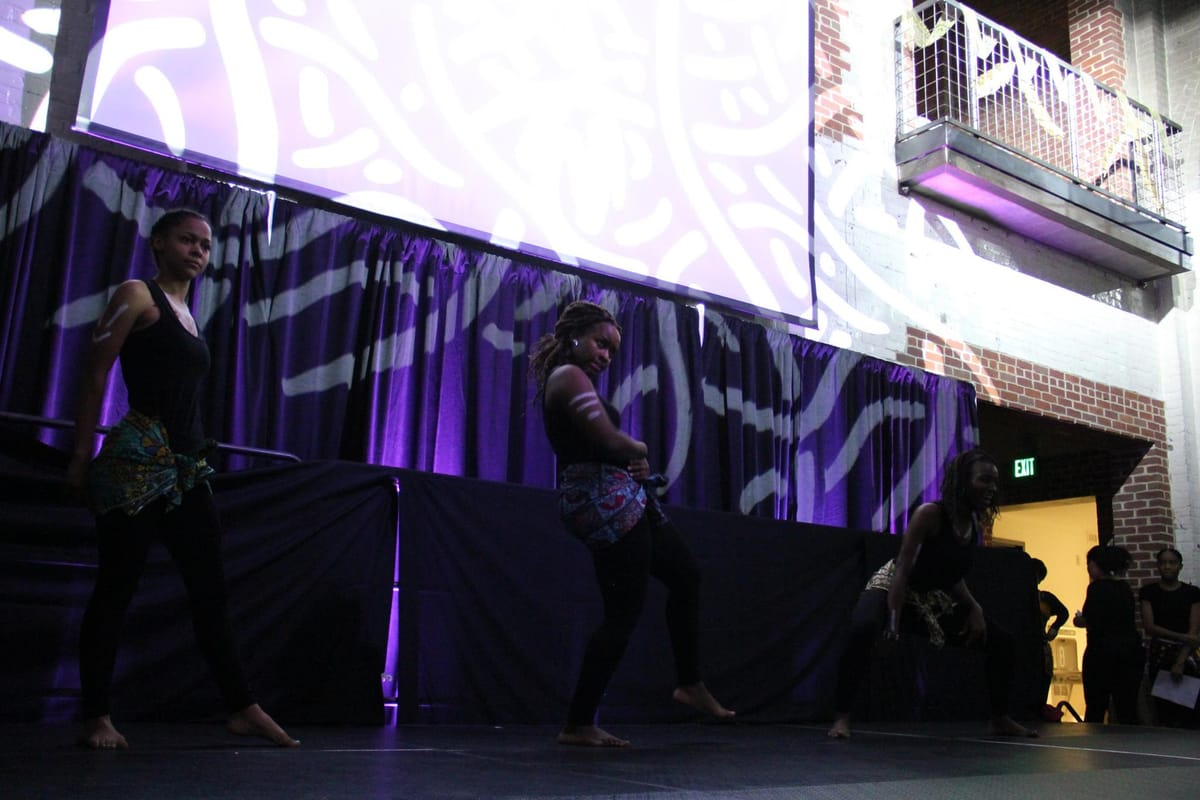 Amherst College's African Caribbean Student Union held its annual EXPO-Losion on Nov. 14. The event included a dance showcase featuring members of the African Caribbean Student Union Dance Company and dance groups from several other colleges in the area. The show was hosted by Obi Ezeogu '19 and Christin Washington '17. The African Caribbean Student Union also offered the audience members Caribbean cocktail patties and fried dough to eat while they enjoyed the show.
Performances for the night ranged from traditional Haitian dances to live music and heavy whining (a Caribbean dance involving gyrating), as well as jocular story lines about courtship unfolding throughout the dance.
Performers of the show, including African and Caribbean dancers from Clark University, Smith College, University of Massachusetts Amherst and Amherst College, were rated by a panel of four judges comprised of dancers and faculty members familiar with African and Caribbean dance traditions. Judges gave performers a score from one to 10, but no performance fell beneath the threshold of a seven. In addition to the judge's scores, audience members could use cash on-site or Venmo to buy votes for the group that they felt put on the best performance.
Proceeds from the voting went to St. Boniface Haiti Foundation, a charity based in Haiti devoted to providing adequate medical care to Haitians who cannot afford it otherwise. The charity maintains facilities that care for Haitians, usually charging no more than one dollar, no matter what medical attention they need. Funds from the purchase of votes supported St. Boniface Haiti Foundation by allowing them to absorb the costs of treatment.
The crowd drawn to the show was certainly excited, with young children standing on their seats and rowdy Amherst students screaming and fist pumping. However, the crowd was a bit thin, with many chairs remaining unfilled despite the popularity of the show in recent years.
This was perhaps due to ACSU's decision to continue with the show despite the concurrent sit-in taking place in Frost Library. "We believe strongly that EXPO-Losion will provide a safe space for students of color and their allies to enjoy themselves, to practice self-care and to celebrate themselves and each other," the ACSU Facebook page wrote on their event page for EXPO-Losion.
Many performances planned for the weekend, including Khalil Flemming's '16 play "Equal Weight" and Dance and Step Amherst College's annual showcase, were not held in order to allow students to participate in the protest. But ACSU members said that students and allies also need reprieve from the emotionally taxing work of protesting.
Despite the low attendance, the energy in the audience was overwhelming and performers drew plenty of enthusiastic screams and claps with their routines. The personable hosts Washington and Ezeogu played a big part in maintaining this energy with jokes and plenty of words of praise for the groups that performed during the night. Washington even orchestrated a comedy skit after the end of the show in which she asked Ezeogu and another member of the audience, Mohammed Ibrahim '17, to dance even after they both admitted that they couldn't. Washington and Ezeogu's enthusiasm was engaging and kept the audience's attention fixated on stage.
"It was positive to have a celebratory space for community members especially in a time of great turmoil on campus," said Amir Hall '17, a member of the African Caribbean Student Union Dance Company. "The people I worked with to create the dances we did were all amazing and every minute dancing with them was a minute of healing."
"ACSU Dance is a genuine family, where you can escape to or embrace a positive energy," said another member of ACSU Dance, Mikayla Ribeiro '18. "Dancing has that effect generally, but with ACSU that is the mission." [EXPO-Losion] was a celebration of African and Caribbean culture, and by extension a celebration of people of color. While I don't feel it was very natural to switch mindsets so drastically throughout the weekend, I think it was quite healthy, and I was happier for it."
At the end of the night, the ACSU Dance Company took home the first-place trophy, spurred to victory by the combined and unanimous raves of the panel of judges and the purchase of votes by members of the audience. "[ACSU Dance Company] was a clear winner with the best choreography and the most energy," Booth said.
The win was celebrated with the EXPO-Losion after party, which also took place in the Powerhouse later that night. Attendance at this party was sparse as well, but this was again due to the presence of students in Frost Library for Amherst Uprising.
Despite challenges like low attendance and the burden of current events, EXPO-Losion proved to be a successful tribute to Afro-Caribbean identity as well as a big crowd pleaser.