News
Fresh Faculty: Ryan Alvarado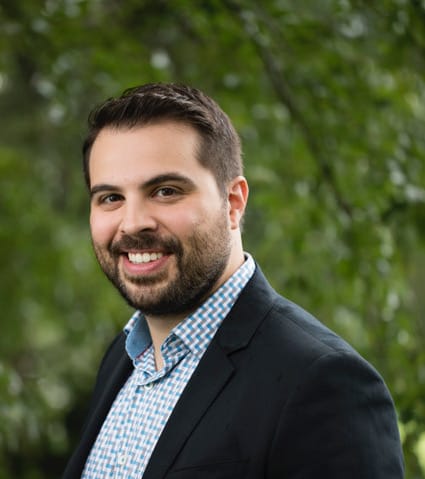 Professor Ryan Alvarado is an assistant professor of mathematics. He majored in mathematics and physics at William Jewell College and received his master's and doctorate degrees in mathematics from the University of Missouri.
Q: How did you first become interested in mathematics? A: I enjoyed the problem-solving aspect of it. I loved being faced with the question of whether or not something is true and solving it. I liked puzzles, and there are a lot of puzzles in math. In college, an awesome undergraduate professor of mine believed in me, inspired me to keep going with mathematics and mentored me along the way. I was at first destined to be an electrical engineer and kept on going with math because I was so interested in it.
Q: How did you transition from majoring in mathematics and physics to teaching math? A: I became more interested in math because of that professor who made the subject interesting. She fostered that curiosity in me and cared about her students. At the end of every class there was sort of a cliffhanger, and I was intrigued about what came next. I wanted to tune in next week to learn more. You get a snippet of a topic in each math class, and it excites you to say, 'Ooh let's dig a little deeper.' I later became interested in teaching in undergrad when I found myself finding the best way to explain to my friends how to do a problem. Then in graduate school, when I taught classes, I knew that I wanted teaching to be an important part of my life going forward.
Q: What motivates you to teach such a variety of math courses? A: Teaching a wide variety of classes means I have a wide variety of students. I am not only teaching math majors but people who come from various different backgrounds, and I think that's fun. I am teaching people who are taking math because they want to or are interested and do not have a lot of experience. The challenge is to get people excited about math because everyone is a math major at heart.
Q: How did you become interested in the research that you do? What is your research about? A: I do research in which I try to solve what are called boundary value problems in a subject area called partial differential equations and do research in geometry and harmonic analysis. The reason I like it is to solve a problem you really have to solve a puzzle. There are many geometric and analytic parts to a problem and a strong interplay between the two. You really have to understand the relationship between these geometric and analytic parts to solve these types of problems. You also have to bring together different areas of mathematics and draw upon those branches of mathematics.
Q: What brought you to Amherst College? A: I went to a liberal arts school and I know that I would not have gotten as far as I did if I didn't have that environment and those relationships with my professors. Without these professors, I would not be here today. Amherst affords me that experience, and Amherst is a great community. They support me with my teaching and with my research. It's the best of both worlds. I have both my research and my students.
Q: What classes are you teaching this year? A: This year, I am teaching Introduction to Calculus, which is an introduction to understanding the relationships between certain objects we deal with everyday. I am also teaching Transitions to Theoretical Mathematics. This class introduces students to mathematical reasoning and proof and explores fundamental questions about what it means for something to be true in mathematics.
Q: What do you love most about Amherst so far? A: I love everything. It feels like home. It's the place I always thought it would be, and I love the students, who are so amazing. I love my colleagues in the faculty and on the staff side, and I love the community in general on campus. There are great students, great faculty, and a great administration. The campus is also so beautiful. I felt at home from the very beginning.
Q: What do you enjoy doing in your free time? A: I am a collector of hobbies. I really love music. I play guitar, but I dabbled in piano as well. And I love collecting music and records. I have been been collecting them for twenty years now, and I was in a band for a while.